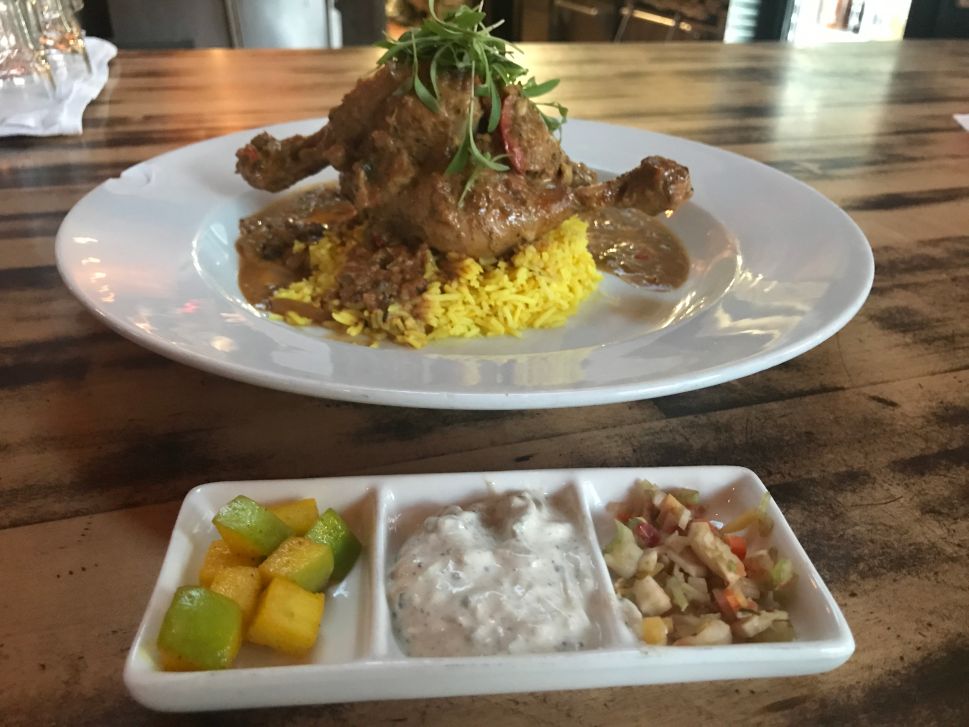 Dining out is an escape, but it's also a way to feel connected to the world.
Others have written eloquently that going to a certain kind of restaurant in 2017 can feel like an act of political defiance. That wasn't my goal when I was dining in Oakland last week, but it just so happened that I kept hearing about a modern Indian spot run by a lesbian chef from Ohio. She had cooked at the Google cafeteria before competing on "Top Chef" and eventually opening her own place.
So, on my first night in Oakland, I found myself dining at the bar of Preeti Mistry's Juhu Beach Club. There were kids at the bar out with their cool moms, all eating fried potato-puff sliders and masala fries. There were hipsters happily squeezed in a booth and interracial couples on dates. They all had a clear view of the open kitchen and the restaurant's diverse staff cooking in shorts and making iced chais in tank tops. The staff was dressed down but turnt up, feeling the energy around them, tasting the food before it went out to customers, and smiling and high-fiving when they knew everything was right.
I happily and quietly devoured my methi chicken leg entree, which was actually two legs made with fresh fenugreek. I finished all of the chicken, all of the soul-warming tomato-butter sauce and all of the golden rice, even though I was dining alone and had also ordered a second entree of hakka noodles with ground pork, sweet-and-hot peppers and housemade satsuma soy sauce that offered a hit of citrus and umami.
Juhu Beach Club also makes something called Mom's Guji chili, also known as Solidarity Soup. For every bowl of this $9 lentil dish that's sold, $1 is donated. On the night I visited, the money was earmarked for Oakland International High School, which serves the city's immigrant community. Money has also been raised for victims of the Oakland Ghost Ship fire, a tragedy that hit the LGBTQ community especially hard.
There is a taqueria, La Calaca Loca, next to Juhu Beach Club. The restaurants share restrooms, so when you go wash your hands after dinner, you'll see a colorful sign reminding you that Mexico is on the left and India is on the right.
I felt this kind of connection again and again while dining in Oakland.
I really felt it at Old Kan Beer & Co., the new brewery and beer garden with wondrous open-faced pork-meatball sandwiches on house-baked bread and tater tots that can come unadorned or topped with pimento cheese, pulled smoked ham hocks and charred scallion relish. For dessert, there's Straus Family Creamery soft-serve or something that's simply called "cake and ice cream," which is a joyful combination of chocolate cake, chocolate ice cream, hazelnuts, mini malt balls, salted butter and vanilla caramel. This is badass bar food from James Syhabout, a Laotian refugee who has two Michelin stars at Commis (the only Michelin-starred restaurant in Oakland). Syhabout, who came to America as a toddler and later watched his mom cook at a Thai restaurant in Oakland, is serving up elevated pub grub with a side of social justice. On the day I visited, there was a flyer in every menu informing customers that $4 from each $18 rock cod a la Veracruzana special was being donated to Centro Legal de La Raza, which helps low-income and immigrant families. Old Kan's $25 Memorial Day BBQ/Sunday supper will benefit The Crucible, a local industrial-arts school and community center.
I also felt it at the new Locol Bakery, where I had cinnabunzz with pecan butter, an egg sandwich with salsa verde and a strawberry/mandarin agua fresca as I sat at the counter and stared at the church across the street in this residential section of West Oakland. Locol's founding chefs Roy Choi and Daniel Patterson have created a social enterprise. They're on a mission to provide better affordable food in underserved communities while employing residents of those same neighborhoods.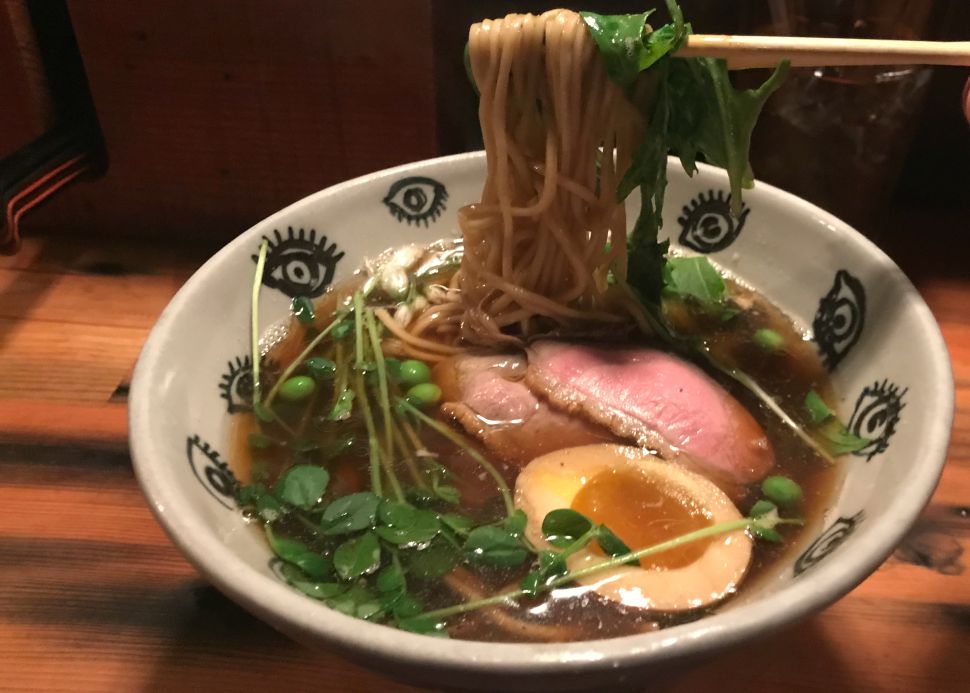 I also felt it at Ramen Shop, where Chez Panisse alums Sam White, Rayneil de Guzman and Jerry Jaksich merge California cuisine, local ingredients and Asian flavors by serving things like cold ramen with Dungeness crab and shoyu ramen with smoked duck breast. The menu changes daily. The beds of locally grown microgreens all over the kitchen where de Guzman runs the line are a statement of purpose. 
I also felt it at Swan's Market, a modern collection of restaurants and shops inside a building that dates back to 1917. This place is built for a food crawl. You can eat izakaya fare and drink sake at AS B-Dama or indulge in omakase at Delage. There's elegant Caribbean food at Miss Ollie's. There's seasonal Californian-Mexican food at Cosecha, which serves yam quesadillas, grilled chicken achiote and a fruit salad with cucumber, pumpkin seeds and jicama. Cosecha's Dominica Rice-Cisneros previously cooked at restaurants in Mexico City and also at Chez Panisse. Swan's Market is also home to The Cook and the Farmer, a charming oyster bar and wine bar where starting with raw oysters before enjoying an oyster po-boy makes perfect sense. Rosamunde Sausage Grill prides itself on using grass-fed beef and pouring great craft beers. There's organic juice and smoothies at Super Juiced.
Swan's Market is full of operators who have a sense of purpose. Part of a mixed-used development with residences and offices, it's designed to be a community center. Something about a place like this in a city like this might even change you a little. Eat enough of this stuff and you might start internalizing what it all means.
I've been in all sorts of progressive cities, but I still found myself spending an inordinate amount of time last week thinking about things like how Old Kan, an independent month-old business in the notoriously low-margin restaurant industry, was making its quest to help others so explicit. I thought about how an Uber driver revealed that he was driving extra shifts so he could raise money for a church trip to build a school in Brazil. I felt a little guilty being in town to eat and eat and eat, but then the driver and I also talked a bit about food. He had grown up in the Midwest, where he mostly ate pizza and burgers, and he was enamored with the diversity of food in the Bay Area. This included the Ethiopian dishes that friends at his church had made at home and brought him.
One day at Swan's Market, I noticed that a woman left her ID badge on the floor. It was in a little transparent plastic holder, along with photos of her children and some cash. I didn't even count how much, which is really unlike me.
I've been in situations like this before. Sometimes, I've given what I've found to somebody else in hopes that they can take care of it. Sometimes, I've just ignored what I saw and left things on the ground. And I confess that I once pocketed a lot of money I found in a cab in New York. I am not usually someone who is generous with my time. I am not someone who wants to create a problem for myself. But last week in Oakland, I walked four blocks to a stranger's workplace and returned what belonged to her. Then I went back to eat.