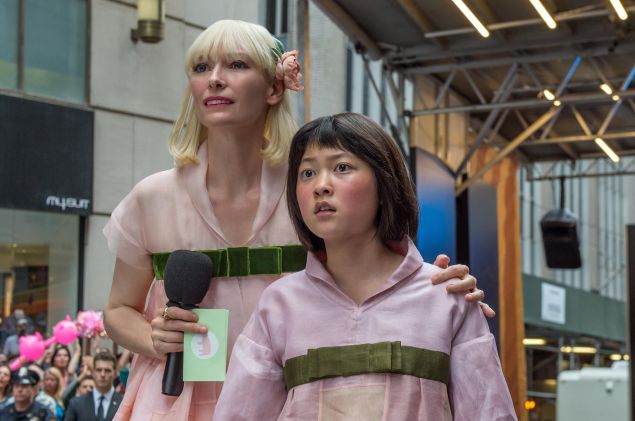 Is Netflix trolling Cannes? Audience members fought each other cheering and jeering as the company's logo filled the towering silver screen at the Grand Theâtre Lumière for the first time ever, during today's 8:30 am press screening of Bong Joon-ho's quirky PETA-themed pig-napping thriller Okja.
But then the real boos began: loud, forceful, defiant. The film, produced by Netflix, was being projected in the wrong aspect ratio, severing Tilda Swinton's head as she delivered a waxing speech about the merits of eco-friendly corporate super-swine. Projection stopped, as technicians scurried to fix the problem. "This is Netflix sabotage!" mumbled one foreign journalist in a sarcastic laugh.
The online digital subscription colossus has been monopolizing chatter on the Croisette ever since the 70th Cannes Film Festival last month granted competition slots for two of its movies, Okja along with Noah Baumbach's The Meyerowitz Stores (New and Selected).
The initial outrage was quick—how dare a home entertainment provider be given access to such hallowed halls of cinema?—and the festival soon announced that, starting next year, any film chosen to compete in Cannes must also get a traditional release in French theaters. "The establishment closing ranks against us," Netflix CEO Reed Hastings posted on Facebook. But was he really surprised? This is the same event where, in 2015, Netflix CCO Ted Sarandos was accused of destroying the film ecosystem in Europe.
Les services de streaming are none too popular here on the Riviera. Spanish auteur Pedro Almodóvar, president this year of the jury that will bestow Cannes' top honor, the coveted Palme d'Or, to one of the 19 films in competition, even made a point of reading a statement about the issue at the jury's traditional Opening Day press conference. "I personally do not conceive not only the Palme d'Or but any other prize being given to a film and then not being able to see this film on a large screen." Many took this as him throwing down the gauntlet to Netflix: no prizes for you! But Almodóvar has since downgraded the tension by clarifying his statement, insisting that the seemingly strident tone was the product of mistranslation.
Conjuring her inner honey badger, Swinton made a point of not giving a shit. "The truth is, we didn't actually come here for prizes," she declared today at the Okja press conference. "We came here to show the film to the Cannes Film Festival. We get the wonderful opportunity and privilege to screen our film on that screen." And her director concurred, invoking Almodóvar. "He can say anything—I'm fine," said Bong. "I'm just happy he will watch this movie tonight."
Almodóvar will be in for a good time. Okja is a rollicking delight, a gonzo mash-up of sci-fi, thriller, action, coming-of-age, and comedy genres about a 14-year-old girl and her hippo-size genetically modified mutant pig that will have audiences snickering even during white-knuckle chase scenes. But does its ultimate message of animal cruelty really hit the mark? Only in the most ham-fisted way (pardon the pun).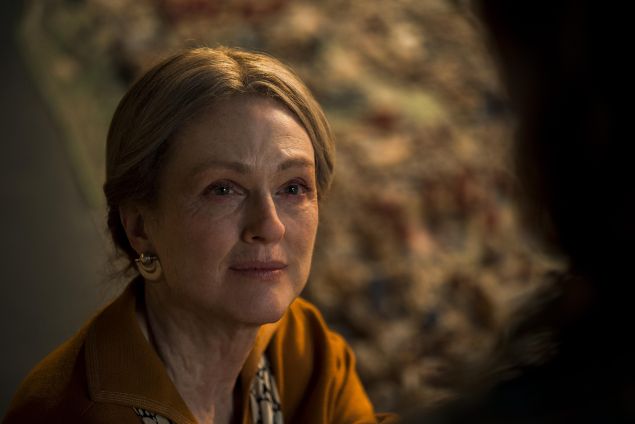 In contrast to Netflix, the cineastes here greeted Amazon Studios (and its theater-friendly distribution strategy) with decidedly more open arms. Jeff Bezos' streaming service premiered its latest, Todd Haynes' Wonderstruck, a diptych melodrama about two deaf runaway children—one in 1927, the other in 1977— and how their parallel adventures in New York City reveal an intertwined fate. Ravishing camerawork, impeccable production design, and a few moments of pure magical filmmaking buoy an otherwise leaden and fundamentally simplistic story (adapted from Brian Selznick's book) that leans heavily on serendipity and coincidence to milk sentiment from its viewers. Julianne Moore and Michelle Williams shine in supporting roles, but their contributions are too small to outweigh the flat performances by child actors Oakes Fegley, Millicent Simmonds, and Jaden Michael. Still, the Croisette was abuzz with Oscar talk for the cinematic bijou.
Cannes has a markedly international flavor this year (no major Hollywood studios have any movies in the lineup), and opened its platinum anniversary with Arnaud Desplechin's feverish melodrama Ismael's Ghosts, a vibrant, overheated look at a manic director (Mathieu Amalric) trapped in a love triangle involving his current girlfriend (Charlotte Gainsbourg) and a newly re-emergent wife (Marion Cotillard) who's been missing for 21 years. The expressionistic ménage à trois has its head-scratching tangents (a subplot involving a spy movie the director is struggling to finish doesn't quite gel) but ends on a poetic grace note with surprising resonance.
In stark contrast to the Gallic fireworks was Andrey Zvyagintsev's chilling Loveless, a devastating portrait of emotional bankruptcy in a Russian society where strength and appearances carry more weight than quiet devotion and parental sacrifice.  A middle-management bureaucrat husband and his beauty-salon-owner wife have nothing but contempt for each other, and in the crossfire is a 12-year-old son whom they both ignore so much that it takes them two days to realize that he's gone missing. Zvyagintsev's previous film, Leviathan, won the Oscar for best Foreign Language Film, and Loveless continues the Slavic helmer's uncanny virtuosity to create stately portraits of his society's deep moral decay.  Filmmaking at this high level, this early in the festival, speaks well for the week ahead.