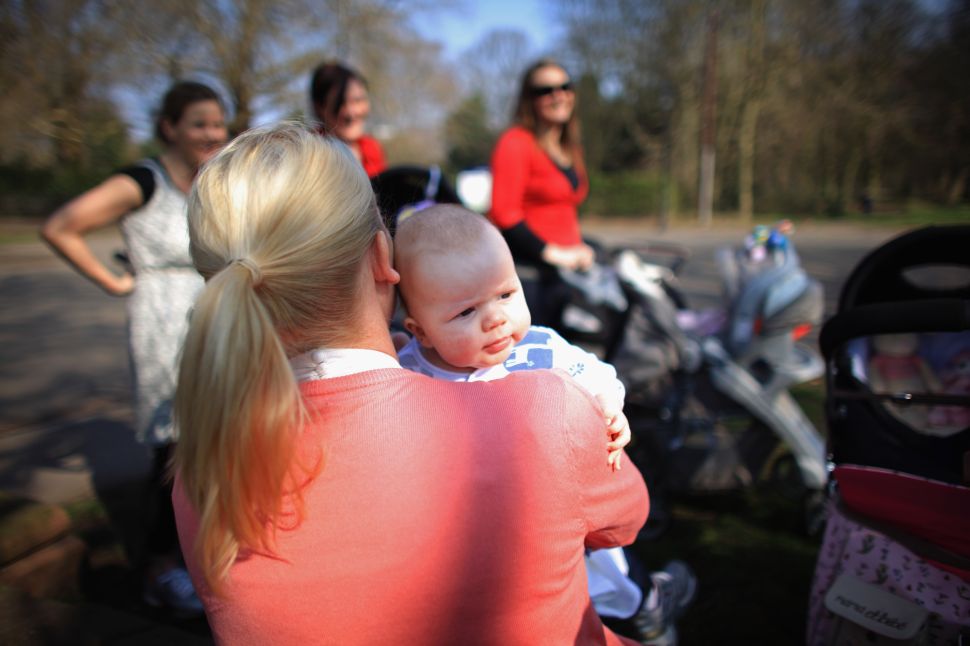 Few women go into motherhood to make a profit, and the financial penalties associated with becoming a mother in the U.S. are increasingly obvious. Recently, the National Women's Law Center released a study showing that in every state and at every  level of educational attainment, mothers are paid less than fathers. To quote the study:
Mothers working full time, year round outside the home are paid just 71 cents for every dollar paid to fathers, a gap that translates to a loss of $16,000 annually.
By educational level, here's how it shakes out: Among high school-educated parents, mothers make 67 cents for every dollar same-level education fathers make; at the associate's degree level, mothers make 69 cents; at the bachelor's degree level, mothers make 65 cents; at the master's degree level, mothers make 65 cents; and at the doctorate level, mothers make 81 cents.
There's also a race component: Using a white father as the baseline metric, Latina mothers earn 46 cents for every dollar a white father makes; native mothers make 49 cents; black mothers make 51 cents; white mothers make 69 cents; and Asian and Pacific islander mothers make 81 cents.
And there's an age component: Although the average wage-earning gap between fathers and mothers is "only" 26 cents when these groups are in their 20s, by the time a working mother is in her 40s, she's making 69 cents for every dollar a working father makes. That's a 7 percent increase in the pay gap, which seems smallish until you factor in the reality that one's 40s are when adults are supposed to start ramping up retirement savings.
So what? "You will be financially hosed in a phenomenon unique to your gender once you become a parent" is not really an incentive to start or grow a family. There's already a growing sentiment gap between men and women: Polls in 2011 and 2013 showed that a significantly larger percentage of men wanted to be parents compared to women.
That will not change unless and until we see change on a personal level—i.e. a more egalitarian division of domestic labor—and on a wider societal level with the introduction of public policies that don't penalize people for needing time to recover after becoming parents.
Who cares? Aside from women, some of whom may have just realized how different their financial lives will be from men who choose to become parents?
Social scientists who study inequality and class mobility should keep an eye on this stuff, because the salary differences and parental leave policies will have disproportionate effects on different socioeconomic strata.
So long as the U.S. remains the land of wildly classist parental leave policies—if you earn less than $30,000 in a year (a little more than what the average full-time Walmart associate makes in a year), you are half as likely to have any paid leave compared to a woman earning at least $75,000 annually—the experience of being a parent is going to be stratified by a few questions:
Can you afford to take any parental leave? If you're a low-wage worker in the U.S., you have a 6 percent chance of having any sort of paid leave whatsoever. This explains why one in every four new mothers in the U.S. is back at work 10 days after giving birth.
Can you afford childcare? In every state in the union, childcare eats up at least 31 percent of a minimum wage earner's take-home pay. Childcare costs have risen 25 percent over the last decade. As Wharton management Professor Stewart Friedman notes:
"The cost of childcare is one of the factors causing young people to opt out of parenthood—and that's a problem. It's a problem that can be solved in terms of what the private sector can do and what government can do to improve childcare infrastructure and paid family leave."
And can your household absorb the slowdown of your income—which is concurrent with the rise in monthly expenses associated with childcare—now that you're a parent?
The lack of a cohesive, national paid family leave policy that protects every adult, regardless of gender or circumstance, holds back citizens individually. It's also hurting our economy. There are 35 countries in the The Organization for Economic Co-operation and Development (OECD), and in 1990, the United States ranked #6 in terms of women's participation in the workforce. It's since slid to #17. Higher labor participation means a stronger overall economy.
A recent National Bureau of Economic Research study contrasted Canada's female workforce participation against the U.S.' and concluded that Canadian women's much higher labor participation rate was the result of government policies, among them a year of paid parental leave and subsidized daycare.
Recently, the Washington Post reported that President Trump's proposed budget may include a program granting six weeks of paid parental leave to new mothers and fathers, both biological and adoptive. The program is expected to encounter resistance from both sides of the aisle; Sen. Kirsten Gillibrand is pushing the FAMILY bill, which would offer 12 weeks paid leave with at least two-thirds pay, while Speaker of the House Paul Ryan has voted against paid parental leave programs in the past, arguing that employees should bank overtime pay against the day they might want time off after having a baby.
And the proposed parental leave program, with a $25 billion price tag, is currently bundled into a budget proposal that eliminates other established government services that chipped away at the parental wage gap, including nutrition assistance for families, prenatal healthcare clinics, and childcare and afterschool programs.
People with an eye on America's bottom line might be in the mood to end the U.S.' reign as the last industrialized country without any paid parental leave. It takes pressure off companies to try and fund the benefits themselves, thus making employment at small, FMLA-exempt places a more attractive option to a wider pool of talented workers. And it ultimately improves economic productivity. Sadly, that last argument is likely to gain more traction than "Why should one gender be disproportionately affected by the decision to have a child?"
Want more? There's a whole archive of So What, Who Cares? newsletters at tinyletter.com/lschmeiser. In addition to the news analysis, there are also fun pop culture recommendations.