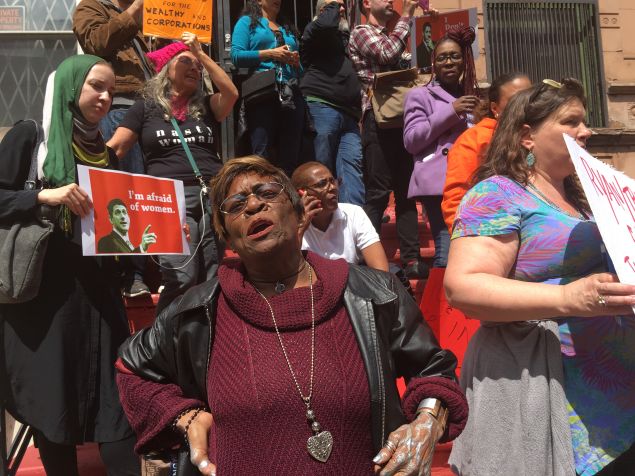 Hundreds of protesters encircled the Success Academy charter school on West 118th Street in Harlem for hours today while House Speaker Paul Ryan toured the inside—out of earshot of the fusillade of criticism the demonstrators fired at him as well as Success Academy CEO Eva Moskowitz, who invited the GOP leader.
Reports surfaced yesterday that Ryan would take Moskowitz up on her invitation to visit the Harlem Success Academy, triggering a salvo of political opprobrium toward the charter school founder, whom President Donald Trump briefly considered appointing his secretary of the U.S. Department of Education. The demonstrators ripped Ryan for pushing Trump's American Healthcare Act, which seeks to repeal and replace former President Barack Obama's Affordable Care Act—and mauled Moskowitz for her promotion of publicly funded, privately run learning facilities.
Ryan exited the school at around 3 pm to boos and shouts of "shame on you!"—and one protester even hurled a water bottle at the car waiting for him.
"I want them to stop playing games with my children's education," Antoinette Smith, a member of the left-wing activist group VOCAL-New York, told the Observer. "I want them to not take away our healthcare. People will die without healthcare, and that's the bottom line."
She asserted that many of the homeless people in New York City suffer from some kind of ailment—and that if the legislation doesn't get modified in some way, "people are gonna die."
"Yea, it's time for us to do something about it," Smith continued. "It's time for us to get out and let our voices be known. It's time for us to understand that the vote is in the primary. You can go to the general election all you want in November but if you're not voting in the primary, your voice is not being heard."
Harlem resident Henry Singleton, an organizer with the healthcare workers union 1199 SEIU, said his primary concern was the AHCA's abrogation of Obamacare's subsidies to low-income Americans and its requirements that large employers offer insurance to their workers.
"It is a right for me to be here for my support for those who might be at work or cannot be here," Singleton said. "I'm a resident of Harlem and I support the people of Harlem and I think that the way that they're trying to overturn the Affordable Care Act is a disgrace."
Neither a spokeswoman for Ryan nor a spokeswoman for Moskowitz immediately responded to requests for comment.
A former Democratic New York City councilwoman, Moskowitz said after Election Day that she voted for Democratic presidential nominee Hillary Clinton and that she was "disappointed" by Trump's victory. But she has praised Trump for supporting charter schools and called on fellow Democrats to give Trump the opportunity to make up for his controversial campaign.
She also embraced billionaire heiress Betsy DeVos, who Trump ultimately chose to head the federal Department of Education.
Prior to Ryan's visit, Moskowitz hosted first daughter Ivanka Trump at the school a day after announcing she would not be entertaining the education secretary position under Trump. House Majority Leader Kevin McCarthy also previously visited the school.
The Alliance for Quality Education, the Working Families Party, Metro New York Healthcare for All, Strong Economy for All, immigrant advocacy group Make the Road New York and Citizen Action New York were also at the protest. They blasted her for frequently inviting politicians who they alleged promote policies contrary to the needs of the communities her schools serve, noting that the Harlem charter is 97 percent black and Latino.
Before the House speaker arrived, people yelled, "Shame!," "Paul Ryan don't care!," "Paul Ryan, shame on you! Greedy, cruel, selfish, too!" and "Not just for Paul, healthcare for all!" Many held posters with slogans such as "SHAME ON EVA MOSKOWITZ!," "Paul Ryan: how do you sleep at night with the blood of sick Americans dripping from your greedy hands?" and "PAUL RYAN HAS NO CONSCIENCE."
While he was inside the school, protesters could be heard yelling, "Booooo! Shut it down! Get that fascist out of town!" "Paul Ryan, come out! We've got some things to talk about!" and "Trumpcare is a lie! You don't care if people die!"
Harlem resident Mildred Rotondo told the Observer, "I feel great, girl"—meaning that she wasn't intimidated by Ryan's presence.
"My message: do what you want but do it the right way like you were doing it for your mot-her! M-O-T-H-E-R," Rotondo said. "Does his momma got healthcare? Can his momma go to any doctor and get any kind of service? He sucks, he reeks, he stinks and oh yea, did I say he sucked? Ask him if his momma got healthcare."
Rotondo added that Moskowitz "sucks, too," and slammed her for bringing the conservative Wisconsin lawmaker to New York City.
Public Advocate Letitia James would not comment on whether Moskowitz should be condemned for inviting Ryan, but she blasted Trumpcare, the administration's efforts to curtail women's reproductive freedoms and its efforts to deport large numbers of undocumented immigrants.
"I know that Paul Ryan obviously really doesn't care about the children in this building," James said.