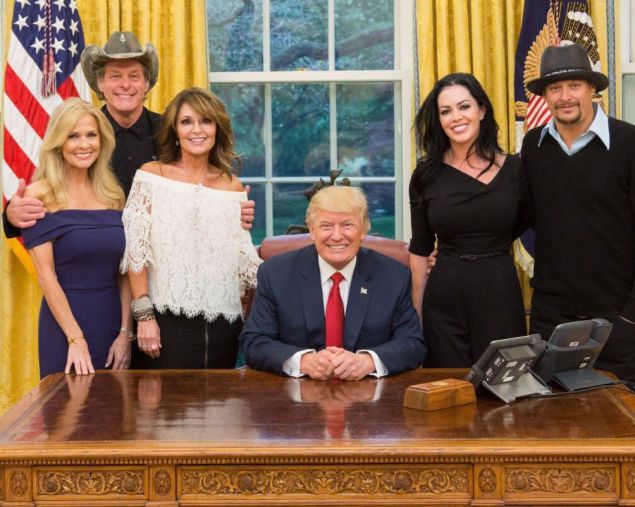 One of the many ways in which Donald Trump's White House differs from Barack Obama's is in its record keeping, or lack thereof. While President Obama released more than six million White House visitor records during his tenure, last month the Trump administration cut off public access to visitor logs.
In light of this, some members of the media have taken matters into their own hands.
Today Politico released "All the President's Guests: The Unauthorized White House Visitor Logs." This constantly updating database documents Trump's in-person interactions in the Oval Office, along with his appearances at events and phone calls with world leaders. And since Trump can't seem to stay in the White House on weekends, Politico is also recording the people he meets at his golf clubs in Florida and New Jersey.
"All the President's Guests" is drawn from sources including White House schedules, news stories and pool reports.
The vast majority of Trump's guests thus far (80 percent) have been white, including 63 percent white men. Here are some other interesting tidbits:
Trump has talked to or appeared at events with at least 270 business leaders, from JPMorgan Chase CEO Jamie Dimon to United Airlines' Oscar Munoz.
He's met with at least 250 Republican politicians but only 92 Democrats. He does like some blue state politicians, however—he's met New York's Chuck Schumer five times and West Virginia's Joe Manchin four times.
The president has met with Secretary of State Rex Tillerson at least 22 times since he took office— but he's met Housing and Urban Development Secretary Ben Carson just four times and Energy Secretary Rick Perry only three times.
Trump has spoken to or met with at least 47 world leaders since his inauguration. He has most frequently been in contact with German Chancellor Angela Merkel and Japanese Prime Minister Shinzo Abe, having met with or talked to both seven times.
The president also meets often with sports stars, and not just because he's good friends with the Patriots' Robert Kraft and Bill Belichick. Trump played golf with Rory McIlroy and Ernie Els at one of his Florida courses in February, and he met with former Yankee Mariano Rivera as part of a meeting on the opioid epidemic.
Trump also has many seemingly random encounters with celebrities. For example, at a black tie dinner with Australian Prime Minister Malcolm Turnbull last week, the president mingled with John Travolta and was serenaded by Kellie Pickler.
And then of course, there are the meetings no one can explain. In April, Trump welcomed Sarah Palin, Ted Nugent and Kid Rock to the White House, where they posed mockingly underneath a portrait of Hillary Clinton.
Politico calls its database "an evolving piece of journalism." Anyone with tips can email information to trumpvisitors@politico.com.