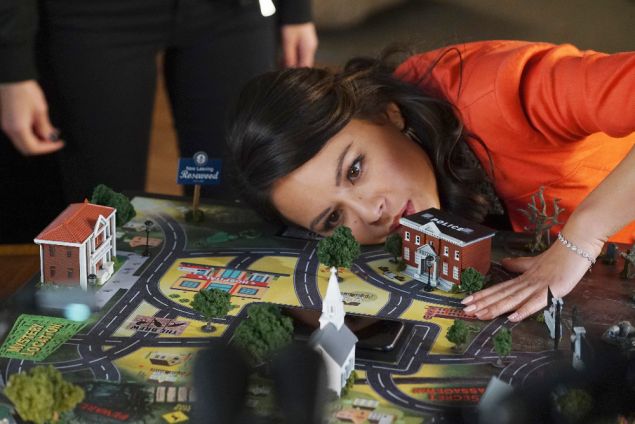 Last week I said flat out that Lucas must be A.D., and this week's episode seems to confirm it. Emily and Hanna are tearing through the apartment, looking for proof of a relationship between Lucas and Charles/Charlotte. They have a photograph of them together. Could there be more?
As it turns out, yes. First of all, there's a mention that Lucas has been to Comic-Con, which makes him far cooler (to some) and much more of a suspect to the rest of the world. So the girls decide to dig through Lucas' enviably organized comic book collection. They find one rare special edition – so rare there's only one copy. It's a comic book written by Lucas and Charles all about a boy who is bullied and takes sweet revenge.
WHOA. Lucas and Charles made a book all about how a bullied child tortures his tormentors. Pretty terrific plot twist. I'm more convinced than ever that Lucas is involved. Later on, Mona spots a real estate ad that show Lucas is selling the warehouse Hanna needs for her fashion line. The web of lies grows thicker.
Meanwhile, Aria and Ezra battle over Nicole. Her family still needs Ezra, and Aria wants him home. Ezra has packed a bag for a short trip to Maine, and Aria fumes and demands that Ezra stop putting himself in the middle of this situation. Aria continues to take video calls with A.D. In a chilling but of inspiration, A.D. speaks to Aria on Facetime – but uses a crude animation of Aria's own face. It's more disturbing than it sounds. And Aria is passing along information, as A.D. threatens to expose Ezra using a file collected by Jessica DiLaurentis. Aria doesn't know exactly what's in there, but she wants it to stay hidden.
Detective Furey (fully dressed, dammit) interviews Alli and answers Spencer's questions. But he's beginning to see that Spencer has to be involved with Archer Dunhill's disappearance. In fact, Spencer made a horrible error. On the night she met Furey, she told him that she had just finished burying a body. Even worse, she pays for their drinks using a credit card that belongs to … Archer Dunhill. And she signed the bill with her own signature. It's only a matter of time before Furey figures it out. He follows Spencer and she is rattled – although she looks truly dazzling in her Lanvin Contrast Trim Trench Coat. By far the cutest fashion on the show this week. Plus: the episode was directed by Troian Bellasario herself!
No one took off their shirt in the entire episode, but this one was still a delight. Emily struggles with the knowledge that her baby is growing inside Allison, and a blood test proves that Archer Dunhill is definitively not the father. But only Allison went to the doctor's office and got those results. Alli is the original Liar. Is she lying now? Could she be lying to keep Emily close? I'm not sure I trust Allison.
In any case, Emily wants Alli to keep the baby. If baby makes three…that leaves no room at all for Paige.
Paige and Emily have a painful conversation about their future. Paige has decided to leave, and this time, it's final. Paige has left Rosewood and the Liars to their own fates before, and this time, she will not return. Before she leaves, she confronts Alli and tries to chip away at the truth: does Allison love Emily? Unresolved. But that uncertainty is enough to convince Paige it's over.
Finally, Mona learns the truth about the Liar's Lament game. She analyzes the game and thinks it's not technical enough to be by Lucas. She refuses to play the game, as she realizes how addictive it is to hurt others. "Then imagine how much fun it will be to beat it," Hanna encourages her. I'm no longer sure Mona is involved, but I'd bet anything she and the game will throw down next week.
A.D. suspect: Still Lucas.
Tonight's episode raised so many questions that I'm not sure how any of this tangled web will be unwoven in just two more episodes. We've lived with these girls and the various iterations of A for so many years that it's impossible to think it will ever end.