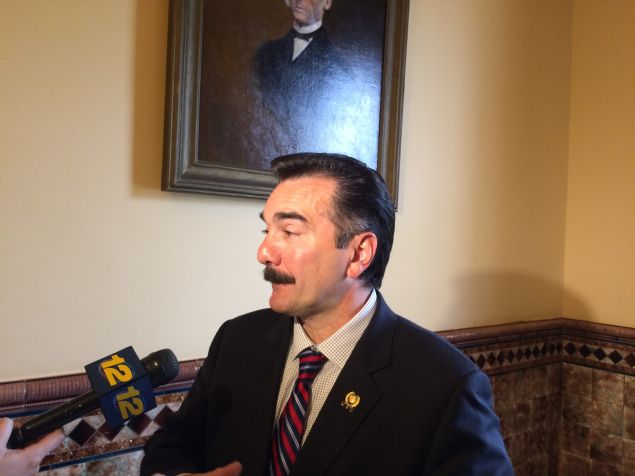 Facing a challenge to his leadership spot, Assembly Speaker Vincent Prieto surrounded himself with liberal groups on Tuesday and rolled out legislation to beef up New Jersey's paid family leave law.
Democrats are favored to retain control of both houses of the Legislature in November's elections, when all Assembly and Senate seats will be on the ballot. But things are not so certain for Prieto and the speaker's gavel he has held since 2014.
A North Jersey Democrat in an increasingly bitter rivalry with Senate President Steve Sweeney, Prieto is likely to face a challenge from Assemblyman Craig Coughlin (D-Middlesex), who told Politico he has been making calls to round up support.
After unveiling his paid family leave bill in a news conference with the AARP, the AFL-CIO, New Jersey Citizen Action and New Jersey Policy Perspective, Prieto told reporters "everybody is afforded the ability to run for anything" and said he was confident he would lock up a majority of the Democratic caucus for another two-year term as speaker.
"Everything that people say or think is not quite what it is," Prieto said. "There's a lot of relationships in a lot of different places. But again, listen, everybody is afforded the ability to run for anything, and that's why my mom brought me to this country. It's the greatest country on Earth. The only thing I can't run for is president, because I wasn't born here."
Prieto is a Cuban immigrant who has been pitching himself to fellow Democrats lately (and not very subtly) as the guy who can stand up to Sweeney (D-Gloucester) and the South Jersey Democrats who almost always vote as a bloc, which gives them great influence in the Legislature. The informal "Quad County Alliance" of four Democratic-run counties in the north — Bergen, Essex, Passaic and Prieto's Hudson County — has tried to push back on the south.
The biggest clash came last year. Prieto and Sweeney presented dueling plans for a state takeover of Atlantic City's finances, with Sweeney ultimately carrying the day after Prieto could not round up enough votes for his own proposal in the Assembly.
Prieto's plan had union support and would have delayed a state takeover; Sweeney's plan kicked in faster and allowed Gov. Chris Christie's administration to modify the terms of collective bargaining contracts with local police.
"At the end of the day, I don't think it's regional," Prieto said of the coming speaker's race. "As you all know, I have stood up for Atlantic City — that's not in my region; people that don't vote for me — and I actually did it because of their civil liberties and their right to self-governance. And it was the right thing to do and I would do it over again."
"We've done a lot of progressive things, things like what we're seeing here today," he added, referencing the paid family leave legislation, which would extend the amount of time for such leave, cover more family members and increase compensation. Christie is not likely to sign it.
"As I keep saying to everybody, we've made the Assembly relevant again," Prieto said.
That refrain from Prieto has drawn criticism from Assembly Majority Leader Lou Greenwald (D-Camden), who is technically the speaker's No. 2 but has been kept out of meetings and such by the No. 1.
"I disagree with digging his heels in and making us relevant," Greenwald told NJTV. "I think that's disrespectful to [former speakers] Sheila Oliver, Joe Roberts and Albio Sires. I don't think it's ever an issue that we have to fight for relevance. I come back to I think we're most relevant when we're working together, when we're in meetings together, when we're bridging gaps from north and south, when we're not divided by geographical lines and when we come together on public policy."
Prieto responded to that response.
"I sort of read something today about, 'digging heels is not the same thing,'" he said. "I remember Joe Roberts did that a lot, and a lot of people, including the majority leader, thought that was a great quality when he did that. So I think it's disingenuous to have a double standard for another speaker."
Sweeney, who has been Senate president since 2009, has a detailed list of incumbent Democratic senators running for re-election and Democratic candidates in competitive districts who have all pledged to back him for another term. Prieto has no such list but said he got "a lot of support" at a recent meeting of the Quad County Alliance.
"The support and all that, listen, the day when it counts is when we have the vote, right after the election," he said. "So it would be the incumbents that are coming back and the Assembly members-elect that will be voting. So that's the day that it counts, when we vote."
He added: "I think I've done a good job. I think there's still a lot more to do. And I look forward to being in this role with a friendlier executive branch and to get a lot of good things done."