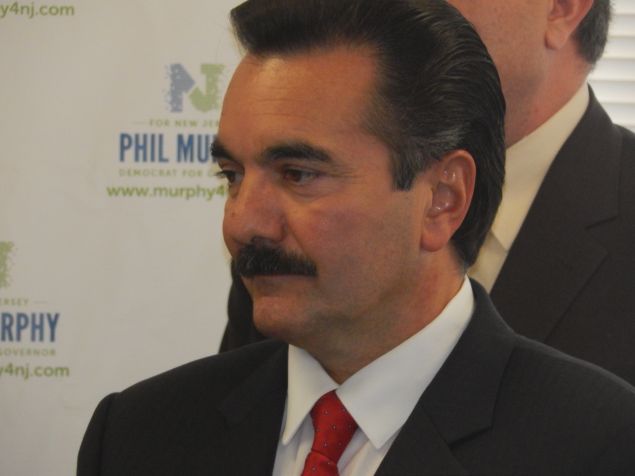 Assembly Speaker Vincent Prieto announced Friday evening that he's running for another term as the leader of the lower house in Trenton, likely setting up a leadership battle with Assemblyman Craig Coughlin (D-Middlesex).
Observer had reported previously that Prieto (D-Hudson) would be running for another two-year term after the November elections, in which Democrats are favored to retain control of both houses of the state Legislature. His announcement Friday — which threw more than a bit of shade at South Jersey Democrats itching to dethrone him — makes it official.
"Over the past three and a half years that I have served as Assembly speaker, I am proud to say that I have put together a strong record of fighting for progressive values and ideals, no matter who may have been standing in the way," Prieto said in a statement.
"Working together with the members of our caucus, we brought needed funding to the Transportation Trust Fund, fought to protect collective bargaining rights, increased the minimum wage, passed historic bail reform and took many other actions that will benefit our residents for years to come."
"Fought to protect collective bargaining rights" is code for, "I butted heads with Senate President Steve Sweeney." The two Democratic leaders presented dueling plans for a state takeover of Atlantic City's finances last year, with Sweeney ultimately carrying the day after Prieto could not round up enough votes for his own proposal in the Assembly.
Prieto's plan had union support and would have delayed a state takeover; Sweeney's plan kicked in faster and allowed Gov. Chris Christie's administration to modify the terms of collective bargaining contracts with local police.
"Most importantly, we brought the Assembly back into the conversation in Trenton and re-established it as a co-equal branch of our state government," Prieto continued. This year, the speaker and the Senate president are tussling over how best to rejigger New Jersey's formula for funding schools.
All 120 legislative seats are on the ballot, along with the governor's race, this year. Sweeney, who had been planning to run for governor but whose path to the nomination was cut off when Jersey City Mayor Steve Fulop abruptly pulled out of the race, has announced he will be seeking another term as Senate president.
The traditional power-sharing agreement among New Jersey Democrats has been to split the chambers between the north and south.
But the X factor this year is Middlesex County, whose Democratic chairman, Kevin McCabe, has been mounting an aggressive bid to get central Jersey into the leadership equation. Coughlin has support from the south, but a unified north could quash his chances.
Does Prieto have a unified north behind him?
Sweeney unfurled a list earlier this month of more than enough Democrats needed to win the Senate presidency for another term.
Prieto, on the other hand, said, "Due to the meetings I have had over the past weeks with Democratic leaders throughout the state and the commitments I have received, I am strongly confident that I will have the support of a majority of the Assembly Democratic caucus for another term as speaker."
There was no number or list, and South Jersey Democrats maintain that Prieto doesn't have the votes like he didn't have the votes for his Atlantic City legislation. Despite being key to Phil Murphy's rise in state politics last year, Prieto also has not gotten Murphy's backing for the speaker's race, although Murphy did issue an effusive statement endorsing Prieto for his Assembly seat.
Prieto allies say the speaker's close relationship with Murphy, whom Democrats expect to win the governor's race, would be an asset for the Assembly Democrats that Sweeney and the Senate would not necessarily enjoy. And they point out that as a Cuban immigrant, Prieto brings much-needed diversity to the leadership mix.
The speaker called an emergency meeting earlier this month with the Democratic county chairs and lawmakers who compose the "Quad County Alliance," an informal coalition of party bigwigs from Bergen, Essex, Hudson and Passaic counties. Prieto was expected to make his case for another term at the meeting.