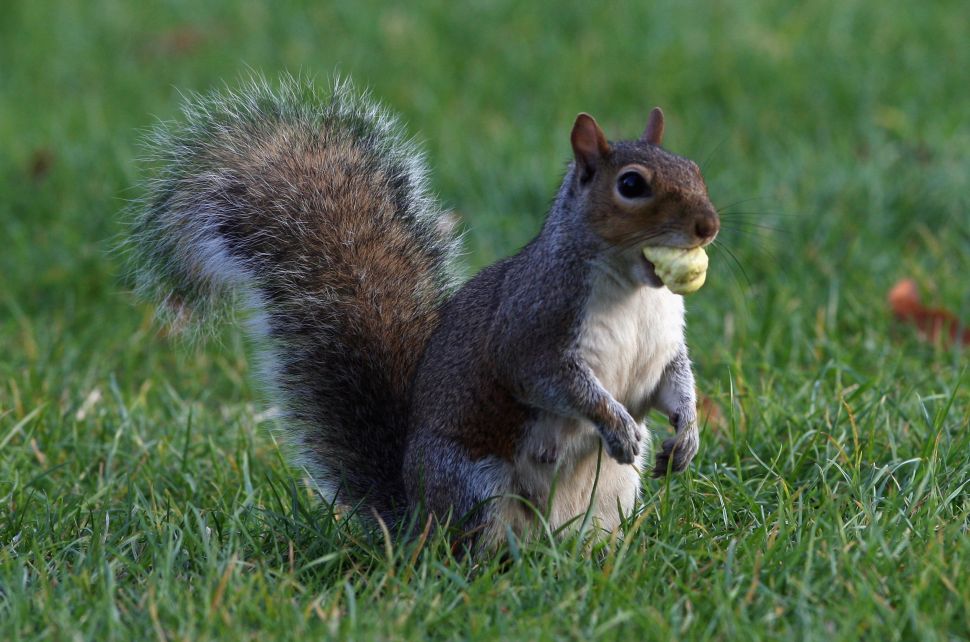 Is #BrownSquirrelsMatter in the offing? Perhaps, if Teresa Lloro-Bidart has her way. An assistant professor at California State Polytechnic University, Lloro-Bidart has a theory: Eastern fox squirrels are subject to "racialized" media bias, not to mention "gendered" and "speciesist" thinking.
It's all in her paper. Upon reading the title, "When 'Angelino' squirrels don't eat nuts: a feminist posthumanist politics of consumption across southern California," you know we're not in Kansas anymore, Toto. We're in American academia.
The story is that the reddish-brown eastern fox squirrels, known as "Easties," were introduced to California a century ago and now thrive in the Land of Fruits and Nuts, supplanting the less adaptable native western gray squirrel in urban/suburban areas. This browning of the squirrel demographic has, apparently, inspired some virulent anti-migrant bigotry.
For example, Lloro-Bidart cites some hater (a white male, no doubt) of a journalist named John Barragan. Expressing his preference for the western grays, he spoke of "trash-eating" Easties, which he called mere "trumped-up rats" and "fast procreator[s] with an appetite for everything."
Lloro-Bidart, an associate professor of liberal studies, leaps to their defense. She claims that humans are "otherizing" the Easties, as they call it "a non-native…or even invasive animal." She also writes that the critters "ontologically defy society's boundedness as they demand the freedom to eat whatever they choose in the city."
It's the kind of "scholarship" that made one commentator wonder if Lloro-Bidart wrote her paper "from a padded room" and ask, "Who is more insane?" the "professor who wrote this idiocy or…the 'academic' journal' that published it?"
That journal would be Gender, Place & Culture: A Journal of Feminist Geography, which I had to investigate because the squirrel theory just read too much like a story on The Onion. It turns out that the journal exists, boasts of being "peer-reviewed" and doesn't deal in satire (not purposely, anyway). Although the following passage from Lloro-Bidart's "abstract" could almost fool you:
Given that the shift in tree squirrel demographics is a relatively recent phenomenon, this case presents a unique opportunity to question and retheorize the ontological given of 'otherness' that manifests, in part, through a politics whereby animal food choices '[come] to stand in for both compliance and resistance to the dominant forces in [human] culture'. I, therefore, juxtapose feminist posthumanist theories and feminist food studies scholarship to demonstrate how eastern fox squirrels are subjected to gendered, racialized, and speciesist thinking in the popular news media as a result of their feeding/eating practices, their unique and unfixed spatial arrangements in the greater Los Angeles region, and the western, modernist human frame through which humans interpret these actions.
Wow, as Archie Bunker would say, "She sure do talk good." If you don't know what Lloro-Bidart's talking about, don't feel bad—neither does she.
In the academic world it's publish or perish, and if you can talk the talk no one may care that the only sense your work reflects is nonsense. It's somewhat reminiscent of the case of Freddie Linsky, the two-year-old who fooled "the art world into buying his tomato ketchup paintings," as the Daily Mail put it.
His mother, an art critic named Estelle Lovatt, billed him as an experienced artist who has "dedicated his whole life to art." She marketed his toddler daubs by talking the talk with overblown captions and the following: "Freddie W R Linsky paints over and over, making us curious to know what is going on."
"It seems that one stroke is being repeated—the same stroke or one very close to it, hence the possibility of the infinite opening up of the structure of time."
The larkish Lovatt didn't think anyone would be duped, but it turned out that major art galleries wanted to showcase Freddie's work and even offered money for it. Lloro-Bidart's paper is the toddler-daub version of academic scholarship, with sophistication read into the sophomoric.
What's truly tragic, though, is that squirrel theory isn't all that out of place in modern academia. Just consider courses it has offered. As Young America's Foundation wrote in its 2006 report "The Dirty Dozen: America's Most Bizarre and Politically Correct College Courses," they include "The Phallus," "Native American Feminisms," "Queer Musicology," "Border Crossings, Borderlands: Transnational Feminist Perspectives on Immigration," "Lesbian Pulp Fiction," "Whiteness: The Other Side of Racism," and "Sex Change City: Theorizing History in Genderqueer San Francisco." By the by, you also can partake in such acid-trip academics for no more than $45,370 a year.
All this proves that modern universities aren't just for the birds but the squirrels—'cause they're nuts.
Selwyn Duke (@SelwynDuke) has written for The Hill, The American Conservative, WorldNetDaily and American Thinker. He has also contributed to college textbooks published by Gale – Cengage Learning, has appeared on television and is a frequent guest on radio.