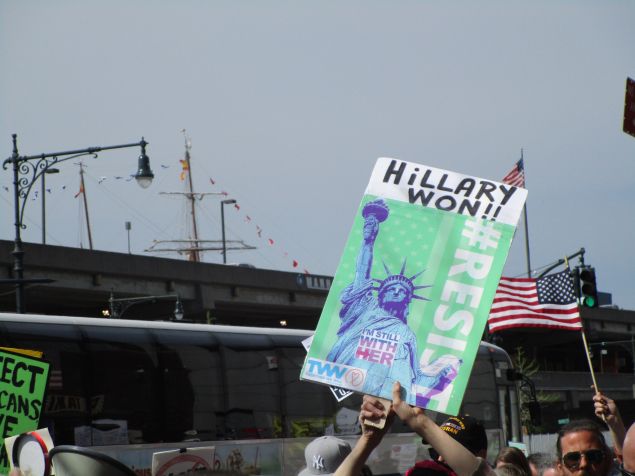 A hostile reception awaited President Donald Trump as he returned to his hometown for the first time since his inauguration in January, as Democratic politicians and left-wing activists led protests on the West Side of Manhattan, close to where the Queens-born chief executive will appear aboard the historic U.S.S. Intrepid later this evening.
Spearheaded by the labor-backed Working Families Party, liberal veterans group Common Defense and a suite of local elected officials, hundreds of demonstrators massed by DeWitt Clinton Park this afternoon and heard speeches before marching several blocks south, in view of the World War II aircraft carrier. The nautical museum will host a banquet celebrating the Battle of Coral Sea, featuring Trump and Australian Prime Minister Malcolm Turnbull—a man the American commander in chief famously clashed with over the phone in February.
The objectors expressed particular repulsion at the president's aggressive immigration enforcement agenda, his support for scaling back federal protections for sexual minorities, his thus-far failed efforts to ban travel from several majority-Muslim countries, his revitalized push to repeal and replace the Affordable Care Act and his proposed corporate tax cut.
"Say it loud, say it clear, immigrants are welcome here," Public Advocate Letitia James led the crowd in shouting, reserving some of her fire for members of her own party. "It's time that we defeat this administration, that we defeat this administration at the ballot box by voting into office progressive Democrats—not weak-kneed Democrats—but Democrats with steel in their spine and fire in their bellies and justice in their souls."
Pam Campos, executive director of Common Defense, recalled both her Honduran immigrant heritage and her service in the U.S. Air Force. She contrasted this with what she termed Trump's "unrepentant bigotry."
"The man in our White House does not know service. He does not serve us. He is a threat to our values, our freedoms and our communities," she said. "As veterans and military families, we took an oath to serve and protect all Americans, all people in our country."
Protesters clattered pots and pans with utensils, in the style of a Latin American cacerolazo. Cristina Jimenez, executive director of the immigrant activist group United We Dream, asserted her experiences and attitudes as an unauthorized immigrant represents the true spirit of the borough and city of the president's birth.
"We are here to send a very clear message to Trump We are undocumented, we are unafraid. This is our home. Queens is my home. You, Trump, you are from Queens. And we reject you. We are the real people of New York," Jimenez said. "We are here to stay—no ban, no wall, no raids!"