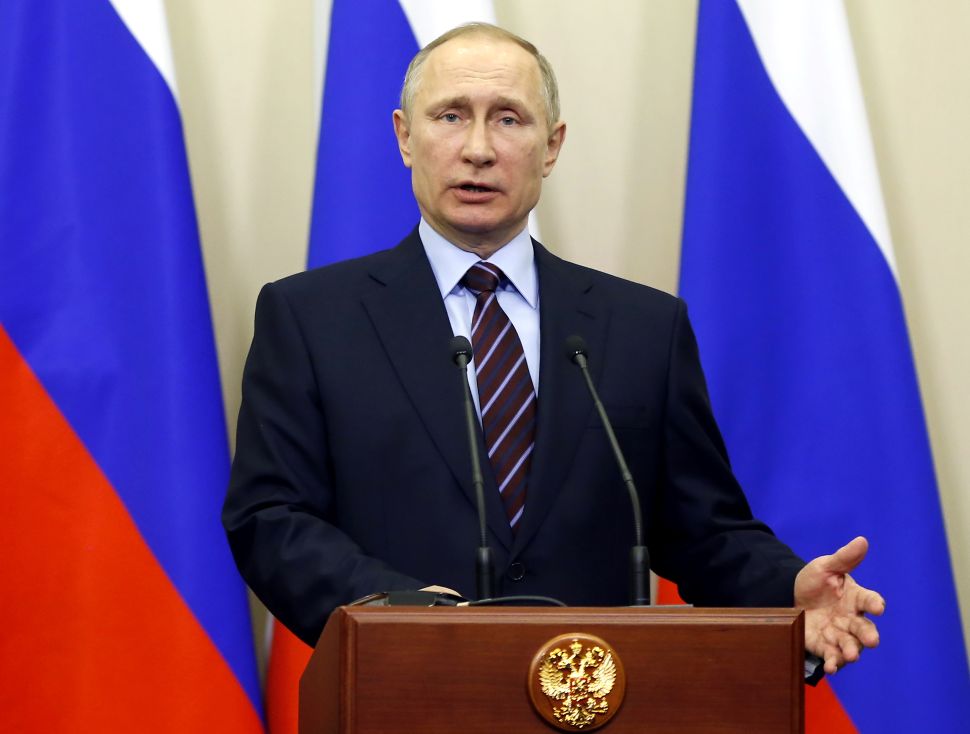 In an impromptu interview before he stepped onto the ice during the National Hockey League Festival, Russian President Vladimir Putin was asked about his thoughts on President Donald Trump's firing of FBI Director James Comey.
Elizabeth Palmer of CBS News asked Putin, through a translator, if Comey's firing would impact bilateral relations between Russia and the U.S. Putin answered, "We have nothing to do with that… It will not affect [Russia-U.S. bilateral relations] in any way." Then, in true Putin form, he continued. "Don't be angry with me, please, but your question looks silly to me. We have nothing to do with it. President Trump acts within his competence, provided by the constitution and the law."
Putin's spokesman, Dmitry Peskov, was the man doing the translating.
For his part, Putin, clad in his famous #11 red jersey with "Russia" emblazoned on the front, went on to score six goals for his team. The hockey game took place in Sochi, home of the winter Olympics. Several former Olympic and national team members joined him on the ice.
This was one of those "I Am a Man" moments for Putin; the hockey equivalent of riding bare-chested on horseback or solo in a mini sub, shooting a bulls eye or taking an opponent down in a judo match.
The encounter was amusing and made for an interesting story. But from the perspective of diplomacy and international relations, it was irrelevant. What was essential is that earlier that day, in the White House, Russian Foreign Minister Sergey Lavrov met with President Trump. And a day earlier, Lavrov met with his counterpart, U.S. Secretary of State Rex Tillerson.
Also newsworthy is that Russian media is announcing that Putin and Trump will meet in Hamburg at the G-20 meeting scheduled for July. That is really big news. But journalists—even seasoned journalists—need to have a little fun. As do seasoned diplomats.
So when MSNBC's Andrea Mitchell threw out a question about Comey being fired as Lavrov and Tillerson walked together, Lavrov made a joke of the entire situation. In a classic move, he responded, "Was he fired? You're kidding.  You're Kidding."
The official press conference with the U.S. Secretary of State and the Russian Foreign Minister carried a much more serious tone. Lavrov said, "I can't believe I'm being asked to answer such a question—especially in the U.S., where you have a sophisticated democratic political system. We're all adults here, right?"
When Lavrov went to the White House to meet President Trump, he did not go alone. Accompanying him was none other than the now infamous Russian Ambassador, Sergey Kislyak.
Kislyak is the person with whom Michael Flynn and Jeff Session (and a host of other prominent and wealthy Americans) have spent time. It is because of his meeting with Kislyak that Flynn is no longer a member of the Trump administration. What most people do not know, even though it has been an open secret for years, is that Kislyak is not merely a present-day ambassador. He is a spymaster—and recruitment is his greatest skill.
Back at his own press conference, Lavrov felt it essential to clear the air about the allegations that Russia has been controlling, even directing, United States politics. Lavrov said, "It's ridiculous … to think a great country like the United States is being controlled by someone else."
It is, of course, ironic that these meetings between the president of the United States and Russian diplomats took place the day after Trump fired Comey. Ambassador Kislyak laughter and pleasure in Trump's company would be tainted by a touch of irony on any day of the year—let alone that day. The irony continued as, later that day, the dean of Cold War diplomacy, Henry Kissinger, visited the White House.
What is most important here is that the Vladimir Putin and his seconds-in-command are working hard with all of Trump's men to mend fences. The United States and Russia need to work together to solve some of the big issues confronting not their own countries, but the world.
It is nice, every once in a while, to be able to laugh at ourselves. As the cliché goes, if we didn't laugh, we'd have to cry.
Micah Halpern is a political and foreign affairs commentator, author the "The Micah Report," online and host of the weekly TV show "Thinking Out Loud w Micah Halpern." follow him on twitter: @MicahHalpern