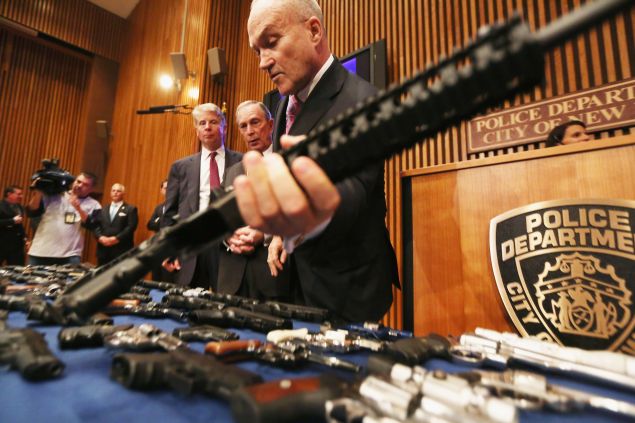 President Donald Trump told the National Rifle Association's convention last month that "I am going to come through for you"—but rumors have flown he is considering replacing ex-Federal Bureau of Investigation Director James Comey with former NYPD Commissioner Raymond Kelly, who has endorsed a number of restrictions on firearm ownership.
The president unceremoniously sacked Comey Monday evening, ostensibly for his handling of the probe into Hillary Clinton's use of a private email server at the State Department, but amid a welter of investigations into whether the Trump campaign in any way collaborated with Russian agents in the damaging leaks that sandbagged the former First Lady's campaign. A number of outlets have identified Kelly as one of the top contenders for the job, along with former Mayor Rudolph Giuliani, New Jersey Gov. Chris Christie, Wisconsin Sheriff David Clarke and South Carolina Congressman Trey Gowdy.
But in his book Vigilance, released in late 2015, Kelly called for reviving the 1990s ban on assault weapons—a measure Trump opposed as a candidate, and which the NRA has battled to stop—in order to prevent terrorists like Orlando nightclub shooter Omar Mateen from obtaining them.
"Mateen had no trouble arming himself with a weapon of war. There is no logical reason for civilians to have that much firepower. I am all for an assault weapons ban," Kelly wrote. "Given the world we live in, we have to expect more of these lone-wolf or wolf pack attacks. But an assault weapons ban will help reduce the body count."
Kelly was less outspoken on firearms issues during his 2002 to 2014 tenure at the NYPD than his boss at the time, ex-Mayor Michael Bloomberg, who championed gun control measures nationwide. But in 2012, after the shooting of a five-year-old girl in the Bronx, Kelly ripped then-President Barack Obama for not taking a more aggressive stance on the issue.
"Maybe the city most affected [by guns] is Chicago. The president's hometown. But barely a peep out of him," the police leader told reporters.
In 2013, Kelly penned an editorial for the New York Post entitled "The Scourge of NYC's Streets," which argued that handguns represent an even greater threat to urban safety than assault rifles. He also called for mandatory background checks for all gun purchases, including those made at shows and online.
Trump, by contrast, has endorsed a federal "reciprocity" law that would obligate states to recognize and honor each other's concealed carry permits—meaning New York and other places with strict regulations on guns could see armed individuals from states with looser laws roaming the streets. And in February, the president signed an executive order rescinding Obama-era that limited the ability of the mentally ill to purchase firearms.
In 2015, following the terrorist shooting in San Bernardino, California, Kelly pushed back on suggestions by Trump and other Republican presidential candidates that gun-carrying citizens could stop future attacks. More armed people would only "compound that mayhem," the former top cop claimed.
"I am concerned about the wholesale increase of people carrying guns," Kelly said on an episode of billionaire John Catsimatidis's radio show. "I don't think we need more guns on the streets in this city or in this country."
Neither Trump nor his administration are known for their consistency on any issue. He and top members of his Cabinet have frequently contradicted themselves and each other.
As recently as 2000, the billionaire Manhattanite himself supported an assault rifle ban, and criticized the NRA.
Kelly and Trump do align on key law enforcement issues. The former NYPD commissioner aggressively utilized the controversial stop-and-frisk tactic in minority neighborhoods, and oversaw a massive surveillance program that tracked the movements of Muslim New Yorkers.
These strategies landed the city in legal trouble toward the end of the Bloomberg administration, but Trump praised them on the campaign trail.
Further, Kelly—a former Democrat and current unaffiliated voter—might be able to win bipartisan support in the Senate, which would need to vote to confirm him for the position. He first served as NYPD commissioner under Democratic Mayor David Dinkins, and went on to work in President Bill Clinton's administration.
Now-Senate Minority Leader Charles Schumer, the most powerful Democrat in Washington, recommended Kelly for the job of FBI director in 2011.
As it happens, Vigilance contains just a single mention of the man Kelly refers to as "the one-and-only Donald Trump": a recollection of the real estate mogul's support for rebuilding the World Trade Center to its exact pre-9/11 specifications.
The book also recalls how the Clinton administration offered Kelly the role of FBI director after the then-president fired William Sessions over a battery of fraud schemes in 1993. Kelly was just months into his term as commissioner under Dinkins, and turned down the federal post.