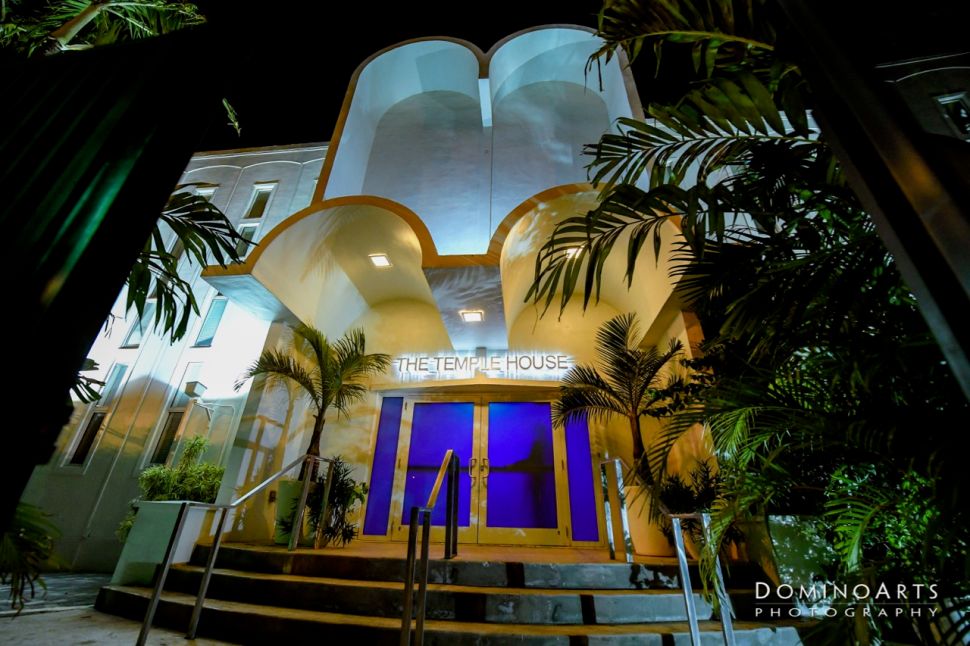 Turning a place of worship into a residence creates an amazing, extraordinary space.  We talked to a few blessed, creative minds who went above and beyond to make heavenly spaces from synagogues, meeting houses, churches and the like.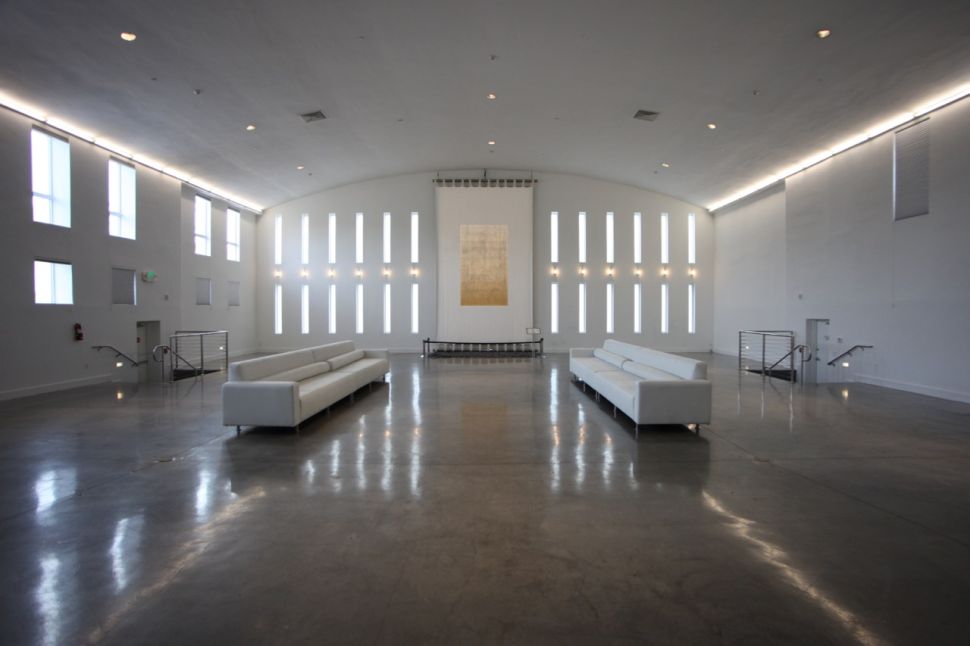 In March 2003, Daniel Davidson purchased The Temple House, once the largest synagogue in Miami Beach with over 1,000 congregants. At more than 16,000 square feet, it's currently the largest private residence in South Beach.
Tell me about the process of turning a synagogue into a residence.
Daniel Davidson: The process was an interesting balance—wonderful fun, but terribly complex. The property was originally constructed in the mid-1930s by L. Murray Dixon, a world-renowned Art Deco architect. I purchased the property in March 2003, and—after many meetings with City Hall, the neighborhood association and multiple other stakeholders—I was able to get the appropriate permits to convert the property to a private residence.
What are the characteristics of this old synagogue that made it a wonderful home?
Having spent years in space-constrained New York City, I was yearning for a large, cavernous, jaw-dropping, impressive space. The Temple House wowed me with 25-foot high ceilings, a 6,000 square foot living room, no shared wall with neighbors, incredible architecture and solid concrete block construction. I fell in love with this one-of-a-kind property in the heart of amazing South Beach.
Who did the renovation? How did that progress?

I designed the entire renovation and used an engineer instead of an architect; I wanted to direct the primary design elements instead of relying on an architect to do that.
What spaces did this structure offer that you wouldn't have had if you built a home from the ground up?

Nobody in his or her right mind would have the ability to recreate the enormity of this unique space. This property afforded me the ability to own a historically significant property. It would be unlikely that any municipality would allow a home of this magnitude as this property is iconic, stands out, and is a pillar of the community.
What are the main challenges of conversions of religious buildings for domestic use?

The most significant challenges were the many moving parts. The historical preservation, county rules and regulations, bank financing, and the designers that had to be convinced to think out of the box to create a property that gets international attention.
Do you think old synagogues were built with a level of craft and design that's rare today?

I don't believe that a modern property would have the same visual design elements or quality of construction in terms of the fortress-like approach with concrete and steel. Art deco craftsmanship from the mid-1930s would be impossible to replicate today.
What about the maintenance and upkeep of older structures?

When I refurbished the property in 2003, I gutted anything that would remotely require upgrading. Therefore, I replaced the infrastructure (plumbing, electrical, mechanical and windows) with state of the art modern equivalents, all complimenting the original architecture and design elements. Thus, maintenance is inexpensive and infrequent.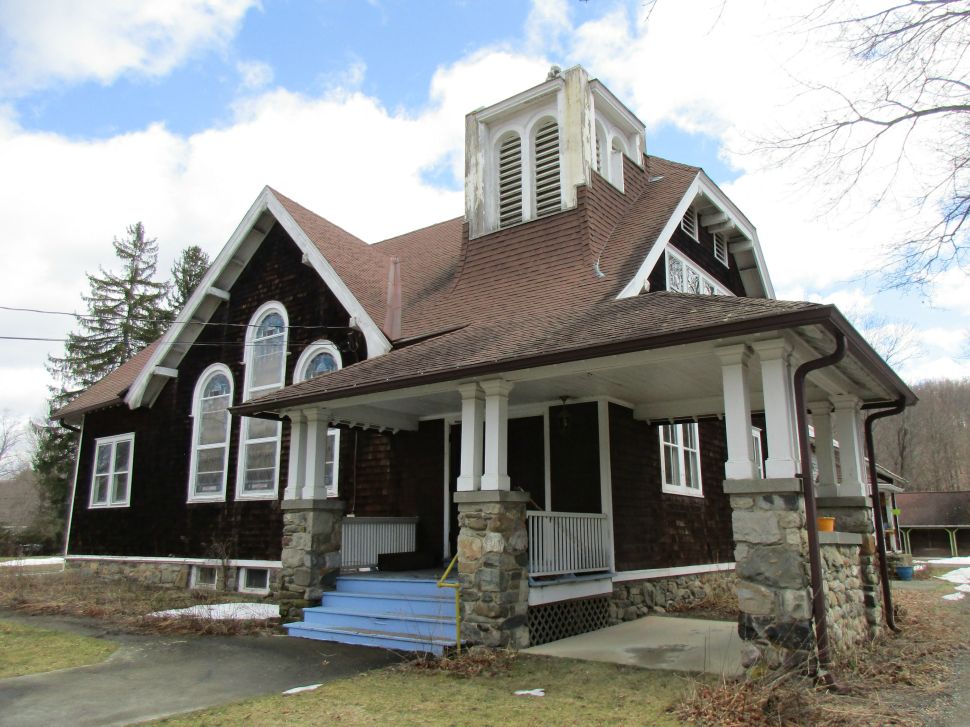 Joanne Klein purchased a building that was once a Quaker meeting house from 1898. It's on the National Register of Historic Places.  
Tell me about your house.
Joanne Klein: This structure had been used as a church until it passed to us. It was always our intention to keep the integrity of the structure while converting it to a family home. As the trend for converting  churches and synagogues to homes continues, I hope this building will go to a family once we move on. I became an avid gardener when we moved here because we have plenty of land, hence the lovely flower gardens surrounding the building.
What are the characteristics of this Quaker meeting house that have made it a wonderful home?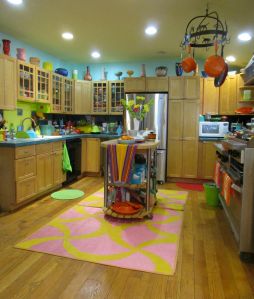 The space. The fact that I have two very large rooms—and more—is unique. Each of the two larger rooms is about 1,800 sq. ft. We lived in a 2,500 square foot loft in lower Manhattan, so when we first saw the building it was like our home but in the country. We have living space, art studio space and shop space. When our sons were little, they rode their bikes inside in the winter.
What spaces are unique?
The high ceilings lend an air of openness. Again, the large areas are not found in most homes. We have choir balcony in the front section that became a bedroom—quite unique.
What are the challenges of this type of renovation?
Not much in terms of challenges for this particular building. We just had to add a shower and closet space. A smaller room was converted to two bedrooms and the choir balcony was also converted to a bedroom with an open bath. We eventually renovated the kitchen once we moved in full time—it was originally a weekend place. The large kitchen was perfect for a family; the original kitchen was used for church dinners.
Do you think that old churches were built with a level of craft and design that's rare today?
Absolutely. We have three monumental stained glass windows in the front room. The high wood beam ceilings are beautiful. The wainscoting that transverses the walls is also original and the wood floors put down when the place was built are still in great shape. We also have a covered outdoor area attached to the house that served as a carriage space back at the turn of the last century.
What about the maintenance and upkeep of these older structures?
We must be vigilant about maintenance of course. We replaced the roof about 13 years in. All buildings need care, and we keep an eye out for any issues.
What are other uses for your home?
I use the space to show my paintings, and I have a vintage clothing business, so there is plenty of room to display. The high ceilings and wall are perfect for exhibiting my larger paintings. We have one smaller room between the two larger ones, and I have devoted that to my vintage clothing business, though you can see some racks of clothing in the photos of the white room.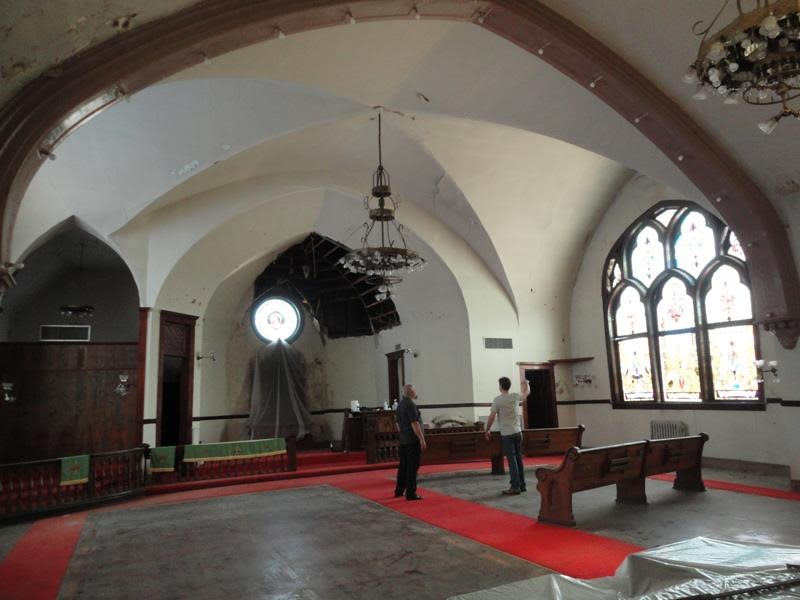 Christopher Moore, a sculptor, painter, prop and set designer, purchased an old church in New Orleans with hopes of living in it one day.
Why and when did you decide to convert a church into your home?
Christopher Moore: I found the church in 2012. It had been vacant since hurricane Katrina, and I started renovations in 2015. I've never lived in a conventional home; I've lived in warehouses and lofts. I was set on buying a church to convert into a home. I love alternative spaces, and I thought there would no greater place to live in a church than New Orleans.
What are your thoughts about the process of turning a church into a residence in the context of the larger process of how buildings and their uses change?
For my property, the church was losing members, and then Katrina hit. Katrina changed everything about New Orleans. Most members did not come back, so they were in the process of merging with another congregation. They had some damage to their present church as well so it was time for them to move on.
What were the characteristics of the church that made it wonderful home?
One major thing about my church that appealed to me is the architecture—it was gothic style and had a beautiful layout with high, arched ceilings and windows. I have 45 stained glass windows, which would be impossible to purchase now. The quality of materials can not be replicated these day—the space as well. With prices of $250 to $1,000 a square foot in New Orleans, buying a church just made sense because of the size.
What do churches offer that you wouldn't get from building a home from the ground up? 
High ceilings, for example, would not be put into a new home. I have 25-foot tall ceilings and all the windows are stained glass. All the walls are plaster, which is not as cost effective as sheetrock in new structures. The quality of work can rarely be duplicated because there are so few craftsmen carrying on traditional building methods.
What are the challenges of renovating a place of worship into a home?
Insuring a nontraditional structure has been really challenging. Another issue is trying to get the proper permits because of its status—explaining why you want residential status for a building does not always translate well. Some administrative people can't get the concept yet you have to convince them what you are doing is right. Additionally, there was no indoor plumbing because it was built in 1852. Trying to layout new plumbing in an existing structure is complicated. Figuring out how to properly air condition a large structure like mine is challenging as well.  Humidity is another factor in the South that you have to deal with.
What your thoughts about the level of craft and design of old churches?
New buildings are built with cost effective measures, which means you lose out in craftsmanship. Styrofoam and stucco have replaced brick and stone. Marble stairs and hard wood staircases, chair rails and floors are being replaced with laminates. Hand cut woods and attention to detail are lost these days. It's all about money. It would cost 10 times as much to build a building with traditional methods and materials as it did years ago. Stone, hard woods, stained glass, slate roofs, and plaster are all done by craftsman. There are fewer traditional craftsman left and the craft is not being passed along to new generations of artisans.
What about the maintenance and upkeep of older structures?
One major problem in the south is termites. You have to inspect every inch of your property every year to make sure you don't get them. They can destroy your building. Old structures take a lot of care and maintenance. Paint touch up is common and slate roofs need maintenance as well, but if they are taken care of they can last 200 years. These structures were built to last. In the South, hurricanes are always a worry. My building has survived 165 years of weather.
How did you find an architect to design your renovations?
I'm lucky enough to live in a city that's almost 300 years old. Architects and true craftsman who live here are three and four generations old and stonemasons and plasterers are quite common in New Orleans. All the homes in New Orleans are old for the most part, so the people that own them like to use original methods of building, which preserve the history of the homes.
Any other thoughts you would like to share?
Most of my friends thought I was crazy to purchase such a building. It takes patience and a lot of hard work to get what you want out of an old structure. Time is another factor. My renovation will take years and a lot of money, but in the end I will be one of the few people in this country who can say I live in a church.
Molly Currey spends her days running a public relations firm in Chicago but headquartered in New York City. She lives with her two children and husband, Jim Jacoby. 
Tell me about the process of turning a church into a residence. How did this come about for you? 
Molly Currey: We were lucky enough to purchase the church from a couple who transformed the property into their 20-year home. The church was built in 1888, and the restoration took place in 1993—it took four years. Since we moved in last year, we've worked to return some of the aesthetics to a more period appropriate design, best exhibited by the railings updated this year.
What characteristics of old churches made this a wonderful home for you?
Walking into our home, you immediately feel the presence of something bigger than yourself. The years of prayers, good will and kindness hang in the air. While we're not particularly religious ourselves, the human experience is palpable. Physically, the church fortunately kept all the good, original bones—the wood floors, cathedral ceilings, and a hand-painted fresco over what was originally the altar. The stained glass windows are stunning, restored to their early glory, they fill the space with color. In the evenings, spotlights outside push light internally so you can enjoy them day or night.
What spaces did this structure offer that you wouldn't be able to get from building a home from the ground up?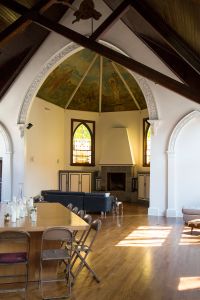 The former altar area (in the round) is now our living room graced by a big wood burning fireplace. This is the focal point of the church. It features the original fresco on the ceiling and two stained glass windows on either side. Because it was the altar, it still has the heavy wooden doors used to gain access the vestibule in the back. The overall space is very large and open, flanked by huge, clear windows on both sides.  The entry to the home still features the heavy wooden staircase that leads up to the main church level—also decorated with stain glass windows all the way up.
What were the challenges you faced while renovating?
While we didn't do the bulk of the renovations ourselves, we have inherited photos and many stories from the former owners. They bought the church from the Chicago Archdiocese as it was— pews, organ, old holiday decorations and all. Clearing it and stabilizing it for weather proofing and mechanicals was the first step, but beyond that, figuring out a functional living space  was key. The solution is very functional, adding a second story by virtue of a loft that serves as our kids' bedrooms now. The master bedroom is under the loft, hidden away in an unusual angle that provides the effect of sleeping outside. Visitors have no immediate sense of the private spaces, though they're easily accessed.
Do you think old churches were built with a level of craft and design that's rare today?
Yes, it's incredible to think this structure was built in 1888—the woodwork is unbelievable and still holds strong today. You can feel its strength around you. The stenciled designs on the ceiling beams are all original as well. I love that we are able to keep this beautiful space alive and enjoyed by our friends and family. It's a true gift.
What about the maintenance and upkeep of these older structures?
As with any structure, you want to ensure the basics are in place. But beyond that, the maintenance is equal to any other large home. You have some extra mechanicals to keep track of and some unusual electrical configurations, but the first round of restoration was top notch. However, we have found it's really hard to clean cobwebs from 35-foot ceilings.