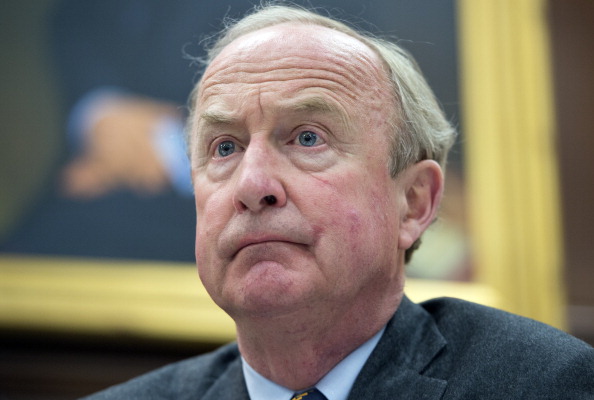 Rep. Rodney Frelinghuysen (R-11) is facing an ethics complaint over a fundraising letter he sent targeting one of his constituents.
Frelinghuysen sent the letter in March to Joseph O'Dowd, a campaign donor and board member of Lakeland Bank, pointing out that a high-ranking bank employee, Saily Avelenda, was a "ringleader" of NJ 11th for Change. It's an activist group that has been pressing Frelinghuysen to hold town halls, and its leaders say they hope to defeat him in the 2018 midterm elections.
Avelenda told WNYC she was interrogated by the higher-ups at the bank and had to write a statement to the chief executive about her activism. She then resigned.
A nonprofit watchdog group in Washington called the Campaign for Accountability on Tuesday asked the Office of Congressional Ethics to investigate whether Frelinghuysen's letter violated House ethics rules. In the letter, Frelinghuysen asked for donations due to increased pressure in the district and wrote: "P.S. One of the ringleaders works in your bank!" He also included a printout of an article from Politico that quoted Avelenda criticizing him.
"The House ethics committee requires members to act in a way that 'reflects creditably on the House,'" Daniel E. Stevens, executive director of the Campaign for Accountability, said in a statement. "If trying to get someone fired for exercising her constitutional right to engage in political activity doesn't reflect poorly on the House, what does?"
Assemblyman John McKeon (D-Essex), who is mulling a challenge to Frelinghuysen, said the congressman's move "can well be interpreted as a direct attempt to intimidate through inappropriate means a thoughtful individual exercising their constitutionally guaranteed rights."
"The specter of using one's position in such a manner has serious implications and should be considered by the Office of Congressional Ethics," McKeon said in a statement. Mikie Sherrill, a Democrat and former Navy helicopter pilot who has already announced her candidacy, called the letter a "shameful abuse of power" on Monday.
The Democratic Congressional Campaign Committee, meanwhile, launched a "five-figure" Facebook and Instagram ad buy on Tuesday teeing off on the Frelinghuysen letter, targeted at residents in his district. An ad quotes Avelenda saying Frelinghuysen "used his name, used his position and used his stationery to try to punish me."
"The congressman wrote a brief and innocuous note at the bottom of a personal letter in regard to information that had been reported in the media," Frelinghuysen's campaign told WNYC. "He was in no way involved in any of the bank's business and is unaware of any of the particulars about this employee's status with the bank."