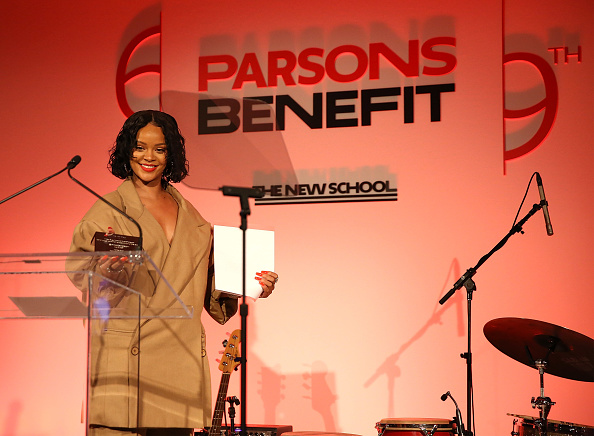 Rihanna was undoubtedly the guest star at the Parsons Benefit last night and if she was looking to discover a budding new designer to incorporate into her notoriously creative wardrobe, well, she was in the right place. There were inflatable jackets, garments covered in what looked like real grass and even a performance aspect to the show, with student dancers from the College of Performing Arts leaping and twirling down the runway. A variety of different songs played for each collection, ranging from a version of Soundgarden's Black Hole Sun to one that was created by a student and began with the lyrics, "Today, I'm going to show you how to apply for a green card."
The evening's runway show served as the thesis collection for 32 students, who are graduating from Parsons The New School for Design's BFA Fashion Design program. They were hand selected, from over 300 students, to present their collection in front of Rihanna and her fellow honorees of the evening, Eileen Fisher and Neiman Marcus. Other fashion celebs in the audience included Donna Karan, Mara Hoffman, Ken Downing, Julie Gilhart, Kilian Hennessy and Danielle Bernstein.
The fashion show was accompanied by the announcement of student awards, including the Parsons x Kering Empowering Imagination competition, which was judged by a panel including Hari Nef, Linda Fargo and more.
Below, four of the designers speak on their collections and what they're planning after graduation. And considering Jack McCollough and Lazaro Hernandez of Proenza Schouler and Marc Jacobs are alums of the school, you might want to keep an eye on these emerging creatives…
Olivia Le Blanc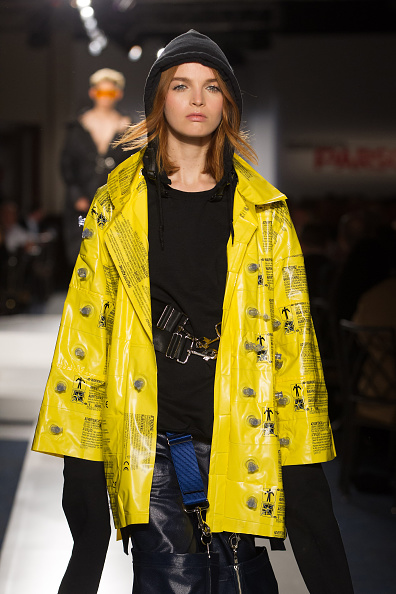 Olivia Le Blanc is the winner of the Safilo award.
"My collection is titled Interchangeable Workwear for the Hybrid Worker. The collection was inspired by durability and functionality of workwear, which I combined with interchangeability within every garment and unconventional materials such as inflatables and nylons and various recycled fabrics.
I made the inflatable jacket myself. I designed, patterned and constructed every garment in the collection myself; even the filled the down myself. I used a sonic bonding machine to create seamless inflatable garments with recyclable inflatables that I got from Germany.
I've been sewing since high school, so I like to do everything myself. Since sophomore year in high school, I worked as an apprentice for a designer and everyday I would go to school and then after school, I would go work with her at her studio. She gave me sewing lessons at the end of the day.
I want to launch my brand. Just try to work with some buyers or get a job and start my line and start selling as soon as possible. I would love my own store with another designer. I would love to create a store, which I think is different. I'd love to sell to Dover Street Market and Opening Ceremony. I know Humberto and Carol. I've known them in the past so hopefully I'll have an in. I wrote a paper on them for school and they gave me free clothes. They're so sweet. Future asked me to dress him for his show at Barclays Center but unfortunately I had to graduate that day. Hopefully I'll get a chance with Rihanna tonight!"
Ji Won Choi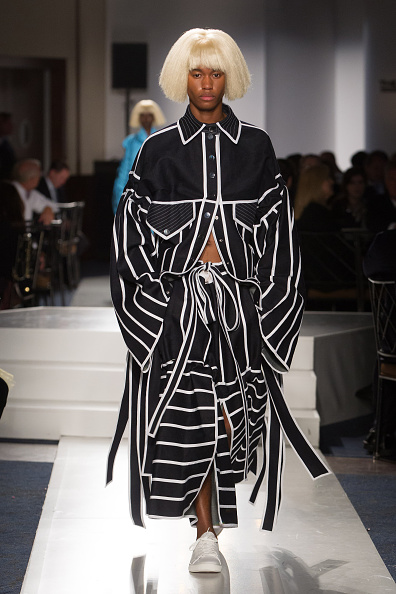 Ji Won Choi is one of the winners of the Parsons x Kering Empowering Imagination competition. Its prizes consist of mentorship from Kering and $10,000 to help launch her brand.
"My collection is called Excessivism and it's about overconsumption and the volume of unnecessary clothing we all have in our closets. Each garment is multiplied to form a garment and each garment is a multiplication of the other, forming one graphic statement about [the] excess that our society is consumed in.
The colors are the most popular colors in the closets that are studied around the world.
Part of my research process was putting on all the clothes I have in my closet to find new silhouettes. A challenge was translating that big mess on myself into silhouettes that really were interesting and that would people would want to wear.
I would wear every single garment, but I don't think I'm designing for myself. I'm designing for anyone who is really fun, exciting or would want to wear something new. My favorite is the first—the white with the black stripes.
I would first love to work for a brand or designer—to really connect with and learn as much as I can—and then I would want to launch my own brand."
Yiling Hong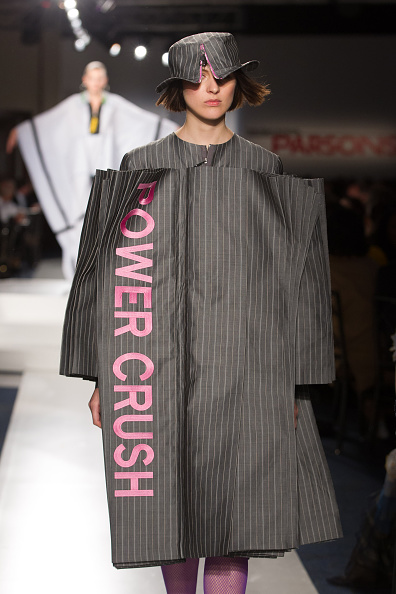 "My collection is called Power Crush. I used all men's clothing materials, which is suiting materials and shirting materials. I gave it a twist of feminine elements and looks. The theme is all about the younger generation and feminists and having their own voice.
I used embroidery to do "Power Crush" on the clothes and picked pink because it's the most feminine color. The pleats are made in traditional silk fabrics…I want to emphasize all the pressure women face in society.
Eventually I'll launch my ready-to-wear line."
Emma Cleveland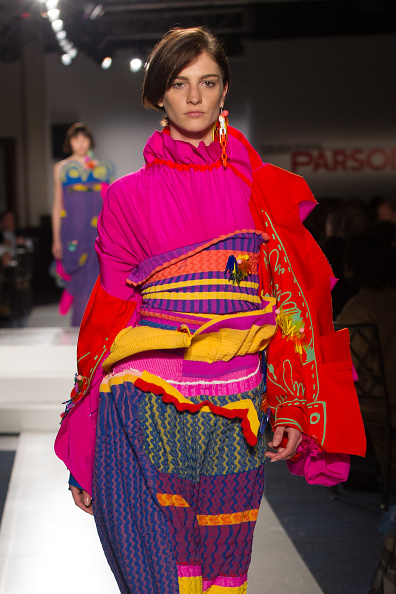 Emma Cleveland is one of the winners of the Parsons x Kering Empowering Imagination competition. The prize consists of a mentorship from Kering and $10,000 to help launch her brand.
"My thesis is inspired by looking at different textile variations. Looking at knitting, printing and weaving and just how you can translate those mediums through all of them. I was initially looking at Josef and Anni Albers and how their work cross-pollinated and how they were inspired by each other. One was a painter, one was a weaver; how does that work looking at different mediums?
I'm a color person, so I didn't pull specific colors in general. A lot of my prints were inspired by my mom's childhood drawers. I was looking at that to grab certain shapes and silhouettes and colors were referencing some of those too.
I screen-printed and hand-painted on a waxy cotton. There's a lot of prints and it's been through a lot of iterations. I wanted to really be able to translate my drawing style into my 3D garments, so this is a drawing that I completely replicated in 3D form.
I think I'm going to start at artist residency program in October and just keep exploring textiles and see how they explain my shapes. Hopefully I'll start my own brand off of that. I'd love to be in Dover Street Market or Opening Ceremony, places where you buy one individual thing. I don't want to make tons and tons and tons of things. I think I'm more in the realm of being an artist, because thinking about practicality is not something I usually do."