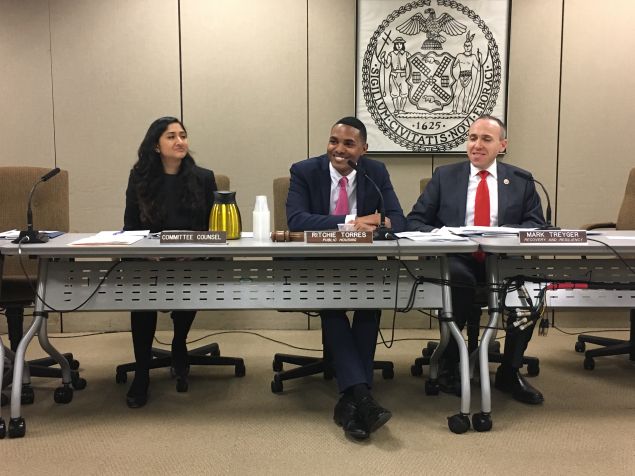 Bronx Councilman Ritchie Torres blasted New York City Housing Authority Chairwoman Shola Olatoye for sending a letter to Department of Investigation Commissioner Mark Peters, rejecting his request to fully fund the troubled entity's official overseer, only two days before she was scheduled to testify on the matter before the City Council—a letter DOI has yet to actually receive.
Peters sent Councilman Ritchie Torres and Brooklyn Councilman Vincent Gentile a letter on May 3 complaining that NYCHA—for the first time—had rejected his request to add an additional $199,000 for Inspector General Ralph Iannuzzi's budget, which would have increased it from $3.3 million to $3.5 million. In an April 13 letter to Olatoye, Peters highlighted that Iannuzzi had opened 270 individual and systemic probes about misconduct, waste and abuse by NYCHA contractors, employees and tenants—and identified $6.5 million in fraud against the cash-strapped authority, and developed 53 criminal cases for federal and state prosecution.
In a May 16 response obtained by the Observer, Olatoye wrote that NYCHA is facing "unprecedented uncertainty" and federal funding cuts under President Donald Trump, and its "hands are tied on many fronts," including the cost of utilities, work rules, healthcare and pensions.
"As structured, it may no longer serve the purposes as it was originally intended—to set DOI and NYCHA up for success in our core missions," Olatoye wrote. "By coming together, we can identify possible solutions that both empower DOI to compensate the OIG staff at a level the Department sees fit and reflects NYCHA's financial reality in 2017 and beyond."
The inspector general's office is part of the Department of Investigation.
In the missive, Olatoye—appointed by Mayor Bill de Blasio—said NYCHA agrees it is "critical" that the OIG be equipped to probe fraud, waste and abuse, and suggested they revisit the NYCHA-DOI memorandum of understanding, which lays out the funding process for Iannuzzi's office. She argued circumstances have changed since the 1992 agreement was last reviewed in 2003.
Torres told the Observer that he asked three staffers at NYCHA about the letter last week but that none of them could confirm the existence of it. He added that Olatoye did not seem to understand the basis for the commissioner's request during the hearing this afternoon.
"The funding request is an attempt by DOI to rectify the disparity…I never felt more misled than I felt today and I would never use those words lightly, I would never accuse the head of an agency of misleading but it was clearly deceitful," he said in a phone interview.
DOI told the Observer that the agency has still not received the letter—that is, not from Olatoye.
"DOI still has not received the original of this letter and was only provided a 'copy' of the letter after the hearing, and after Councilmember Torres questioned the NYCHA Chair about it," a spokeswoman wrote in an email.
NYCHA told the Observer that according to its 2003 MOU, budget decisions must be joint and approved by NYCHA's board as part of the authority's budget process—which is separate from the city budget process, as NYCHA is mostly funded by the federal government.
The authority said that the board and the inspector general agreed to hiring four new staff members for the ombudsman's office, and a pay raise for one employee. The authority also pointed to its $17 billion backlog in repairs, as well as the threat of further federal funding cuts.
"For months, NYCHA has had ongoing and regular conversations with DOI/OIG about their pay raise request," NYCHA said in a statement. "Facing crippling budget cuts by the Trump Administration, NYCHA has requested DOI's partnership in revisiting our 2003 operating agreement, so it can best support the DOI's important work and NYCHA's dire financial reality."
Torres pointed out that entry-level investigators at the DOI make $55,000 to $57,000, while NYCHA OIG investigators make just $42,000. After one year's experience, the latter average $41,996, compared to $57,000 for the larger department.
He added that experienced investigators—10 to 20 years of service—at the DOI make $85,000, while NYCHA OIG investigators make $72,000. The councilman, who grew up in a NYCHA development and now chairs the Committee on Public Housing, noted no other city entity had refused to allocate additional money to its inspector general at DOI's request.
"I think it's telling that the chairperson is the only agency head to refuse to fully comply with a DOI funding request," Torres said. "It's unprecedented in the de Blasio administration and she gave no persuasive argument. She cites NYCHA's financial crisis as an excuse but the same could be said of every agency. The Health and Hospitals Corporation is teetering on the verge of extinction."
During the Council hearing today, Olatoye said that she agrees "with the mission of the department" but they had to make "difficult decisions."
She noted that around the time of the preliminary hearing in March, they learned about Trump's "skinny budget," which proposes more than $6 billion in cuts to the U.S. Department of Housing and Urban Development. She said that amounts to "hundreds of millions of dollars" in potential losses to NYCHA's capital and operating funding.
Olatoye said that she and Mayor Bill de Blasio "took this as a rallying cry" and worked with a "coalition of allies at our side" such as Senate Minority Leader Charles Schumer, Congresswoman Nydia Velázquez, Torres, residents and advocates and that she and her colleagues "spent countless hours in Washington and Albany" to make the case for public housing and the 2.6 million Americans it serves.
"This 2017 HUD funding bill was developed during the Obama administration," Olatoye said. "It's a stop-gap measure that gets us through September. 2018 is still a tremendous concern—when Congress will strive to enact the vision outlined in the president's skinny budget. We cannot let Washington off the hook."