Welcome to our TV Fashion column, where TV Ate My Wardrobe's Emma Fraser discusses the trends in television apparel. This week: Now that Riverdale's first season is over, we look back at the style of this bonkers Archie reboot. 
Riverdale has seventy plus years of Archie comics to draw on when it comes to costuming influences covering multiple fashion cycles. Not to mention the heavy noir aspects and other murder mysteries that have come before it on TV and this show is as much in debt to Twin Peaks as it is to Veronica Mars. Throw in some outfits that wouldn't look out of place on Gossip Girl and this show hits so many style sweet spots.
Last week's penultimate episode of Riverdale dished out answers to some of the big mysteries from this season including the identity of Jason's killer and another layer to the Cooper and Blossom rift. Ah yes, just that little issue a connected family tree and that this war is not just over maple syrup. The finale delved deeper into the darkness of the town haunted by big secrets and some characters shed parts of the looks that have defined them while embracing their past or what they believe is their inevitable destiny.
So before Cheryll burns it all down, let's take a look at some of the fashion trend highlights from this first season.
It isn't a surprise Riverdale has delivered on the sartorial front with its heavy blend of retro and contemporary fashion; mixing its legacy with what an audience comes to expect from a high school-set show on The CW. Costume designer Rebekka Sorensen-Kjelstrup (along with Hala Bahmet, who created the look of the pilot) ensures that each character has their own distinct wardrobe with Betty leaning toward girl-next-door pastels and cute sweaters, Veronica's darker and often jewel-toned palette gives great signature style elegance and Cheryl Blossom's penchant for the dramatic in mini skirts, leather and anything crimson. A redhead in scarlet wants to be noticed.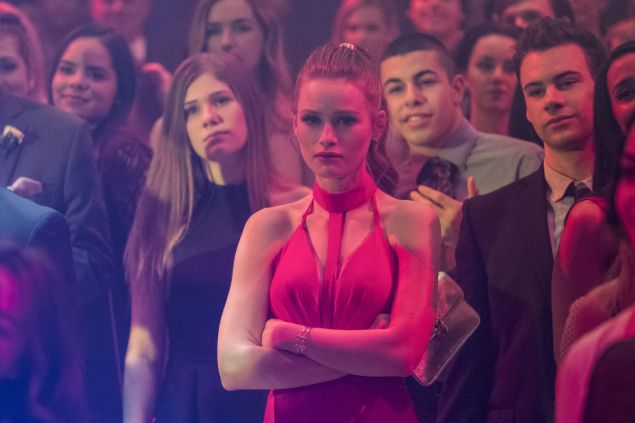 Veronica's caped entrance and references would've made Dawson's Creek proud, but instead of becoming Queen B bitch, Veronica opted for the friendlier path. She was still instantly set up as a love rival for Betty and ruling River Vixen for Cheryl, but finding a best friend in one and a frenemy in the other subverted some of the usual mean girl tropes and distinguished Veronica from her counterpart residing in the Upper East Side. Think more Jen Lindley than Blair Waldorf; this is what happens when you move from the big city to small town life with the strong whiff of a scandal in tow.
It's not just Veronica that indulges in this category of outerwear and Cheryl made sure she stood out at the tree-tapping ceremony in a red cape complete with black lining to match her Alice + Olivia dress. What Cheryl Blossom is here to teach us is that you can bring high drama to any situation and be center of attention at the drop of hat (or tap of a tree if you will).
Veronica's rich girl trappings are hard to shake and instead of headbands her thing is pearls paired with every outfit from single strings to more audacious collar like designs. Not that they are always real and the money she came from is no longer flowing. Hence the single pearl choker from Forever 21 that she wore in a couple of recent episodes.
Pearls have come into play on TV of later and I discussed the power play move associated with them on The Good Fight and Feud and the ladies of Riverdale also resort to other types of accessorizing including chokers because that aspect of '90s fashion still won't go away. Veronica's not the only one giving me flashbacks my own teen style; Cheryl's got a strong fondness for a thin black version (sometimes doubled up). Everything old is new again.
There is a heightened aspect to the costuming. When Sorensen-Kjelstrup's spoke to Vanity Fair she explained that her own daughter told her that "'nobody wears that to school today, you know?'" when referencing Veronica and Cheryl's style. Betty, on the other hand, manages to be both classic and contemporary; you can't go too wrong with jeans and a sweater.  
Pins and brooches is another style similarity between Riverdale and the women of The Good Fight and Feud; the vintage jewelry Cheryl has access to means that any outfit can be spruced up this way and it isn't a coincidence that a spider has taken pride of place on her leather jacket. The symbolism here is strong and she is the one surviving Blossom child. The other repeat brooch and a motif that isn't limited to just her vintage jewels is twin cherries; a nod to her name and identity as a twin. Just because Jason is dead it doesn't mean she loses this part of her being and the twin cherry pin reinforces this notion. The spider reminds us how dangerous she can be.
It is also the thing she gives away to Jughead as a way to say sorry for her violent outburst and because she knows he can get a lot of money for it. This is Cheryl shedding her skin of the things she thinks are no longer important as she wants to go be with her brother and the white dress from the pilot makes a reappearance. Later she wears white again when she goes all fire cleanse; this time it is complete with cherry detail on the belt mixing the Cheryl of old with new.
The pussy bow blouse trend hasn't made a big dent in this town yet, but decorative collars are all the rage and this is one area where all three ladies share a similar love for embellishment. And yet this also points to their style and personality differences, which have already been established as Betty leans super feminine with delicate florals, Veronica is all about classic looking jewels and Cheryl's has a hint of danger. Are those plants poisonous? Sidebar; with that red hair Cheryl could be a shoo-in for Poison Ivy.
Matching outfits only come into play through cheerleading and even then Cheryl has her own HBIC (Head Bitch in Charge) personalized raglan tee. Another piece of her personality that she hands off in the finale before almost meeting her icy fate. The practice shorts and top are from American Apparel (RIP) and when it comes to the school spirit attire such as Archie's Letterman jacket and the actual River Vixens cheerleading uniform you don't want to stray too far from the page. Archie himself doesn't have too many standout sartorial moments and he wears the mandatory CW henley uniform. At prom he steps it up in a red tuxedo jacket and like Cheryl he isn't afraid to wear this shade with his hair color.
Riverdale doesn't shy away from one of the best things about teen shows and that's the dances; the pilot had a back-to-school celebration and homecoming followed later. This means fancy dresses and Jughead still wearing his crown-like beanie (an updated nod to the Jughead whoopee cap worn in the comic). Jughead himself has pointed out how ridiculous his hat is in a speech to Betty, which probably sounded way better in his head than it did out loud—"I'm weird"—and points to his forever accessory.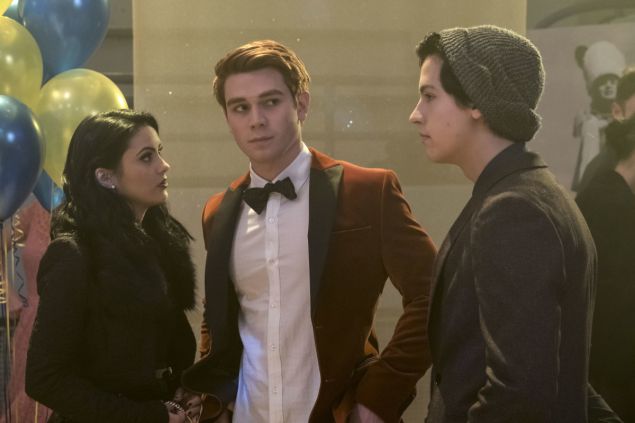 Jughead thinks he's one of the 'weirdoes' but he also happens to be best friends with the star quarterback and his girlfriend is the ultimate girl-next-door. And she's actually the girl next door. She even wore a sweater with a crown on it for the surprise birthday party that turned out to be a terrible idea. But Betty is nothing if not Type A and she's gonna wear her loyalty on her chest. Thankfully Alice + Olivia made a sweater with this very Team Jughead emblem on it.
For all my love of dramatic collars, it comes as a surprise to both you and me that the one character who I share one staple wardrobe item with is Jughead. No, I don't have a beanie in the shape of a crown, but I do have a denim shearling style jacket much like his favorite – mine is Topshop, Jughead's is Levi's – and in the finale he adds plaid to the collection and this is another shared item between Jughead and myself. Archie's dad Fred (or Luke Perry as I tend to call him) also goes by a similar looking piece of outerwear as does Leftovers dad Kevin Sr. and who knew my TV style match would be dads and the self-proclaimed school weirdo.
Cheryl isn't the only person to get rid parts of her brand and Jughead has a new leather jacket courtesy of the Southside Serpents. Much to Betty's horror he puts it on and this comes just after he has removed his beanie and opened his heart to his girlfriend. Way to kill the romantic mood, Jughead.
An homage to the period in which Archie first thrived comes in a dream sequence in the episode "In a Lonely Place" giving Jughead the chance to wear his crown, nipped in waists and super sexy pencil skirts for Betty and Veronica distinguishing them once again via a twist on their signature styles. Veronica's pearls make an appearance and Betty's floral collar detail show the retro inspiration and how their looks have evolved from the source material. Archie even gets in on the neck accessory business with the polka dot bow tie his comic counterpart favored and not to mention Veronica's bangs.
These looks are the closest Riverdale gets to directly copying its origins (sports uniforms aside) and costume designer Rebekka Sorensen-Kjelstrup has done a good job of blending contemporary with where these characters came from. Part of this is because there is a forever cycle of fashion looking to the past for influence and this can be seen in a lot of Veronica's silhouettes.There is also the aspect of Betty and Veronica both sticking to classic wardrobe staples and Cheryl is the one that tends to lean toward the theatrical. As the super rich girl it makes sense that she has a whole dress-up aspect of her wardrobe. Something for every act of revenge.
Other than mixing vintage with current, Sorensen-Kjelstrup sources these costumes from a variety of high-end and affordable stores. Regular readers of this column will know how thrilled I am when the cost of clothes match a character's socioeconomic situation; by using items from H&M such as Josie's leopard print dress and Veronica's homecoming dress coming courtesy of Topshop it mirrors where actual teenagers shop. While I'm on the subject of Josie and she is all in on the current leopard print resurgence and hopefully next season there will be more from this character who is always on brand when crafting her look with an eye on her music career.
The season ends with a Letterman jacket clad and Converse-wearing Archie looking the picture of a high school student from an unspecified era; it would be the picture of simpler times if he wasn't trying to stop his dad from bleeding out on the Pop's diner floor.
Emma Fraser is the creator of TV Ate My Wardrobe and spends most of her time writing about TV, fashion and costuming; Abbi and Ilana's Broad City style, the wigs on The Americans and Mindy Lahiri's pajamas are just as vital as talking about '90s, '00s teen shows. Emma has a MA in film and television, and she probably holds Angela Chase responsible for this path. You can find her on Twitter @frazbelina.