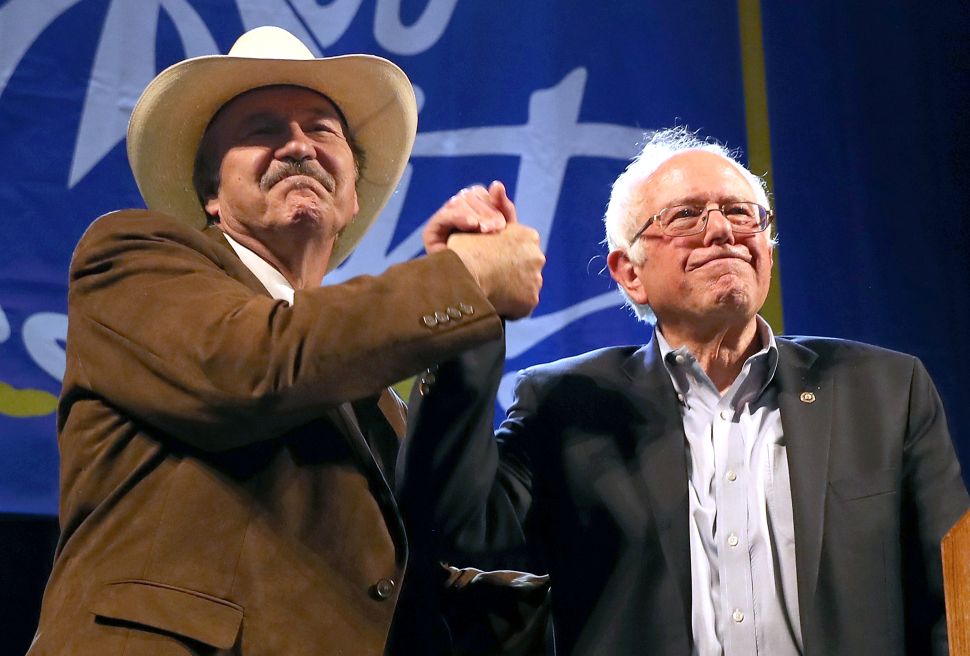 On May 25, Montana congressional candidate Rob Quist will put the power of Bernie Sanders' progressive movement to the test in his fight against the Democratic establishment, which has failed to distribute resources to many parts of the country. This weekend, over 12,500 people came to rallies Sanders attended on behalf of Quist's campaign in Billing and Bozeman. Rather than focus on anti-Trump rhetoric or the Russia scandal, Quist's campaign has focused on health care.
"The eyes of the country are on the great state of Montana," Sanders told the crowd of 3,000 people in Butte, Mont. on May 20. "If you do it here in Montana, we can do it in every state." During the Democratic primaries, Sanders defeated Clinton 51.6 percent to 44.2 percent in Montana. While Trump easily won the state in the general election, Democrat Steve Bullock managed to win the governorship. Sanders may have the winning formula for Democrats in Montana: a populist, grassroots approach that focuses on issues that impact the lives of working class, middle class and low income Americans. While the Democratic establishment largely ignored Kansas congressional candidate and Berniecrat James Thompson's campaign in April 2017, Quist opted against accepting direct support from the DNC and DCCC, especially since the favorability rating of the national Democratic Party remains below 40 percent. However, they recently supported him with $400,000 in his campaign's final stretch. If Quist manages to overcome his Republican opponent, it would prove that Sanders' grassroots populist campaign strategy is a formidable way to beat Republicans.
The DNC and DCCC have been working on their campaign strategies, using special election congressional candidate Jon Ossoff as an experiment for the 2018 midterms. He's raised an unprecedented amount of money for a congressional race, and the Democratic establishment hopes to validate their preferred strategy of focusing on wealthy suburbs where Mitt Romney voters in 2012 voted for Hillary Clinton in 2016. Ossoff has embraced the image of a fiscal conservative, recently outlining a plan to cut $16 billion in "wasteful spending." His opponent portrayed him as a Democrat feigning to be Republican to woo Republican voters, and historically voters haven't been swayed by Democrats embracing the center to try to win elections. Ossoff's candidacy is banking on capitalizing on anti-Trump sentiment. The strategy allows Democrats to remain in the pockets of corporate and wealthy donors without having to focus on issues that voters care about.
On May 22, Politico reported that the Democratic establishment is trying to repeat successful strategies from 2006, seeking advice from controversial Chicago Mayor Rahm Emanuel on how to recoup their losses in the 2018 midterm elections. Rather than enact reforms, the establishment is doubling down on failed strategies, hoping to make them work in the Trump era. Rahm Emanuel, who met with Secretary of Education Betsy Devos in April 2017, represents the corrupt, unpopular establishment wing of the Democratic Party, which has courted the forces that enabled Trump's victory while driving the Democratic Party into the ground. The party's establishment shields itself behind a veil of "pragmatism" to justify not adopting progressive policies popular with voters and deflects with crafted responses written by the industries that fill their donation coffers. Progressives want to reform this wing of the party. The establishment reduces their advances to "purity tests" and pejoratively compares progressives to the Republican Tea Party.
Bernie Sanders' campaign strategies and efforts in conjunction with Our Revolution and other progressive organizations show a stark contrast to the Democratic establishment's status quo. Given Sanders' increased popularity since Trump assumed office, the momentum is in favor of activists and progressives pushing for change.