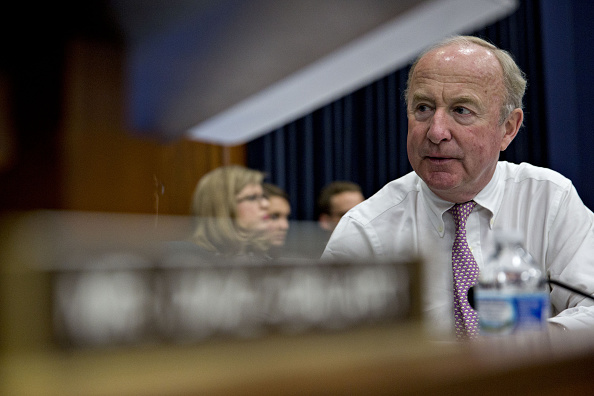 Rep. Rodney Frelinghuysen has never really broken a sweat running for re-election in the affluent Morris County suburbs that he has represented in Congress for 22 years.
The 11th congressional district has the most registered Republicans in New Jersey, 164,000, and of all of Frelinghuysen's challengers over two decades, it was a ficus tree registered by filmmaker Michael Moore as a gag that got the most attention.
But since President Trump's election in November, there is talk—somewhere between serious possibility and wishful thinking—that the deep-red district could change colors in 2018. Frelinghuysen's vote last week in favor of a bill that cuts $880 billion from Medicaid and rewrites major parts of the Affordable Care Act will be front and center as opponents make the case against the longtime congressman, a member of the Frelinghuysen political dynasty and an heir to the Procter & Gamble fortune.
For Frelinghuysen, the chair of the powerful House Appropriations Committee, the new scrutiny has come primarily from a super PAC called NJ 11th for Change, which has called on him all year to hold an in-person town hall event. On Friday, as Frelinghuysen cast a yes vote for the controversial American Health Care Act, the group held a protest outside his Morristown office.
Debra Caplan, a member of NJ 11th for Change's steering committee, said after years in Congress, Frelinghuysen is now out of touch with his constituents. Although Frelinghuysen calls himself a moderate, his votes have shifted to the right steadily over the past four years, she said.
"In the wake of the 2016 election, there are a lot of people who weren't paying attention to congressional-level politics who are now following it on a vote-by-vote basis," she said. "The shift in his voting happened a long time ago but what's different now is that people are paying attention. We have a mismatch between what people in this district want and how he is voting. It doesn't take much of knowing about that for people to feel kind of betrayed."
In January, the Democratic Congressional Campaign Committee named the 11th district a target in the 2018 midterms. Last week, the DCCC placed Frelinghuysen on their "Retirement Watch List," which features Republicans the group says could retire due to the "negative national environment for the Republican Party."
Frelinghuysen initially opposed an earlier draft of the AHCA this year because the Medicaid funding cuts, he said, would have harmed people in his district. But he was scolded by fellow Republicans; some suggested Frelinghuysen should lose the Appropriations gavel if he was going to buck the party leadership on big priorities such as repealing Obamacare.
Last week, after several amendments that did not significantly modify the Medicaid funding reductions, Frelinghuysen switched to a yes vote. That made him one of only two New Jersey House members to support the bill, along with Rep. Tom MacArthur (R-3), the primary architect of an amendment that would allow states to set higher rates for coverage for consumers with some pre-existing conditions, among other changes.
"Representative Frelinghuysen's vote for the Republican health care bill further exposed him as a Republican 'yes man' out of step with his district," said Evan Lukaske, a DCCC spokesman. "After opposing the first version of this cruel plan—which would have increased premiums on New Jersey families and kicked 24 million Americans off their healthcare—Frelinghuysen voted for it only after the bill was changed to strip protections for pre-existing conditions. Democrats have already invested in flipping this district, and we're continuing to ramp up the pressure as Frelinghuysen pushes policies that hurt his constituents."
But, according to Montclair State University political scientist Brigid Harrison, the shift may not be imminent in 2018.
"There are two guiding realities," she said. "The first one is that in any given year on average, 95 percent of all House members win re-election. That is an almost insurmountable obstacle. The other part of that is that New Jersey's congressional districts tend to be very strongly partisan gerrymandered and 11 is one of those districts."
If Frelinghuysen was truly vulnerable, she said, he might not have voted for the AHCA.
"He is going to get a lot of guff, there are going to be protests, it is going to be uncomfortable, his margin of victory will certainly decrease, but the reality is they thought he was safe enough that he would win re-election," she said.
State Assemblyman John McKeon (D-Essex) went to Washington, D.C., last week to meet with DCCC members about a potential challenge to Frelinghuysen. It could be a long shot, but there is precedent for such challenges to be successful, Harrison said. She pointed to congressional races in 1974 and 1994—both of them "wave elections" in which national politics shifted control of the House, even swinging some districts where incumbents had won previously by comfortable margins.
Frelinghuysen's district has shifted to the left after a 2011 redistricting that brought part of Essex County—including potions of liberal Montclair—into the fold. But it has remained reliably Republican in recent elections. In 2012, Barack Obama lost the district by 5 points. In November, Hillary Clinton lost to Trump by 1 point.
A report issued last week by the Cook Political Report identified two New Jersey districts currently represented by Republicans—Leonard Lance (R-7) and MacArthur (R-3)—as moving slightly to the left after the health care vote. But there was no movement for Frelinghuysen, whose seat is designated "likely Republican."