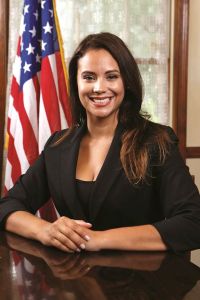 A New Jersey lawmaker will be going to court to contest charges of driving while intoxicated, obstruction and other traffic offenses following an encounter with police last month.
Assemblywoman Maria Rodriguez-Gregg was driving on Route 73 on April 28 when she was rear-ended at about 3 a.m. Police investigating the crash said they smelled marijuana in her vehicle. Rodriguez-Gregg, a Republican from Evesham Township, told the officers that she had been smoking cigars earlier that evening, and said results from a blood test will vindicate her.
"I don't smoke weed so I'm sure it'll all work out," Rodriguez-Gregg told Observer.
Rodriguez-Gregg also faces a separate obstruction charge for refusing to submit to a field sobriety test, along with tickets for alleged reckless driving. State law requires drivers who refuse a field sobriety test to submit to a breathalyzer test, which must be administered at a police station. Rodriguez-Gregg initially refused treatment but was later taken to a hospital, where she took a blood test for illicit substances.
The arrest was first reported by the Burlington County Times.
Rodriguez-Gregg's car was rear-ended by Raiwan Faisal of Catonsville, Md., and the two have offered conflicting accounts. Faisal told police that Rodriguez-Gregg slowed down in front of a yellow light before his own car hydroplaned into hers; she said she was at a red light. Both were treated for minor injuries.
"There were no visible skid marks located in the area of impact," according to the police report quoted by the Burlington County Times. "(Faisal's) inattention contributed to this collision by failing to observe stopped traffic ahead of him." The report added that security footage from a nearby hotel confirmed Rodriguez-Gregg's account of the crash.
Rodriguez-Gregg's attorney John Eastlack Jr. with the firm Weir and Partners wrote in a statement that the lawmaker was not high at the time of the incident.
"Ms. Rodriguez-Gregg explained to the officers that she does occasionally smoke cigars and had done so earlier that evening, but had not smoked marijuana or consumed any illegal substance," he said. "Although the officers conducted a search of the car, and nothing illegal was found, she was arrested on suspicion of driving while under the influence of the drug."
Rodriguez-Gregg is the first Republican Hispanic woman to serve in the Assembly, first elected in 2014. Eastlack said she is confident "the test results will conclude that no illegal substance was consumed and she looks forward to her hearing in court."
In 2012, a police officer in Washington Township arrested Assemblyman Paul Moriarty (D-Gloucester) on DWI charges for alleged drunken driving. The evidence showed Moriarty was not driving drunk, the assemblyman sued, and the officer was fired twice.