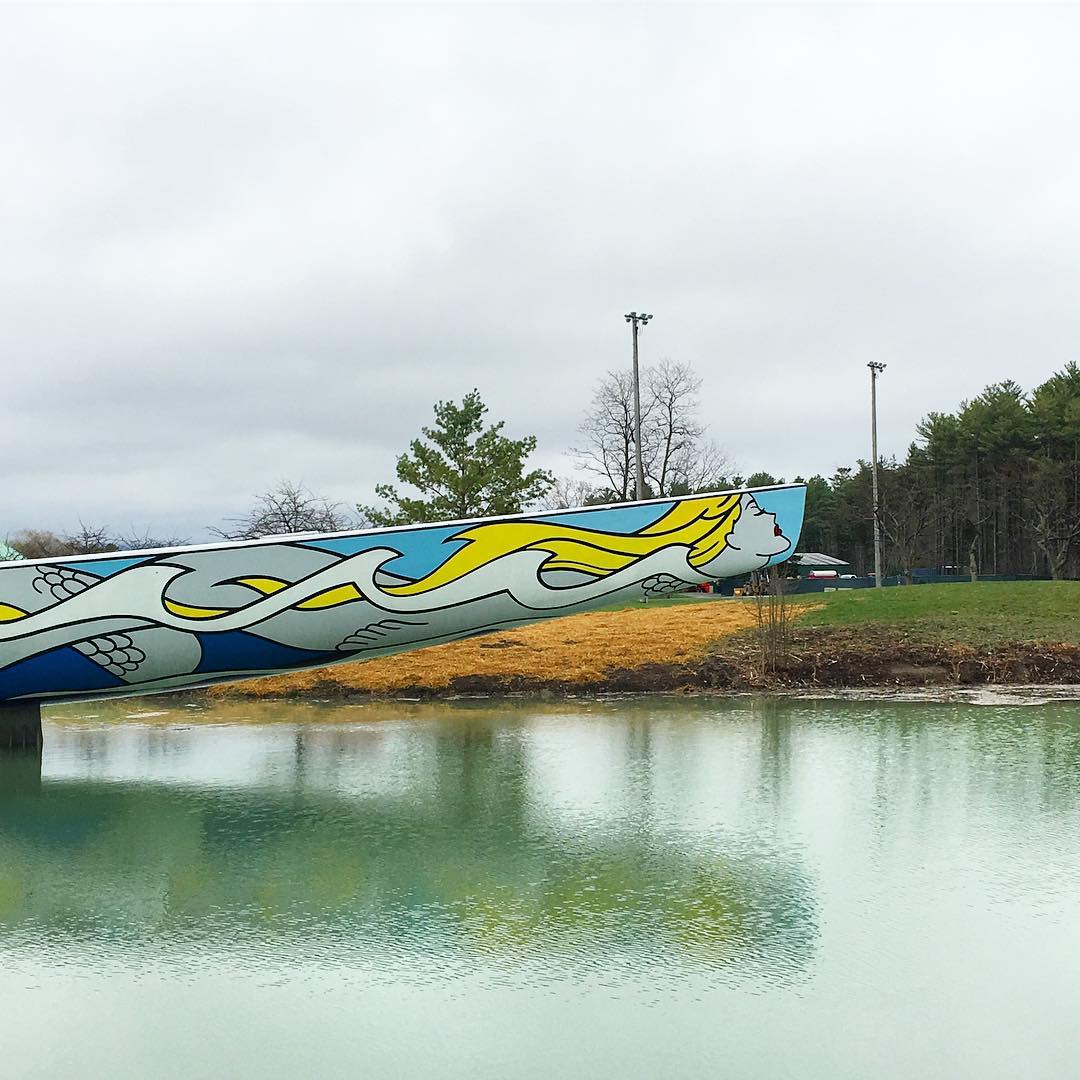 Roy Lichtenstein's iconic pop art imagery has appeared on a wide variety of household objects and products over the years. In 2013, the artist's designs, such as a kissing couple and buttered potato, appeared on pillows, table trays and other home goods as part of a limited edition collection for Barneys. Visitors to the San Francisco Museum of Modern Art's store can currently buy a canvas pouch imprinted with a radio design by Lichtenstein for $20. And the Museum of Modern Art's Design Store features umbrellas, scarves, makeup mirrors, mugs and mousepads all emblazoned with works by the artist. But in 1994, members of the professional sailboat racing team PACT 95 tapped the artist to create one of his last, and largest, designs for a boat they planned to race and win in the prestigious yacht competition America's Cup. Now, the boat is being loaned for a special exhibition recounting its history and making at Middlebury College Museum of Art, reports artnet News.
Lichtenstein's design for the 77-foot-long boat, titled Young America, featured a blonde mermaid (nicknamed "Dorothy") cutting through the ocean waters, and is currently in the permanent collection of the Storm King Art Center. In 1995, the boat was favored to win the big race—which began in 1851 and boasts the title of "the oldest trophy in international sport, predating the modern Olympic Games by 45 years" according to a statement on the event's website—but a storm damaged the boat in just ahead of the event. While the team was able to patch up Young America enough to compete, New Zealand's team triumphed to win the day.
The exhibition, "Young America: Roy Lichtenstein and the America's Cup," will tells the story of the boat's creation through the artist's drawings and sketches for the vessel, models, an exhibition of the original hull and a premiere of filmmaker Theodore Bogosian's documentary about the project, titled Reflections on a Mermaid. Works have been loaned from the collection of Kevin Mahaney (PACT 95's skipper), the Osaka City Museum of Modern Art and Storm King.
"Young America: Roy Lichtenstein and the America's Cup" will open to the public May 26, timed to coincide with the 35th America's Cup in Bermuda.