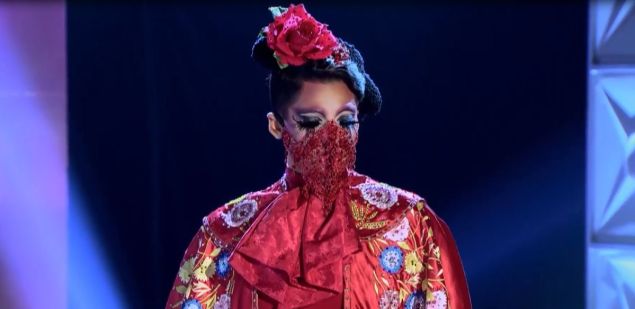 This week's episode is the slowest-motion train wreck the series has ever seen. We start off with the queens splitting into three teams to film their own television pilots. The unstoppable duo of Shea and Sasha reunite once again, while Alexis joins with Peppermint and Trinity—leaving Nina and Valentina to be the odd couple, so to speak.
Though none of the resulting skits are especially memorable, two of them are smart in their strategic approach. Sasha and Shea play into the broad archetypes that drag is based on, featuring an old-timey Russian character teamed with a 70s blaxploitation queen. The jokes are silly but they land. It's exactly what one would expect from this sort of thing, and they're right to get the win.
The threesome pull off a sketch about two moms finding out their sons are gay and the nun who somehow gets their act together. It makes no sense but it doesn't really have to. It's full of double entendres and references that are about as subtle as Trixie Mattel's makeup. Alexis tries to take credit for the wordplay during the runway but Mark Twain it isn't. She's really digger herself into a bigger hole every week—maybe one day it will be big enough to fit her?
Then there's Nina and Valentina. For no explainable reason, they come in cold. No script, no title, no shots. Nothing except a few loose ideas. It is mind-boggling that neither of them realized this was necessary, especially since neither has a history of improv. The resulting video is incoherent but honestly not as bad as some of the drek we've seen in the past. Still it's no shock at all that they're the bottom queens.
Now let's talk about this lip sync, which might be the nuttiest and most shocking in all of Drag Race herstory. Every dumb show likes to claim that "anything can happen" but what actually can happen usually falls into certain very firm constraints. Things play out almost like a logic tree: if not A then B, which leads to options C and D alone. But sometimes there are the Black Swan events where it's like "Holy crap, what did I just watch?"
Obviously things like Eureka's injury and Willam's disqualification in season four were both things no one saw coming even minutes prior. They effectively were outside the format of how the competition is played out, both sort of breaking basic expectations. But this lip sync was something else altogether, effectively testing the boundaries of the show and seeing if they bend or if they break.
Although there is somewhat of an illusion that the winner of the lip sync is inevitably the one to stay, in reality that is not at all the case. Many times if the queens are even vaguely competitive, RuPaul will choose to send home the one who is not doing well in the competition. Rarely does someone get eliminated on their first lip sync (except, of course, in the first couple of episodes).
It is possible that Nina can't help her consistently negative attitude. What she can help is being so expressive about it with her affect and body language (not to mention discussing it ad nauseum!). Her incessant moping is not just annoying but it's downright unprofessional—and not just among entertainers. Even in an office, no one likes to be around a constant cloud of whining and misery. It just brings everyone down.
Nina has been on the bottom before. As importantly, she's shown herself unable to accept the judges' criticism to lighten up and get a thicker skin—and therefore hasn't "grown" like RuPaul likes to see. Nina has also accused people, including Shea, of denigrating her when they've done nothing of the kind and if anything tried to help. Not since Laganja Estranja have we seen a queen this needlessly emotionally dour. By all accounts it was Nina's time to go this week.
Valentina, on the other hand, was one of the two front runners so far this season. She had looks, humor, and a winning smile. That Madonna black-bar getup showed her creativity as well. There hasn't been anything quite like her on the show so far, which is saying a lot after nine seasons. If she had put up the slightest fight, the lip sync would be an afterthought—especially since the Ariana Grande song wasn't particularly up either one of their alleys.
Michelle Visage had the same reaction we all did—was Valentina seriously going to leave her mask on? It might have made sense with Sasha, as if it was some sort of artistic commentary on the art of lip sync. But no: Valentina simply didn't know the words and choked. Valentina had similarities to the quirky Tammie Brown—who is also known to bust out into Spanish every once and a while. In season two Tammie refused to lip sync, just dancing along with the song. Yet Tammie made that out to be a choice. Valentina simply choked, and we're all the worse off for it.