WEDNESDAY "I go into New York on Wednesday on the Acela for a read-through that is scheduled for 3 o'clock. It never happens at 3 o'clock, but we show up because that's the schedule. Then we wait, and wait, and wait, then probably around 5 o'clock we sit down and read with everyone; the host, people from all the various departments. I always sit in the same chair, because I like things the same. I sit at the end of the table so I can glance to the other end of the table where Lorne Michaels sits. Some people say he never smiles but ehhh, I've seen him smile. Then we wait for the producers to tell us what they would like for us to do. When they decide what they want to do we go with the director, [Don Roy King], he's pretty nice, pretty good, for a director [laughs] .We lay out a ground plan for how things might fit into the studio. Sometimes that's easy. Sometimes that's hard. But once we've done that, then we talk to everybody. Writers produce their own pieces, so if they want scenery they have to come to us. We try and get everything we can from them: "What is it? Is it a restaurant? Is it a fancy restaurant? What's it like?" Anything we can get. It's a madhouse, 30 people in one room. Then, guess what? They're gone, and it's just the designers. We draft by hand, make prints, then a representative from the shop shows up and we hand the plans right to him. We hope to get out around midnight, if we're lucky. If we're unlucky, like [Melissa McCarthy's episode], we didn't walk out of the building until 2 AM. "
Twitter
THURSDAY "It all happens very fast. Thursday we rehearse the music. We don't have the scenery yet, so we just mock up the scenery with other pieces of junk. Pretty much anything we can find [laughs]. Just to show how much space [the performers] have."
NBC
FRIDAY "We have painters by Friday. The famous night crew comes in very late and sets up. Now we start dressing the set, we get the sets painted. Friday night, the painters stay. They're the last people to leave. We push all the cameras to one side so that they can paint the floor, because we often do designs on the floor. The only time they can do that is Friday night."
NBC
SATURDAY By Saturday, hey, we're getting close to it. Of course, there's always the endless changes. New sketches come. We try to please, we never say no. We try to do whatever they want. Sometimes that works out, sometimes that doesn't. I'm kind of a negative fellow about it, I say "well, it's a mess." But it gets on air, and you think "well, it's a mess, but I'm learning. Maybe next week. There's always next week." And that's always true. Then we start again. In my case, I'm fond of seeing what they come up with. We really don't get anything. We have two days, you know? It's an unusual show. We have to clean out our offices this week, on top of everything else, because they're re-doing all the offices on the 17th floor [of Rockefeller Center]. I guess that's a sign we'll be around for another 20 years.
Will Heath/NBC
If Saturday Night Live is a New York institution, Eugene Lee is its bedrock. The 76-year-old production designer, who also happens to be a three-time Tony-winner, has been with the sketch show from the beginning, a creative force behind-the-scenes from the moment George Carlin walked onstage for SNL's 1975 debut to the second Dwayne Johnson does the same in this Saturday's season 42 finale. "Who knew it would last this long?" Lee tells us with a chuckle.
Click through the slideshow above to see Lee describe the four-day process of turning hand-drawn sketches to life-sized sets on the SNL stage, and read the below interview for our discussion on the early days of Saturday Night Live, how it has changed, and the llama that's been hiding in the background the entire time.
Observer: How did you get hired for the very beginning of Saturday Night Live? 
Eugene Lee: Lorne Michaels saw a show of mine on Broadway, Candide. He was coming to New York and looking for a designer; evidently, he couldn't find a television designer. I was living on a boat at the time in Rhode Island. My phone went off and I rowed over to the side of the boat—I loved that boat—and they said a television producer doing this comedy variety show would like to meet you. I thought, "well, I don't know, I don't know anything about television, but okay."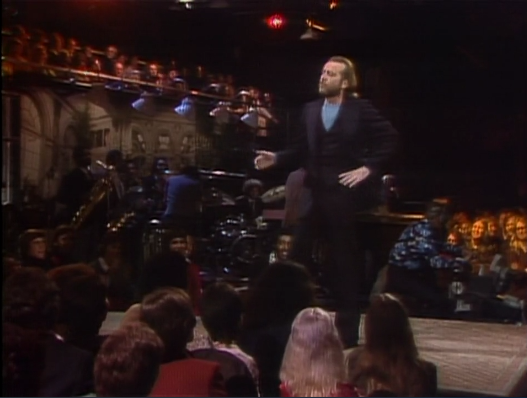 I went to New York to see Lorne, he answers the door, very informal. We brought work for him to look at, he doesn't look at any of it. He says, "I'm going out to a comedy club, why don't you guys come along?" We went. The only thing I can remember, this big guy comes up to our table and says, "are they hired yet?" Well, no one had said anything about being hired so suddenly, I guess, we were hired. The only people at that point were Jim Signorelli, a filmmaker who in the early years did all the parody commercials, and Edie Baskin, the ice cream heiress, who was a photographer and did the original photography in the opening sequence.
We all went to see the studio, to see 8H.
And you pretty much designed the layout of the whole room. 
I like to move the way the audience sits in the theater. That's what I did with 8H. I decided I'd put a balcony along one whole side and wrapped around one edge a little bit. And it's never changed, basically, since the year it was put up. I've done the [Tonight Show with Jimmy Fallon] set, and I've done the [Late Night with Seth Meyers] set, but in the case of Saturday Night we did it in such a rush we had a hard time getting seats. It was the year Yankee Stadium was taking the wooden seats out and putting in fiberglass seats in. Too bad. The wooden seats were better. But anyway, the people making these seats had plenty of extras. We asked if we could have them, and they've been the same since the beginning. I'm kind of fond of them now. Lorne was very nervous in the beginning they might not be comfortable enough.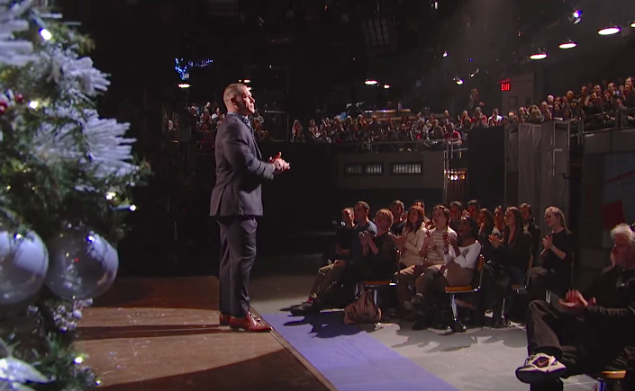 Now, [moving] the camera has become a very choreographed thing. Even on an episode that is not necessarily so good, people seem to like the studio and how we transition from one set to another. The original director [Dave Wilson] told me how he thought the studio should be laid out. I listened, and then I just did it my way [laughs].
When you look back on all the years you've been there, what pops into mind immediately as a particularly memorable set or design?
My belief is that on television, less is more. I'm very fond of just having a counter and an actor who takes a bass and tosses it into the blender. It's as funny now as it was when we did it years ago.
[protected-iframe id="bd619c7840a42d7d5c9e79d6abeda04e-35584880-59143305″ info="//player.theplatform.com/p/NnzsPC/widget/select/media/igNqPlgIQGEa" width="480″ height="270″ frameborder="0″]
I don't exactly have favorites. Usually, if there's a boat in the picture they push the boat on to me. Because they know I like boats. And I do.
What's something that the audience at home doesn't see that takes up a large portion of your job?
I can tell you one thing; no one has a clue how it all happens [laughs]. The producers produce their own pieces, and they have no idea. Under Rockefeller Center is another city. They have their own cafeteria down there, we have the night crew down there. The night crew is a hangover from live television, they start work at 5 o'clock and work all night. They also have a workshop in the building in case us stupid designers made a bad mistake. That happens often [laughs].
But people don't know how it happens. They just say "we need a restaurant" and it arrives in a magic way. But that's okay. That's what Saturday Night Live is. It's a fun show to do. There's not many of us left from the beginning, so it's sentimental. There's only Lorne, and me, and—I want to say my assistant but he's really become more than that—and then we have Speedy, who originally set up the band instruments. He looked like a hippy and he still looks like a hippy [laughs]. That's about it. Maybe one cameraman. We used to take a picture with everyone who was there for the first show, and there was a time it was 12, 15 people. We haven't taken a picture in the last couple of years because there's so few of us and we look kind of sad. People are dying. That's what happens. I'm 70-something, looking at 80, so trust me, people die [laughs].
Well since you've been with the show for so long, what's something that would surprise people about Saturday Night Live?
Here's something we do. It happened last show, too. When we go out into the hallway, which we've done quite a few times over the years, 99 percent of the time somewhere in the hallway is Abe Lincoln in a stove pipe hat and a chorus girl, like a Rockette. Always. Doesn't matter what the sketch is. They just appear. Last week [with Melissa McCarthy] there was a walk-around and way in the background, probably missed by most people, there was Abe Lincoln.
Oh, wait, the llama!
We also always have the llama. There's Abe Lincoln, the chorus girl, and the llama. They're always around. I don't know why, I can't remember when it started. The llama has a name, it's Pierre, because occasionally in the past they've sent the wrong llama. Look for the llama.
[This interview has been edited and condensed]