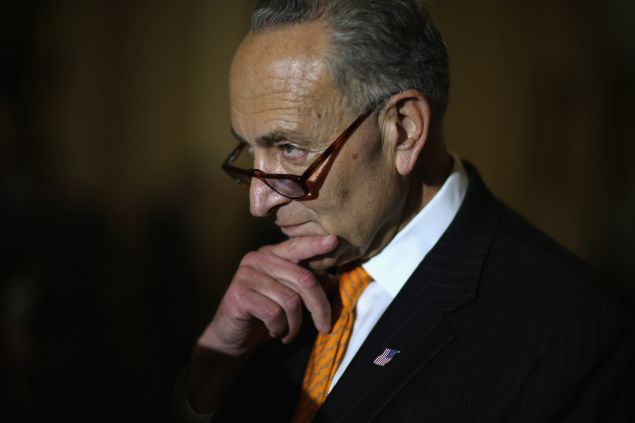 Senate Minority Leader Charles Schumer and congressional Democrats lambasted the House's passage of the American Health Care Act this afternoon, calling it "merciless" and demanding its defeat in the Senate.
The legislation, which aims to repeal and replace former President Barack Obama's Affordable Care Act, eliminates the requirement that larger employers offer affordable healthcare to their employees, reverses its Medicaid expansion, cuts subsidies and cut the taxes the 2010 reform package imposed upon high earners. In a crucial difference with the version of the legislation that failed to win sufficient Republican support earlier this year, the current incarnation allows states to individually decide which pre-existing conditions insurers must cover and removes caps on how much the afflicted can be charged, and includes an age tax that allows insurance companies to charge higher premiums to individuals between the ages of 50 and 64—allowing it to win votes from the previously recalcitrant Tea Party-aligned Freedom Caucus and pass by a margin of 217 in favor to 213 against.
Schumer, whose 48-member Democratic conference represents Obamacare's last rampart of defense, took to Twitter to blast House Republicans for voting in favor of the legislation.
The legislation also includes a proposal introduced by upstate GOP Congressmen Chris Collins and John Faso that will exclusively deny New York reimbursement for several billion dollars it raises from upstate and Long Island counties to pay for its Medicaid program.
U.S. Sen. Kirsten Gillibrand admitted in a statement that Obamacare "isn't perfect" and suggested that insurance companies be subsidized further with taxpayer dollars, or that the federal government create a not-for-profit public option. But she insisted what the House passed today will make the situation worse rather than better.
"The Trump health care bill that passed today on a party-line vote is atrocious and must be defeated in the Senate," Gillibrand said in a statement. "Health care shouldn't be about politics—it's about people—and this bill would harm people. The only beneficiaries of this bill are big insurance companies and the wealthiest among us, with the price tag being paid by everyone else through higher premiums, less coverage, and millions of vulnerable Americans losing their insurance."
Since the AHCA deals solely in fiscal matters, it can pass the Senate on a pure majority vote through a process known as budget reconciliation, meaning Democrats will not have recourse to the filibuster. Still, some Senate Republicans have voiced doubts about the bill's prospects in their chamber, as only two senators need defect from the GOP to stop it.
Manhattan Congresswoman Carolyn Maloney slammed the legislation as "merciless." She also warned of its potential impact on maternity care for women and preventive cancer screenings covered under the ACA.
"The American Health Care Act is not a 'care' act at all," Maloney said in a statement. "It will cause severe and certain harm to millions of Americans and I hope this bill goes nowhere in the Senate."
Brooklyn Congressman Hakeem Jeffries was equally dissatisfied with the outcome, saying that the "system is rigged" under Republican rule and that the "deck is stacked against hard-working Americans."
"Under TrumpCare, 24 million Americans will lose access to health insurance," Jeffries said in a statement. "Under TrumpCare, costs will go up, premiums will go up, co-pays will go up, deductibles will go up. Under TrumpCare, tens of millions of Americans who are living with pre-existing conditions will be screwed."
Staten Island Congressman Dan Donovan—the only Republican representing any part of New York City in Washington, D.C.—voted "no" on the legislation as well, said that Obamacare is "failing and requires major reform" and that he will work on a replacement.
"Despite amendments and revisions, this bill still does not address the needs of the people of Staten Island and South Brooklyn," Donovan said in a statement. "As written, the AHCA would impose a tax hike on city residents to fund tax cuts elsewhere in the state. My constituents would also be unable to use the bill's tax credits because of New York's rule on insurance coverage."