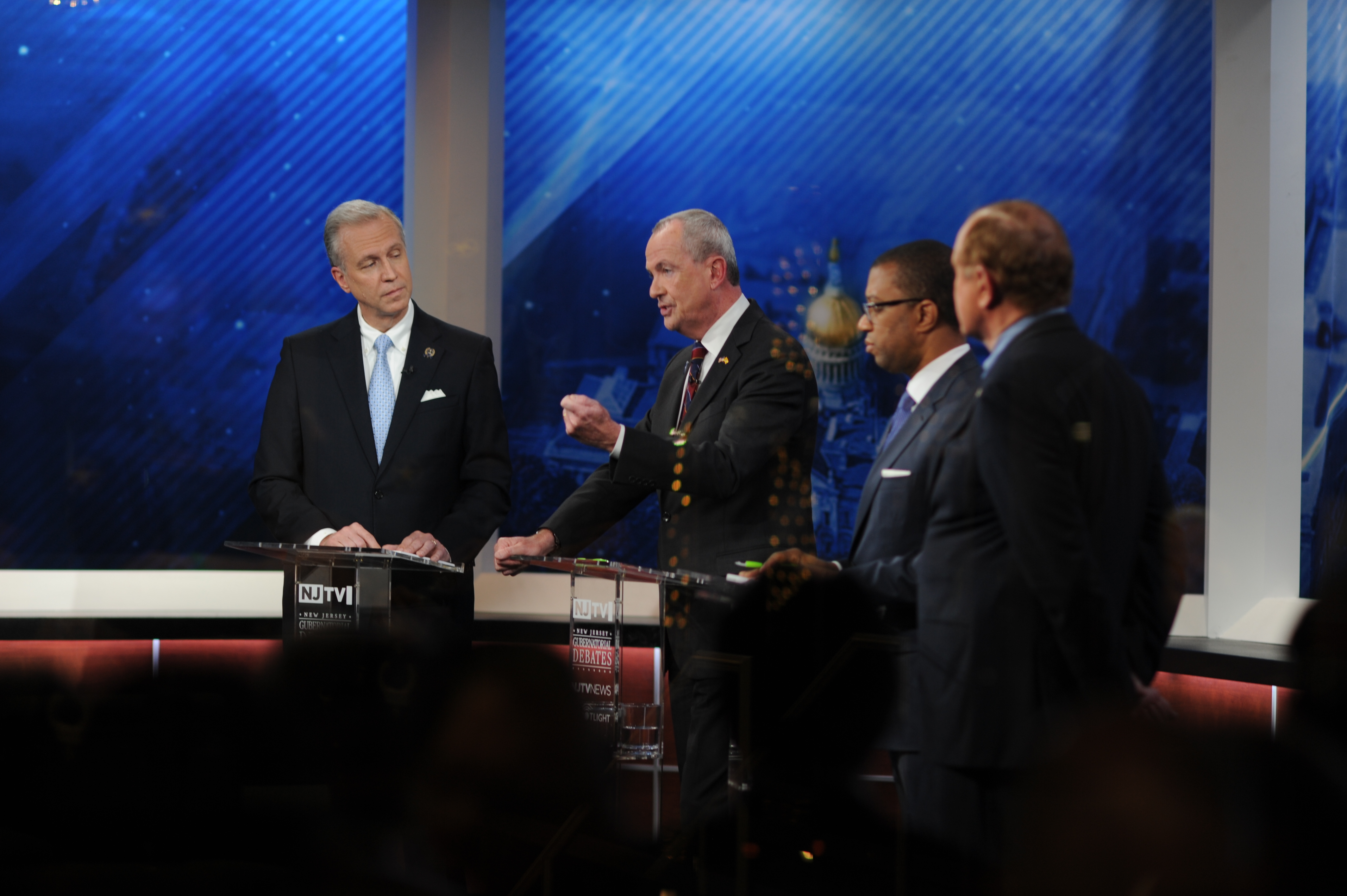 NEWARK — In the fiercest challenge to his candidacy for governor, Phil Murphy was besieged by his three rivals onstage at the second and final debate before New Jersey's Democratic primary on June 6.
They seized on Murphy's largesse to the state's Democratic political bosses, the fact that he locked down all 21 county lines for the primary, the $15 million he has loaned his own campaign, his investments in fracking and gas pipelines, and his 23 years as a Goldman Sachs executive.
"We saw Phil's campaign reports where he's bid up the price to almost $20 million, including a $15 million loan — it's an obscene amount of money and New Jersey can do better," said Assemblyman John Wisniewski (D-Middlesex), Murphy's chief tormentor, who accused him of buying the top ballot position with donations to New Jersey's Democratic county committees. "We don't need Wall Street bankers dictating public policy in New Jersey."
And Murphy came prepared for the onslaught. He plastered a smile on his face throughout the night, repeatedly shifted the conversation to the unpopular Republican governor, Chris Christie, and sought refuge in the panoply of liberal ideas anchoring his campaign platform. Murphy openly, repeatedly, said he would raise taxes in New Jersey to fully fund schools and pensions after years of austerity under Christie.
"I don't think anyone here is harder on Wall Street than I am," Murphy said, recapping how he would bar pension investments in hedge funds, sign an income tax surcharge on millionaires, close a loophole allowing capital gains to be reported as ordinary income, and establish a public bank funded by taxpayers to provide small-business loans.
"Wall Street screwed up in a big way," he said. "They don't deserve our support. They don't deserve our money."
But the heat kept coming for much of the 90 minutes allotted for the debate by the organizers at NJTV and NJ Spotlight. Former U.S. Treasury official Jim Johnson, state Sen. Ray Lesniak (D-Union) and Wisniewski all accused Murphy of buying his way to the head of the pack. To date, Murphy has raised $19.2 million and spent $18.4 million on the Democratic primary; his spending is more than six times that of all the other Democratic candidates combined.
"The fact is, you've spent a lot of money buying all the county chairs, but the people of New Jersey aren't buying you," Wisniewski told Murphy.
"One of the county chairs said, 'I control 10,000 votes,'" Johnson said. "That's not a democracy."
Lesniak claimed that Union County Democratic Chairman Jerry Green, a state assemblyman, asked him not to enter the race after Murphy declared his candidacy.
"And he's told this to other people, 'We can get anything we want out of Phil Murphy,'" Lesniak said. "Jerry Green said it and he said it to many people."
Murphy defended his contributions to the county committees as party-building and said he was proud of the support he received from the Democratic chairmen — and from the rank-and-file Democrats who cast votes for him at the conventions. "The people who showed up at these conventions are good Democrats, they're good progressives," Murphy said. "They're trying to turn the page."
Wisniewski also launched a broadside against Murphy over his investments in fracking, the PennEast pipeline and the Dakota Access pipeline at Standing Rock, N.D., the site of huge protests last year. In response, Murphy said that, if elected, his investments would be put into a blind trust. Speaking to reporters after the event, Murphy added that he may divest from fracking and gas pipelines.
"There is probably no good answer in terms of those investments," Murphy said during the debate, adding, "I mean what I say about fracking. I mean what I say about our environment."
The raucous forum was a stark contrast to Tuesday, the first time the candidates faced off at a debate. While Murphy did get some heat there — notably from Wisniewski about the public bank proposal — the former ambassador walked away from that debate without taking any significant blows.
However, on Thursday, despite the more sustained attacks, Monmouth University pollster Patrick Murray said the math was still on Murphy's side. In a Quinnipiac University poll last week, 26 percent of Democrats favored Murphy, with the next highest-polling candidate (Johnson) at 7 percent.
Fifty-two percent of Democrats were still undecided in the poll, but because Murphy has the 21 county lines and the party's organizational resources at his disposal, he can count on a likely-decisive minimum of 200,000 votes, Murray said.
"To have an impact, this debate needed to create a groundswell of support that will bring out an even greater number of voters for one of the other candidates," Murray wrote in an email. "It's just not going to happen. … Even if the other three candidates had forced Murphy into a significant gaffe, it would not have mattered."
Lost in the shuffle of the debate, perhaps, was the fact that all the candidates agree on fully complying with the School Funding Reform Act of 2008, ramping up payments to the ailing pension system for public workers by billions of dollars, legalizing marijuana, scrapping a controversial standardized test for students called PARCC that has become a bête noire of the teachers unions, and raising taxes on high earners or estates. The Democrats offered a radical shift for New Jersey, promising to open up spending spigots that Christie has kept to a murmur in the $35 billion state budget.
Christie has signed legislation to repeal the estate tax over several years and to cut the sales tax by three-eights of a penny by the time he leaves office in January. But Democrats hunting for revenue could reverse him if they prevail in this year's elections. All 120 legislative seats and the governorship are on the ballot.