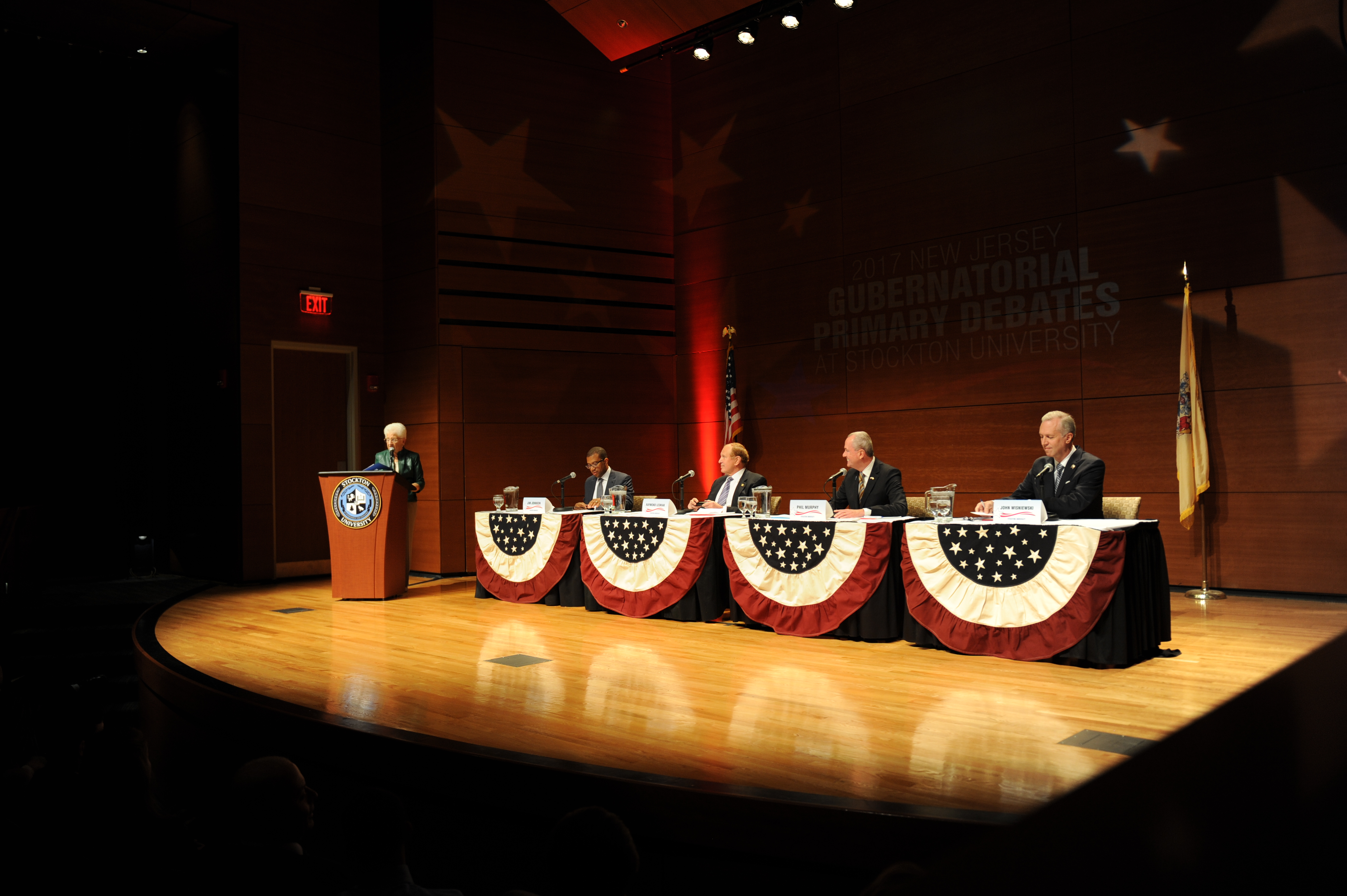 9:50 p.m.: Last Words
That's it for the Democratic primary debates this year. Tonight's offering was a fiery 90 minutes in which Murphy took a lot of heat from his opponents. He came prepared for the attacks, affixed a smile on his face, and repeatedly emphasized his modest upbringing and left-wing platform as a form of insulation.
It remains to be seen whether it will change the dynamics in the roughly three weeks left before Democrats cast their primary ballots. And on policy matters, again, as in the last debate, Democrats are largely agreed that taxes need to rise for the wealthy so that the state can fully fund schools, pensions, transportation and other programs.
Here are the four closing arguments:
Jim Johnson: The former U.S. Treasury undersecretary made an extended case against county bosses and Trenton insiders, comparing Murphy to Christie and Corzine. "We need real change in this state," Johnson said. "That old playbook got us the highest prop taxes, the highest foreclosure rates and the greatest inequality in the United States. … The best answer to organized money in politics is organized people."
Ray Lesniak: The veteran lawmaker emphasized his long list of legislative accomplishments on the environment, gay rights, women's rights and reducing the prison population. "We need a warrior and a champion who has fought for New Jersey for many, many years," he said.
Phil Murphy: In a bit of an understatement, Murphy wrapped up by noting, "We've certainly had our share of disagreements." But he summed up the case for his candidacy — an experienced manager who knows economics at a time of fiscal crisis for New Jersey. And he subtly pointed out how he had taken the high road by largely deflecting the torrent of attacks on Thursday night, pledging he would be "a governor who has the right temperament, the right skills, the right experience — including serving President Barack Obama."
"We need a governor who understands how you grow and propel a sophisticated economy in the 21st century, and most importantly how to make the state fair … to all of us," Murphy said, pledging wage equality measures and criminal justice reforms.
John Wisniewski: He led the charge against Murphy and drove the point home till the end.
"This Democratic primary is an auction. We saw Phil's campaign reports where he's bid up the price to almost $20 million, including a $15 million loan. It's an obscene amount of money and New Jersey can do better."
He continued, "I don't begrudge Phil's success but we know that that success has been at the expense of the middle class. He has invested in fracking and pipeline companies and he makes his money off of those things. … We don't need Wall Street bankers dictating public policy in New Jersey."
Observer: The hands-down winner was clearly moderator Michael Aron, who knew not just the issues and the candidates but when to move on and when to let the brawl play out. And that'll do it for the live blog. Stay tuned for Alyana's story wrapping up the debate. Thanks for following along and remember — primaries on June 6.
— Alyana Alfaro and Salvador Rizzo 
9:40 p.m.: Walk in the PARCC
For those keeping score, that's four Democratic candidates out of four who would end the PARCC standardized test for public school students. Students' test results are a factor in public school teachers' and principals' yearly evaluations, which decide whether they get tenure and whether they can be fired.
Critics complain that it has led to an inadvisable form of education — teaching to the test. The New Jersey Education Association teachers union says the test is flawed and has been fighting to end it. Johnson, Lesniak, Murphy and Wisniewski agreed that PARCC needed to go.
Aron tells Lesniak that state law requires PARCC testing. "I can change the law when I'm governor," the senator responds.
— Salvador Rizzo
9:33 p.m.: Whoever Had 'Drewniak' on Their Debate Bingo Card, It's Time to Drink
Thousands of commuters who travel from New Jersey into New York on a daily basis will be facing serious delays this summer as Amtrak conducts urgent repairs at Penn Station in Manhattan, prompted by two train derailments earlier this year.
At the debate, the conversation turned to how the candidates would resolve issues facing New Jersey Transit, which has been running on budgetary fumes in recent years.
According to Wisniewski, patronage hires at the agency are a big part of the issue. He mentioned Christie's former spokesman Michael Drewniak being given a top agency post despite lack of experience on transportation issues.
The candidates mostly agreed here. They all said the agency needs more money and better management. Johnson said NJ Transit also needs a "vision" and added that officials there need to work more closely with the Long Island Railroad and Amtrak on how Penn Station is run and managed. Amtrak CEO Wick Moorman has often said that NJ Transit staff work closely and well with his railway.
— Alyana Alfaro
9:17 p.m.: Patrick Murray's Take on the Murphy Gang Violence
The Monmouth University polling guru, one of the top political analysts in the state, said the primary math is just too tough for any of Murphy's rivals to knock him out — even with tonight's sustained, united attacks.
"You heard Michael Aron quote me," Murray emails just now. "The 21 county lines and their organizational resources in turning out the vote are worth a minimum of 200,000 votes.  To have an impact, this debate needed to create a groundswell of support that will bring out an even greater number of voters for one of the other candidates. It's just not going to happen.  I vaguely recall someone referring to this type of thing as a rigged system."
He adds, "Even if the other three candidates had forced Murphy into a significant gaffe, it would not have mattered."
But none of that is a good reason to stop reading this live blog.
— Salvador Rizzo
9:13 p.m.: Some People Are Tweeting About This Stuff
9:02 p.m.: Murphy on Defense
Each candidate gets to ask a question of another candidate. Not surprisingly, Murphy gets three of the questions as his rivals keep holding his feet to the fire in an effort to take him down.
Johnson accuses Murphy of lacking progressive values, citing his 23-year tenure at Goldman Sachs. And Murphy gives an extended defense of his record and highlights his liberal platform.
"I don't want anybody lecturing me about progressive values," Murphy tells Johnson, mentioning his modest upbringing. "We were working poor. We didn't have two nickels to rub together. That's the house I grew up in."
He continued: "I did work at Goldman Sachs. That's a chapter in my career. And by the way, I think it brings skills that might help." It could help with job creation, he said, and as an asset in dealing with ratings agencies. The state's general-obligation debt has been downgraded 11 times by Fitch Ratings, Moody's Investors Service and S&P Global Ratings under Gov. Chris Christie.
Murphy noted that he had served on the national board of the NAACP and had been active in his community and the charity world with his wife, Tammy.
"I don't think anyone here is harder on Wall Street than I am," Murphy argued. He would bar pension investments in hedge funds, sign an income tax surcharge on millionaires, close a loophole allowing capital gains to be reported as ordinary income, and institute a public bank, Murphy said.
"Wall Street screwed up in a big way," he said. "They don't deserve our support. They don't deserve our money."
— Salvador Rizzo
8:40 p.m.: It's On
Fireworks at the debate: In the most aggressive exchange so far in the Democratic primary for governor, Johnson, Lesniak and Wisniewski unloaded a united attack against Murphy, accusing him of buying endorsements from New Jersey's Democratic party chairmen to secure the top ballot position in the June 6 primary.
"It's pay to play at its worst," Wisniewski told Murphy. "The fact is, you've spent a lot of money buying all the county chairs, but the people of New Jersey aren't buying you."
Johnson piled on: "One of the county chairs said, 'I control 10,000 votes.' That's not a democracy."
Lesniak followed up and targeted both Murphy and the Democratic chairman in his home base of Union County, Assemblyman Jerry Green.
"My county chairman tried to convince me not to run, and he's told this to other people, 'We can get anything we want out of Phil Murphy,'" Lesniak said. "Jerry Green said it and he said it to many people."
Not to be outdone, Wisniewski took aim at his own Democratic chairman in Middlesex County.
"My county chairman, Kevin McCabe, at the Democratic convention held a voice vote discretionary to the county chair," Wisniewski said. "This wasn't democracy. This is backroom party dealing that the people of New Jersey are tired of."
Murphy was nearly drowned out during the exchange by the attacks from all directions, but he defended the endorsements and the county party structure that holds sway in state Democratic politics. He noted that U.S. Sen. Cory Booker has endorsed him along with 200 religious leaders, and added that his campaign has knocked on more than "400,000 doors."
"The people who showed up at these conventions are good Democrats, they're good progressives," Murphy said. "They're trying to turn the page."
Wisniewski wasn't buying it: "These people were threatened. These people were told who they were going to vote for. … We had a fake convention process in the spring — give me a break."
"There's a lot of good Democrats out there," he added. "There's also a lot of strong party bosses out there telling them how to vote."
Murphy secured the endorsements from all 21 Democratic county party committees, which will guarantee him the top ballot positioning in the primary. He spent years courting local and county officials across the state — and donated handsomely to their campaign accounts.
— Alyana Alfaro and Salvador Rizzo
8:27 p.m.: Health Care Debate
Asked about the potential consequences for New Jersey if Congress passes the American Health Care Act, rolling back parts of Obamacare, Murphy says the key is to defeat the Republican plan in the U.S. Senate.
"We've got to defend, defend, defend," Murphy says. "This is probably a $4 billion hit to the state of New Jersey if this goes through."
Wisniewski touts state legislation he introduced in the Assembly to institute a single-payer health care system, which he argued is the only way to ensure "quality and access."
— Salvador Rizzo
8:17 p.m.: Fisticuffs!
The moderator, NJTV's Michael Aron, kicks off the debate listing all the different tax revenues Murphy is seeking to raise in order to fulfill his promise to fully fund schools, pensions, and NJ Transit, among other programs. The cost of fully funding those programs easily would add billions of dollars to the $35 billion annual state budget.
Aron asked whether there were any other taxes Murphy would raise to keep his pledges.
"The answer is yes," Murphy says, not shying away from the controversial tax issue. Murphy said he would also close tax loopholes that allow companies to store profits overseas, eliminate a carried interest loophole, close the out-of-network loophole for health care plans, and legalize and tax marijuana.
"You do know that the corporate closing tax loophole is my legislation," Lesniak chimes in.
"I'm honored by that, senator," Murphy replies. "I'll be the governor who signs it."
Amid the talk of taxes, Johnson weighs in pitching a plan for "ethics reform" and takes some jabs at Murphy.
"The list of promises you made is breathtaking and is unbelievable," he says. "The insiders play the game for themselves, and you're in bed with the insiders."
— Salvador Rizzo
7:48 p.m.: Wisniewski Previews Attack Line
A former Goldman Sachs executive, Murphy has loaned his campaign $15 million to get off the ground, something that has put a target on his back for other candidates to draw parallels between him and former Gov. Jon Corzine, another Goldman alum.
He has raised $19.2 million and spent $18.4 million in the race so far, eclipsing all the other candidates.
Wisniewski has been one of Murphy's sharpest critics, despite the two sharing very similar notions of how the next governor should move the state forward.
"Murphy's fundamental problem is that his elitist Goldman Sachs background, his lifestyle of flying around the world in private jets to his million dollar villas is at stark odds with his populist message of fighting for ordinary voters," Wisniewski said in a statement Wednesday after new fundraising totals were released.
But, despite the criticism, Murphy escaped Tuesday's debate mostly unscathed. And if tonight is a repeat, it may well close off any hope his rivals have of knocking him out of the lead before the June 6 primary.
Meanwhile, the Murphy team is looking optimistic.
— Alyana Alfaro
7:45 p.m.: Prepare for Lift-Off
The second and final primary debate between the Democratic candidates for New Jersey governor will kick off at 8 p.m. The last debate — held a mere two days ago at Stockton University — featured four candidates mostly agreeing on a slew of progressive policy initiatives such as strengthening environmental regulations, raising the minimum wage to $15 an hour and legalizing marijuana.
The first debate on Tuesday did show some contrasts — candidates at different points took aim at former U.S. ambassador to Germany Phil Murphy, the odds-on favorite to win the nomination. And in their final match-up, it will be interesting to see if his rivals, Jim Johnson, Ray Lesniak and John Wisniewski, will gang up on the front-runner.
Follow along for live updates from Observer's Alyana Alfaro and Salvador Rizzo. And watch live here.
— Alyana Alfaro