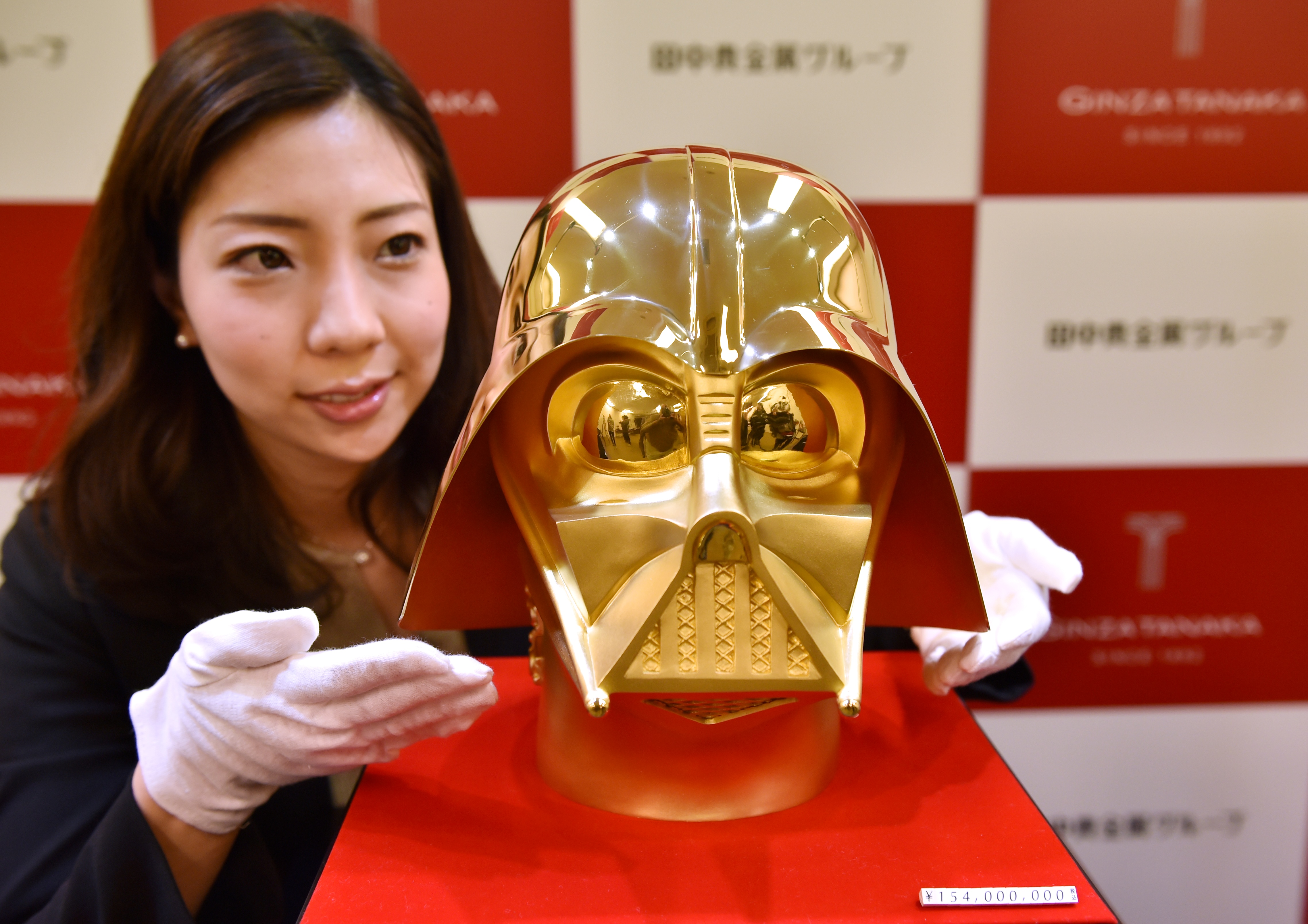 There is fan art, and then there is a Ginza Tanaka's $1.4 million; a solid 24 carat gold replica sculpture of Star Wars villain Darth Vader's mask. With May 4 (Star Wars Day) nearly upon us, as well as the 40th anniversary of George Lucas' original trilogy, it's a prime opportunity for mega fans of the franchise, and/or art collectors with a soft spot for the Sith Lord, to snap up this one-of-a-kind trophy.
It took a total of ten goldsmiths three months to craft and assemble the Japanese jeweler's 33 pound helmut, according to the AP. "The most difficult aspect was that each section of the mask was created by a different gold craftsman and then assembled to make one Darth Vader mask," Ginza Tanaka marketing manager Hirotsugu Tsuchiya told the news outlet.
While the mask currently on display in the jeweler's Ginza store is just a prototype, and the Vader helmut is made-to-order, fans and collectors can begin the lengthy process (it takes up to three months to create the bespoke sculpture) of procuring their own starting on May 4. Important note: the helmut is not meant to be worn—unless you want to have your head and neck crushed Vader-style.
If your pockets aren't deep enough to afford the gilded item, don't despair. The jeweler has also created a series of limited edition Star Wars coins, priced around $11,000 each and sold in sets of three along with a poster, reports the New York Times. But if you really want them, you'll have to get in line fast because Ginza Tanaka has only made 77 sets, in homage to the year that A New Hope was released, in 1977.
On top of all that, Ginza Tanaka is serving up one last treat in honor of the store's 125th anniversary, for the Star Wars fans among us who have more modest savings accounts. The store has whipped up 10-gram coins featuring Yoda and a lightsaber duel between Vader and Luke Skywalker for $1,200 a piece.
May the Fourth be with you!