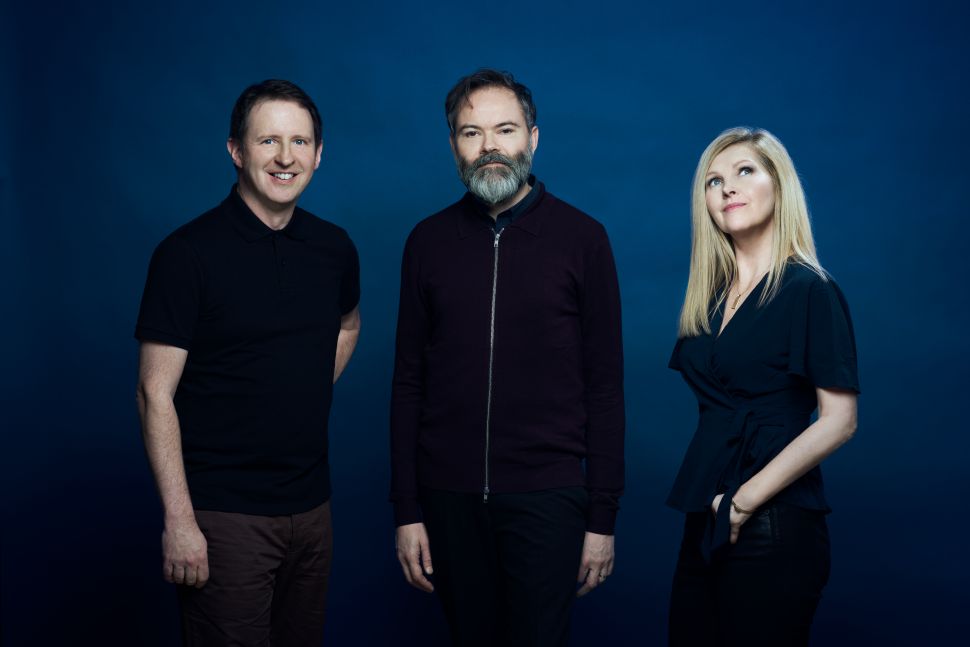 Sarah Cracknell has heard the famous Thomas Wolfe quote. And yes—the frontwoman of Saint Etienne is well aware her band's ninth album Home Counties will be read as an attempt to shatter the idea you can't go home again. But to hear her tell it, 18 years and nine albums into the English electronic pop band's career, the singer/songwriter and her bandmates Bob Stanley and Pete Wiggs were happy to meditate on their humble small-town roots.
"Once you've been away from your hometown for some time, it takes quite a long time I think, you start to look back on it quite fondly," Cracknell tells me on the phone from the band's practice space.
"A lot where I grew up was incredibly boring. When I was a teenager in Windsor there wasn't even a cinema. There was nothing. Out of boredom comes creativity. Now there are lots of people that I grew up with who left and went to cities around the U.K. or abroad or wherever and have come back. There's loads of people there I used to hang out with and I feel a little bit jealous because I'm not there anymore."
[soundcloud url="https://api.soundcloud.com/tracks/322160616″ params="auto_play=false&hide_related=false&show_comments=true&show_user=true&show_reposts=false&visual=true" width="100%" height="450″ iframe="true" /]
Home Counties is a winsome piece of electro-and-keys pop that leans heavily on the idea of life in small towns. It isn't the first time the trio has flirted with concept-heavy music. Their previous album, 2012's Words and Music by Saint Etienne, explored the lives of passionate music fans. Before that, on 2005's Tales From Turnpike House, the band built an album around a series of stories that all took place in a single apartment building.
No matter the subject, England's capital city has been an omnipresent character in Saint Etienne's output. It's no accident that the band named their 2008 best-of compilation London Conversations. Sometimes the reference is explicit, like the So Tough spoken interlude that features the Billy Liar imperative that a character "Lose himself in London!" Sometimes it's a mention aimed squarely at locals: references to cafes, dodgy side streets and tube stops.
It's a fascination with the metropolis Cracknell dates back to trips to the city she made as a preteen, hell-bent on poking through clothes shops on Kings Road—"I wouldn't let my own children on a train at 12 unaccompanied!" she says with a laugh that has just a touch of horror to it.
Wiggs and Stanley, friends since their parents met while they were infants, also began traveling to London as teens, looking for the culture they couldn't find in Croydon.
"We were slight outsiders," says Wiggs. "I think once we started going up to London on the train when were quite young, going to gigs. It felt like a different world. There were good sides to living in the suburbs. The boredom and things like that. It made us do what we did."
Both Cracknell and Wiggs are parents now. Both are living in suburbs a short train ride away from London. And both are fully expecting history to repeat itself. ("They're not getting twitchy yet but it won't be long before they're cursing where we live," says Cracknell of her two sons.) It's that feeling, of a child being lost in an adult world, not feeling like your needs are being met where you are, that the band tapped into on the wistful synth-and-drum-machine Home Counties single "Magpie Eyes."
"'Magpie Eyes' is me exaggerating the way I am sometimes," Wiggs explains. "Me and my wife sometimes not listening to the kids. Paying lip service because they might be telling us something and we're thinking of something else. Not engaging properly. I was extrapolating that into a career-minded person who choses that over spending time with their kids. The goal of whatever it is, financial or whatever, they've made a conscious choice to go for that and not have such a balanced life."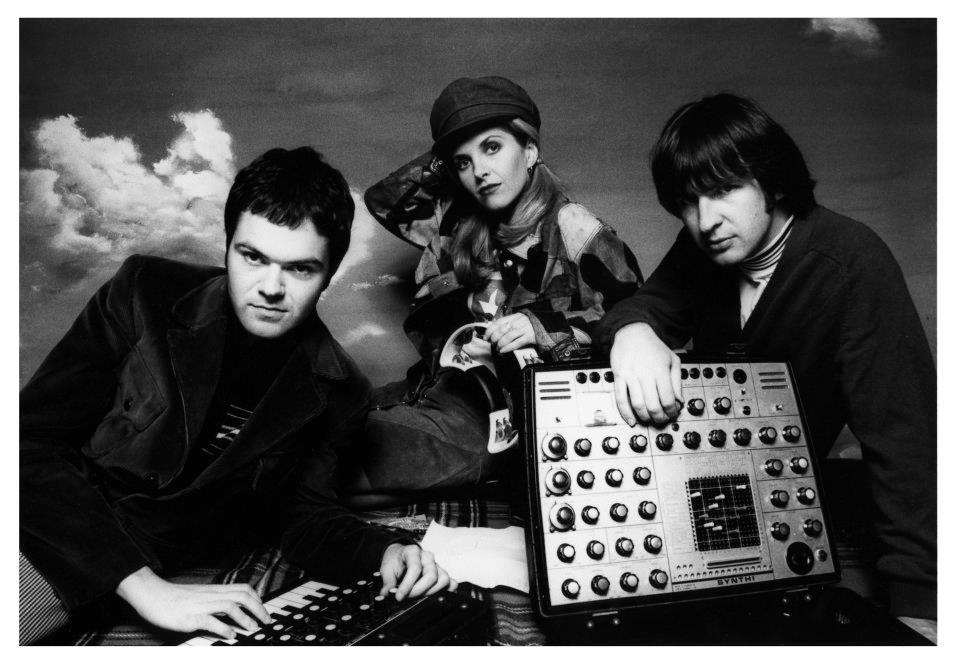 Wiggs makes it clear the song is a piece of fiction. Just like he and Stanley used to lose themselves in London, he now finds it easy to sloth off reality while working on music. As he explains, art of all kinds still holds the same kind of fascination the city used to present.
"When I go to the cinema I'm a filmmaker's dream," he says with a laugh. "I really lose myself in nearly everything. I cry and get really carried away. I often think if there's a camera on me it'll be really embarrassing! I'm glad I can do it. It feels great that we've been doing this for so long. I suppose it's different kinds of minds as well. I visualize things like notes and lyrics and sounds. There's a visual element to things. I definitely get lost in stuff, which is nice. Just not with my kids. I'm not ignoring them!"
Cracknell, on the other hand, views Saint Etienne more as a happy extension of reality.
From her early obsessions with drama and the stage, to her first attempts at music with her first band The Worried Parachutes, it's a role she's been preparing for most of her life.
"I'd go to every jumble sale that they'd hold in a town hall and where people would sell loads of clothes," she recalls of her childhood fixation on all things glam.
"I'd go and I'd fill up massive garage bin bags of clothes and bring them all home and my mom would be going, 'Oh my God! Another ton of clothes!' So I think being able to wear clothes on stage where you can were things that are a bit more out there than what you would necessarily wear when you go to the shop in is really great. It's exactly what I wanted to do. Definitely ticking that box. Another life goal!"
Saint Etienne releases Home Counties on June 2.
The band starts its U.K. tour on May 26 at The Trades Club, Hebden Bridge, and plays the Bowery Ballroom on September 25 and The Music Hall of Williamsburg on September 27.