On October 7, 1997, a 25-year-old Matthew Ryan put out his debut album, May Day. Released on the now-defunct A&M Records, it was a bold and beautiful record, full of ragged, rugged charm that was wise and worn beyond the songwriter's years.
Soon after its release, Universal acquired A&M and reprioritized the label's artists and promotional efforts, turning what would've been a high-profile album roll out strategy into little more than an afterthought. Ryan released one more album on A&M—2000's East Autumn Grin­.
But if the fickle nature of the music industry threatened to derail Matthew Ryan's ambition, you wouldn't know it based on the unshakeable work ethic he's displayed over the last 17 years. Ever since leaving A&M, Ryan's forged his own path every step of the way, releasing records on smaller labels, or entirely on his own.
Continuing to write some of the most poignant and perceptive songs about life and love in America, his songs are at once personal and universal, delving deep into his own existence, but—in much the same way as Bruce Springsteen, Leonard Cohen and Bob Dylan—extracting timeless truths at the same time.
Two decades after that first record, Ryan's latest album, Hustle Up Starlings, continues the Pennsylvania-born singer's search to uncover the meaning of existence—or at least some of it.
Produced by Brian Fallon of The Gaslight Anthem, it marks the next stage of a kind of renaissance for Ryan, something that began with his 2014 album Boxers, an album he hadn't originally intended to make—he'd decided to stop making music, but Fallon and others changed his mind—but as it happened, like Ryan's best songs, the planets aligned, fate intervened, and it led him back on course, and eventually to this moment right now.
"Maybe I'll Disappear," which we're proud to premiere below, is a typically haunted affair from Ryan, one that's burdened by the ghosts of the past, but also which floats with the promise and the possibilities of the future.
One of the more reflective, sadder moments on Hustle Up Starlings, it's a delicate and tender piano-based elegy about letting go of what's already been lost, about things that happened we maybe wish we could change but know full well we can't. It's a broken, brittle, frozen heart of a song, but beneath the freeze—and however faintly—it's still there, beating and waiting for the thaw.
[soundcloud url="https://api.soundcloud.com/tracks/314007397″ params="auto_play=false&hide_related=false&show_comments=true&show_user=true&show_reposts=false&visual=true" width="100%" height="450″ iframe="true" /]
There's a real sense of wonder that runs through Hustle Up Starlings—that despite all the negative things happening in the world and despite the cuts bruises we all have, there are still reasons to be wide-eyed and hopeful. What did these songs mean to you when you were writing them?
When you're writing, you don't really know what's happening. You just know that something is compelling you forward, something is resonating as true. I think we are on the verge of cynicism almost becoming a fundamentalist doctrine and, having wrestled with cynicism myself, I believe that cynicism is a form of death.
I've found the more I've engaged with beauty and possibility, the more alive I've felt, and I think that probably entered the writing. That started with the previous record, Boxers, that I made with Kevin Salem and some of the gang that's on Starlings. I don't know how to describe this without it sounding so romantic, but it was like a lightning rod of optimism. I'd spent a few years in the wilderness feeling incredibly lonely in my work and in my life and my ethos, but once that lightning struck with Boxers it was like the sun came out.
Now, there's still a brutality to Starlings. Life is brutal. It just is. But as you get further in life, your story can become something that lifts you or it can become something that weighs heavy on you, and I'm choosing to lean towards optimism, even though things are shitty.
That said, you've written some incredibly sad songs, here and through the years. Do you think people misunderstand you, and assume you're as downtrodden and defeated as the characters in your songs?
I think when you're a singer-songwriter it communicates to the listeners that the songs are all coming from the word "I." I've often wished that I'd been in a band—or even come up with a band name—because I've never just been writing about myself. This isn't diary writing, and if it were, and I were to look over all I've written, I would be a little concerned! [Laughs]
It's funny. Recently, a friend asked me to do a voiceover for this documentary he made about this kind of retirement home for older dogs. He called me the other day and said, "I'm sorry, man. We couldn't use your voice because it sounded so serious." [Breaks into laughter] It was supposed to be this joyful documentary about these older dogs who get this sense of community and I thought I nailed it!
I think sometimes people mistake seriousness for sadness, and that's not the case. But I do take seriously what a song is capable of. My biggest hero is Leonard Cohen and I love the gravity with which he delivered every word. He has a great piece of writing called How To Speak Poetry and I would strongly suggest any singer, any writer, read or listen to it—there's a spoken version on YouTube.
For better or worse, I have committed myself to try to understand the gravity that Leonard Cohen suggested artists and writers have. But gravity is not sadness. To me, it's an awareness that now is important and we should lean for things that make this experience more beautiful. Honesty, vulnerability, hopefulness, empathy, facing each other—these are the things that make us beautiful. Not cynicism, not doubt, not villainization.
Would you say that the characters on Starlings share that stance, as opposed to those on Boxers?
A lot of these characters are figuring it out, whereas the characters on Boxers were lost. They were frustrated and angry. But these characters are figuring out that they have a responsibility to each other and they have a responsibility to their wildest dreams, even if they don't come true. Sometimes you go after something knowing that it won't work out, but it's a thrill to do that. It's actual living. And that's what these characters are figuring out, through love and romance and work and heroes and hope and sex and betrayal and anger.
[youtube https://www.youtube.com/watch?v=Jy_UXpxtiCE&w=560&h=315]
Which is an idea expressed on "Run Rabbit Run"—that even if things go terribly wrong and we're stuck doing jobs we hate and those dreams won't ever come true, it's still good to be alive.
There are a lot of reasons why we find ourselves in the positions we find ourselves in, and the best that we can do is to be dignified in the moment that we're in and insist that more is possible. And if that means that we have to leave this place and go somewhere and plant our own flag to begin some other story, then so be it. Don't get stuck. People will victimize other people if we allow ourselves to be victimized, but there are ways around that. To borrow from Bukowksi, there are ways out—know them, be them.
And I hate to be self-indulgent, but I'm so proud of some of the writing on this record. The bridge on that song is probably exactly how I felt a few years ago when I felt that I had been dismissed as an artist, that I had been told to clean out my locker—it's saying, "No, you can't tell me that this is over for me. I'm not saying it's going to work out, but you are not going to decide for me."
Let's talk about that. Because you were going to give it up and you were convinced otherwise, and now there's this kind of Matthew Ryan renaissance happening. How does it feel to have that passion reignited?
I was actually talking with my dad this morning about this. And not just about my own reignition, if that's a word. I can't get into the hearts and minds of everybody, but I've seen it in my friends and family that we all know something about ourselves that nobody else knows, and a lot of times we allow circumstances or bad luck or events to define us. But that voice, that thing that you know about yourself that no-one else knows that doesn't not go away—listen to it.
It may not mean that you're a rockstar. It may not mean that you're Andy Warhol. It may not mean that you're the most amazing ballerina ever. But what it does mean is that there is something in you that brings you fire, so don't ever let the world decide that that's not true. I've found that through collaboration and community I feel more alive.
It's been a long, slow process for me to realize that I'm naturally a loner. And what I've found is that by being a loner, you end up alone. And so a few years ago I had to take responsibility for why I was alone. And I'm alone because this is the road I chose. So all that happened was I chose a different road, and that road led to something that felt more illuminated. And that's where I'm at. I don't know what's going to happen a year from now. I've lived long enough to know that these things change, but I know that I'm grateful for the connectivity that I feel right now to the friends and people that are in my life.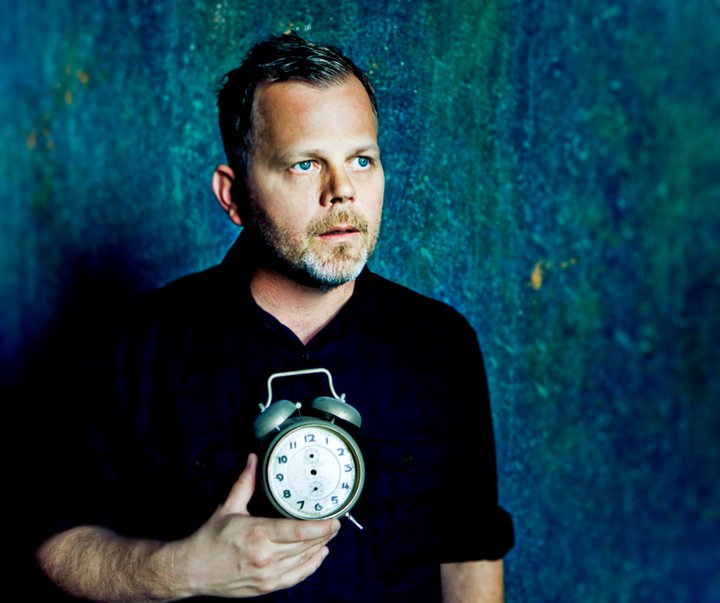 So let's rewind 20 years to the release of your first album May Day in 1997. How has your perspective shifted, from then to now, of what life is and what you do?
There were a lot of opportunities for deceit from the beginning. A lot of people don't know that I've had some very bad luck. Not in a mortal way, which I'm grateful for, but in situational ways. May Day, my first record, was doing pretty good, but A&M Records was being bought out just as my record came out, and it wasn't doing well enough to ride out that change so I've had to become very DIY in my efforts, which I don't resent.
There were many things that lit me up, but what didn't light me up is that I'm not good at business and I didn't like my life becoming a marketing campaign. You asked a simple question, but there's no simple answer. There's 20 years between here and there, and the thing that I'm most grateful for, the thing that matters the most to me, was my ability to write a song, and that has been maintained and is my raison d'etre. All I ever wanted to do was write songs that offered what I found in music, and I feel fortunate that I've been able to do that.
There's a line in "Boxers" that proclaims "All our heroes had no choice," and "Battle Born" on this record reverts back to those same heroes and that idea. Do you feel the same way, that there's nothing else you could have done?
The only thing I could have done with my life is exactly what I'm doing. But the most important thing I can do with my life is to stand by exactly what I'm doing. I couldn't have done anything else. I tried.
In the early 2000s I took a break and took a job in a warehouse, and I didn't fit in. I didn't see the world the same way as the people I was working with saw the world. And these were good people—I didn't feel things the way that they felt. And that doesn't make me special. It's just the way we process what we see and feel. That was first time I really realized "Oh, I don't know if I can operate in the dignity of what a lot of people do." I feel strangled, like I'm losing oxygen. There's a cruelty in the lack of freedom.
And I'm sure that everybody feels that, but some people have the kind of constitutions that they can work within that framework and find duty in other parts of their life. It was funny. Every morning I would drink my coffee and say "I'm going to be on time today" and then I'd get a song idea and be like "Well, I've got to sit down, I've got to take care of this." I was an asshole. There were people counting on me. I felt like I was doing them a favor when I went back to music. [Laughs]
You sound re-invigorated, like you're in a really good place. Is that the case?
I think so. There's a lot of anxiety, because it is a scary world for the arts right now. I try and communicate with people as best I can with the tools that I have. I love few things more than expressions of distilled humanity through the lens of people's talent.
One of the things I worry about is the speed of things and the pressures that technology is exerting on us. We forget about peace and rumination. I've watched so many of my friends over the last year release really beautiful records and see them just go out there, almost like a shooting star in the distance. You know it landed somewhere but you see no impact point. You don't even hear a noise. It just disappears. That's a heartbreaking experience and I'm fully prepared for that with Starlings, but I dread it.
This is also the first record in your career that you own completely. Explain that whole process and situation.
The ownership is not coming from a dick-ish place. Early on, I wrote some friends in the business that I admire and told them I have a record I think is particularly special and would love to share it with them. And not one of them responded to me. Not one of them. And I said, "You know what? I'm not going to put that kind of negativity on this work. I'm not going to participate in rejection."
It did hurt my feelings, because some of these people I've known for years. But it made very clear that if you want to do this, then you've got to do it.
In capitalism, we're at a point where one major ingredient is being removed from our economy and from the things that we do and the food that we eat. It's love. I know that sounds like John Lennon hippie stuff, but if we do not participate in love, we're fucked, and our system is railroading love right now. We have to walk slowly. We have to be patient. We have to set the table—and then invite people in.
[youtube https://www.youtube.com/watch?v=O6FhXWNRkWE&w=560&h=315]
With these last two records, you really seem to have found a gang of people who understand you and who feel exactly the same way.
It's amazing. And I'm grateful for it and I've not been passive in this. Having lost friends that are gone—they're dead—I've learned that when I see somebody in whom I feel that soul recognition, I, in earnest, will make an effort to participate in their life as well. It does feel like I've found a lot of brothers and sisters in arms. There's a solidarity, and I believe that through that we make the case for this kind of work together.
This isn't motivated by anything other than I like to feel like I like the world that I'm in. And sometimes when you're watching shit go down—the horrible things that we see happen, the unimaginable tragedies—you can start to think that beauty isn't there. But through community and aspiration and work and integrity and shared ethos, we get to create a kind of feeling that, you know what—all that darkness is real and all those horrible things happen, but this exists in contrast to that. And this is beautiful. And it's not oblivious to those other things. In fact, it's almost like that space between day and night.
Throughout your career, and especially here, there's a real confluence of the past, the memory of the past and the present. Even the most urgent of these songs hark back to a time that no longer exists, yet you're keeping it alive. How do you reconcile that? Can you?
I think the way you reconcile that is that you lean towards the now that feels best to you. When we succumb to that information that makes us snarky or mean spirited or dismissive, it never feels good. You don't go to bed saying "God, I was a great asshole tonight!" I have a thousand examples of where my damage overrode my hope for what a moment could be. And there comes a point where you get tired of lying down at night and going "I fucking let the damage win again."
And that defiance and hope is very much evident on these songs. And that's incredibly important, especially in America in 2017.
I know U2 get a lot of shit these days, but as a kid, to come across music that was militant about hope was one of the most profound things. For me, it's become a process of not only loving that idea but trying to participate in earnest with it, to be militant about hope, even when all other signals are that you should not be, the one thing that gets you through sometimes is that you believe that you can and you will. Not through foolishness, but through hope.
With hope in mind—because you've already talked about the fears you have for this record—what are you hopes for Hustle Up Starlings?
My hopes for it aren't really relevant anymore. I can't force people to like what I do. I can't force people to be imbued with meaning by the things that I care about. But what I can do is I can offer it, and I can hope that it gets found and I can hope that that means when I go to play in, I don't know, Madison, Wisc., there's a bunch of people in the room and we get to experience that together and we get to feel really alive together.
That's ultimately what it's about. It's about a sense of community, a shared experience, to have a gang of people in a room perceiving beauty in what is ultimately the shortcomings and foibles and absurdity of this thing we get to experience. That's what art, I think, has always strived for.
You know, sometimes you step outside and you see the moon and you don't even think about the fact that it's like another planet. We just look at it and go, "Oh, there's the moon." We don't think about the details that it's hanging out in space and it's stuck to us through some mystery called gravitational pull and it affects the way water acts and it affects some people's moods.
I guess I hope when people listen to "Starlings" they'll pause and remember that there's magic and romance in the details. There's danger too, of course. But that's where the lightning comes from. I don't know what my aspirations are other than that. [Laughs]
Hustle Up Starlings is out on May 15. Matthew Ryan kicks off his U.K. tour at Mama Roux in Birmingham, England, on July 3