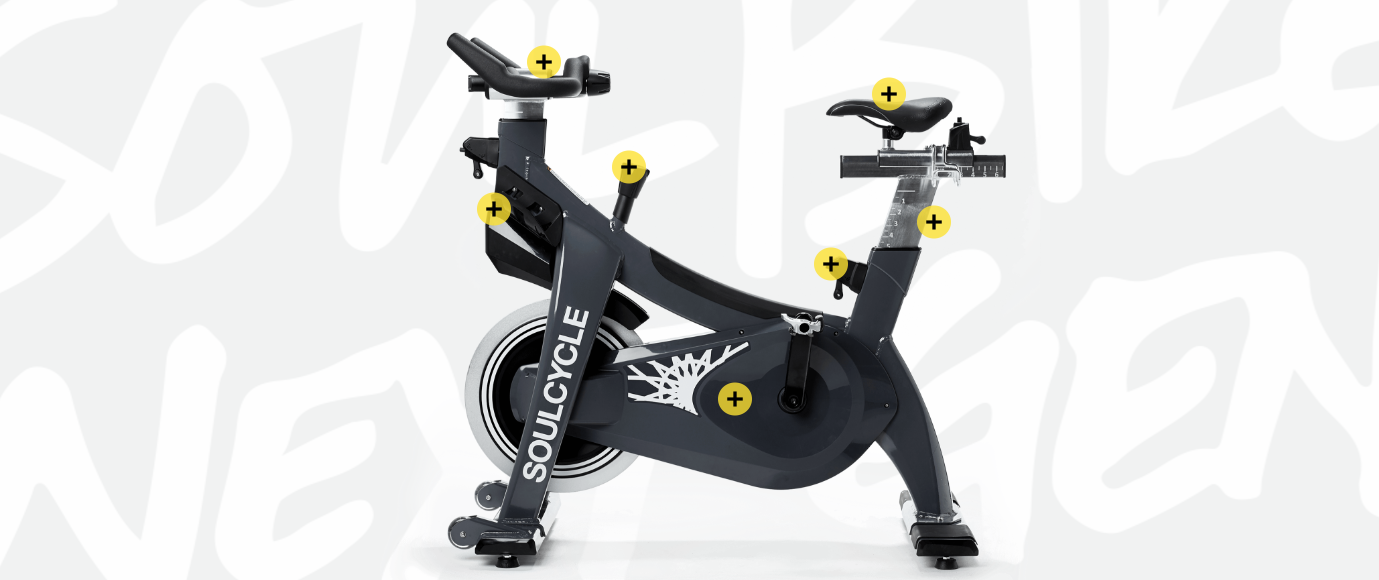 As a veteran SoulCycler, it takes a lot to disrupt my ride. I've had my water bottle fall, dropped my weights, hit my sternum on the handlebars when I was really feeling a pushup, had my shoe pop out during a sprint, sat next to Jake Gyllenhaal when he was in an especially hot beard phase. Throughout all of that, I still managed to keep going. But one of the things that does make me stop mid-class is when my seat starts to wobble or the handlebars feel loose. As it turns, those are frequent complaints made by my fellow SoulCycle riders and it's just one of the many reasons why the spinning brand will be replacing 6,000 bikes with a new model. These Next Gen bikes, produced in collaboration with Stages Indoor Cycling, will start rolling out this month in the West 77th Street studio in New York City (click here for the rest of the roll-out schedule). The new design is so smooth, you might even call it the Marvin Gaye of spin bikes.
Featuring ergonomically correct handlebars with better grips, indents and bumps in key hand positions, this is just where the improvements begin. The handlebars also angle forward, which will also help with key choreography like pushups. Riders will be able to adjust the handlebar depth now, in addition to the seat height, seat depth and handlebar height.
The bike also has a new belt drive with a magnetic resistance and a carbon belt drivetrain which will make for a more consistent ride across studios. I've encountered a bad bike that made it feel like I was climbing Mount Everest after only three and a half turns; a bad bike could also provide little to no resistance after seven turns. This new bike will eliminate that inconsistency across studios, while also providing a quieter ride (i.e. no more annoying lone squeaky wheels distracting you in class.) In SoulCycle, the squeaky wheel not only gets the grease, but also death stares from everyone in the room.
I was lucky enough to try one of the bikes before they officially get rolled out and not to sound like Wooderson in Dazed & Confused, but it was a very sweet ride. I was tapping it back and doing push-ups with complete ease and absolutely no wobbles. The bikes, which haven't had a redesign since 2012, also just look a whole lot sleeker with an all-black and titanium aesthetic. The new look also serves a purpose, as the aluminum frame is completely rust resistant and can absorb all your sweat even better than before. The bike is also much lighter and easy to move around, yet it's still very stable.
"Our riders are getting stronger, physically and mentally," SoulCycle CEO Melanie Whelan said in a statement. "We want to continue to evolve the equipment and the workout for them." Spin studios are clearly feeling pressure to update their already advanced bikes; according to Well & Good, Flywheel recently launched a new bike and Cyc will be debuting a customized one this summer.