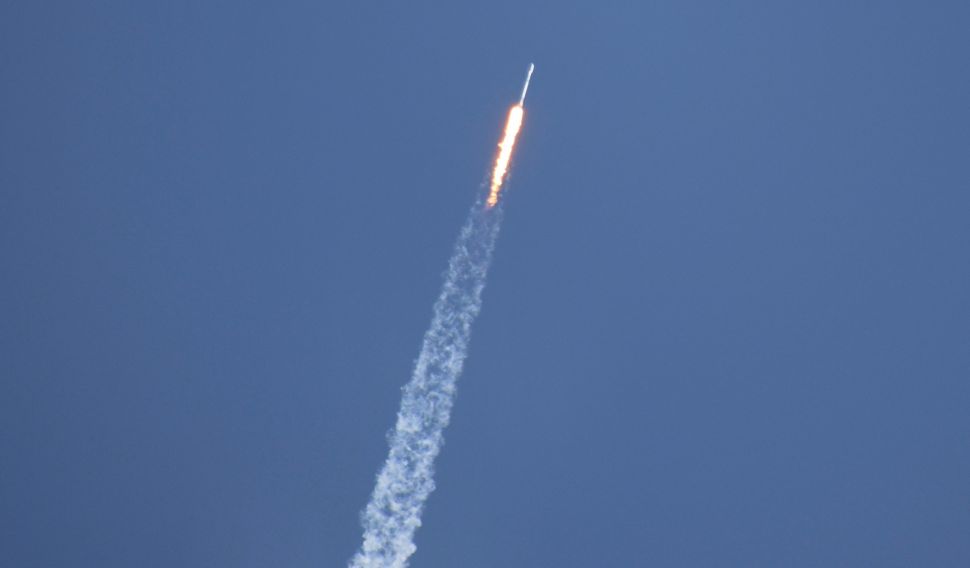 KENNEDY SPACE CENTER, Fl—On the heels of SpaceX's historic reflight of a recovered rocket, the Elon Musk-led spaceflight company has now crossed another milestone with its first national security launch for the military.
SpaceX's Falcon 9 rocket lifted off early this morning at 7:15 AM ET from Launch Pad 39A at NASA's Kennedy Space Center with a secret payload for the National Reconnaissance Office. And that's pretty much all we know. No spacecraft or destination was specified due to the clandestine nature of the NRO and the mission wasn't even listed on SpaceX's online customer manifest.
[protected-iframe id="7456183c2b457c01b9eda647081d4278-35584880-95214067″ info="https://www.facebook.com/plugins/video.php?href=https%3A%2F%2Fwww.facebook.com%2FRobin.Seemangal%2Fvideos%2F10211296937196797%2F&show_text=0&width=560″ width="560″ height="315″ frameborder="0″ style="border:none;overflow:hidden" scrolling="no"]
A public relations team from the NRO was on-site for the launch and explained that they "can't talk about the satellite." So at the very least, we know it's a satellite. On the official National Reconnaissance Office website, they describe themselves as "the U.S. Government agency in charge of designing, building, launching, and maintaining America's intelligence satellites."
Those intelligence satellites are used by the Navy, Air force, CIA and NSA. Recently, images gathered by an NRO-facilitated satellite were used to track Syrian troop movements in the early days of the nation's civil war. The NRO, which is based in Fairfax, Virginia, was officially made public by a 1985 New York Times article.
James Bamford, a National Security reporter, explained that "since its establishment on Aug. 25, 1960, the NRO has been an entirely 'black' organization. The Federal Government has never admitted that it exists, and its name is officially secret."
"We are very excited about this launch," said NRO spokesperson Karen Ferguson to the Observer. "Every NRO launch adds technical capabilities to America's national security toolbox to keep us all safer, and protect the freedoms we enjoy."
SpaceX's usual live broadcast was reformatted to guard the payload's destination. Minutes after liftoff and after the secretive payload was jettison, the Falcon 9 booster separated from the second stage (which houses the NRO payload) and came roaring back to Florida's coast for a ground landing at Cape Canaveral Landing Zone 1. This is now the fourth time SpaceX has successfully recovered a Falcon 9 booster on land.
While SpaceX's recovery of their rockets are becoming routine, they've only refurbished and re-flown one of them. According to CEO Elon Musk, the ultimate goal is to reach a 24-hour turnaround from launch to relaunch. SpaceX's vision is to drastically reduce the costs of spaceflight by way of reusable rockets to help open up humanity's access to space and help us migrate to other planets.
SpaceX has preliminary plans to begin transporting humans to Mars by 2030 and the architecture rests almost entirely on spacecraft reusability. But before they can realize that vision, they need the cash to finance it. This is why this morning's mission is crucial to SpaceX. It breaks the years-long monopoly on national security launches that have been facilitated by their competitor United Launch Alliance–a Boeing/Lockheed Martin joint venture.
After two years of reviews by the Air Force and a settlement following a lawsuit that charged ULA with a monopoly, SpaceX was able to bid and win two launch contracts in 2015. The battle was ugly and pitted ULA and SpaceX against each other in front of Congress and the Armed Services Committee. ULA argued rocket reliability and boasted a 100% success rate from their history of launches. SpaceX hit back with taxpayer savings and claimed that their Falcon 9 launches are just far more cost-effective.
The difference in costs between the two companies is staggering. According to SpaceX President Gwynne Shotwell, an average Falcon 9 launch cost around 60 million. Shotwell also ensured a House of Representatives subcommittee that they can launch military payloads for less than 100 million.
A United Launch Alliance lift to space costs American taxpayers over 160 million a pop according to their President Tory Bruno. If that wasn't reason enough for SpaceX to bid fairly for these contracts, they also argued that ULA engines are manufactured in Russia. SpaceX rockets are built end-to-end in the United States.
So how lucrative can winning these government contracts be? The U.S Government Accountability Office estimates that through 2030, it will spend around 70 billion to access space. That includes flying astronauts to orbit, resupply missions to the space station, and like this morning's secret mission, national security launches that deliver spy satellites.
Robin Seemangal has been reporting from the newsroom at NASA's Kennedy Space Center for the last two years for the Observer with by-lines also in Popular Science and Wired Magazine. He does in-depth coverage of SpaceX launches as well as Elon Musk's mission to send humans to Mars. Robin has appeared on BBC, Russia Today, NPR's 'Are We There Yet' Podcast, and radio stations around the world to discuss space exploration.