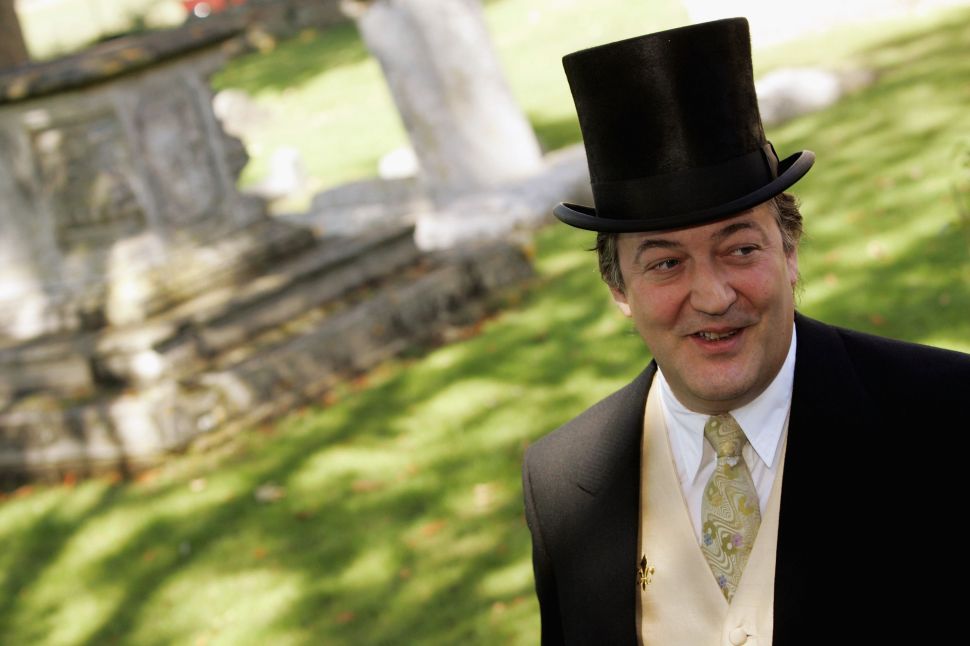 When we hear that a western personality is being investigated for the charge of blasphemy, one would not be accused of knee-jerk prejudice for assuming that the suspect is a political prisoner of a gulf state, not an island of the North Atlantic. Ordinarily, Ireland is everybody's second favorite country, even among Europeans, probably since it is perceived as the plucky youngster that stood up against the overbearing Great Britain for so many years. The best evidence of the universal appeal of the Irish is the fact that they have navigated the political minefield that is the Eurovision Song Contest more times than any other country. So which foul person motivated the world's darling to make medieval accusations?
Stephen Fry may not be a household name in the United States, but he is one of those personalities that everybody would recognize upon being pointed out. In Britain, he is a national treasure—a modern-day Oscar Wilde (a role he played on film). He is the complete antidote to the current phenomenon of talentless know-nothings famous for oversize rear ends. Fry is an actor of repute, a comedian, author, best friend of Hugh Laurie, TV presenter, playwright, social commentator, narrator of Harry Potter and other novels, soccer club director, LGBT activist and has publicly battled bouts of depression. In short, Fry is as close to the pinnacle of irreproachable as a personality could be in the U.K. The only thing I could say against him is that his views on Israel are misguided, but that is also seen as a positive among the British artistic elite.
This is probably why in 2015 Fry was invited onto an RTÉ television show called "The Meaning Of Life" and asked what he would say to the Good Lord at the pearly gates. With the justifiable belief that in a western civilization he was free to give an open, honest answer, Fry responded, "How dare you create a world in which there is such misery? It's not our fault. It's not right. It's utterly, utterly evil." He went onto lambast the godhead for creating bone cancer in children and branded him/her as "an utter maniac." It was all good, hearty stuff for those who have wrangled with faith and decent fodder for a religious television program that knew it was inviting a prominent atheist of Jewish descent onto its show. As it transpires, one listener was offended and reported the matter to the Garda (Irish Police) pursuant to a law that criminalizes "grossly abusive or insulting in relation to matters sacred by any religion, thereby intentionally causing outrage among a substantial number of adherents of that religion."
We lawyers always love those vestiges of ancient canon, remnants of our legal evolutionary past that still dwell in the dark recesses of either common law or the statute books. I look back with unabashed glee at defending a man accused of piracy pursuant to the Territorial Waters Jurisdiction Act of 1878 or at having a judge declare a defendant an "incorrigible rogue" under the Vagrancy Act of 1824. There are magnificent laws still in force that prohibit anyone from attending Parliament in a suit of armor, handling salmon in suspicious circumstances, and herding cattle while drunk.
However, at the core of any legal system that does not entrench individual rights is the judgment of those tasked with investigating, enforcing or, importantly, not applying the laws that lie on the statute books. For example, in the Treaty of Utrecht of 1713, the Spanish insisted that the British not allow any Jews or Moors to settle in Gibraltar—ever. The British initially made a show of adherence in 1717, but a year later, Jews were allowed back and a synagogue was established by 1723. Simply put, just because a law exists does not give mandate to its enforcement should injustice ensue.
Even more remarkable, this Irish law is not a jurisprudential relic. It was maintained in 2009, since blasphemy is required to be prohibited according to the constitution of Ireland. How this has survived challenge the Lord alone knows, as Article 9 of the European Convention on Human Rights provides a right to freedom of thought, conscience and religion. The easy criticism is that the state and church have not been separated. However, in Britain, while the Queen is both the head of state and head of the church, blasphemy offenses have been relegated to the mists of time (thanks to Athelstane Aamodt for his fine article on this subject). However, in the U.S., where there is a formal distinction between religious and civil, recent incidents of clerks refusing to perform gay marriages show that the edges of separation are somewhat frayed, but the Constitution is there so save us from our more pious selves.
Just yesterday, the Garda Síochána came to a not-so-bold and belated conclusion that a single person taking offense was insufficient to ground a conviction of a high profile figure who was simply answering a question in the manner expected. While on the one hand this is a clear victory for freedom of expression, the press and common sense, potential practitioners of esoteric Shakespearean magic have been robbed of the last ingredient of Macbeth's Witches' brew—liver of blaspheming Jew.
Robert Garson is Managing Partner of Garson, Ségal, Steinmetz, Fladgate LLP, an intellectual property and international litigation firm in New York, and a leading representative of corporate whistleblowers. He is also a barrister qualified in England and concentrates on IP and First Amendment matters.