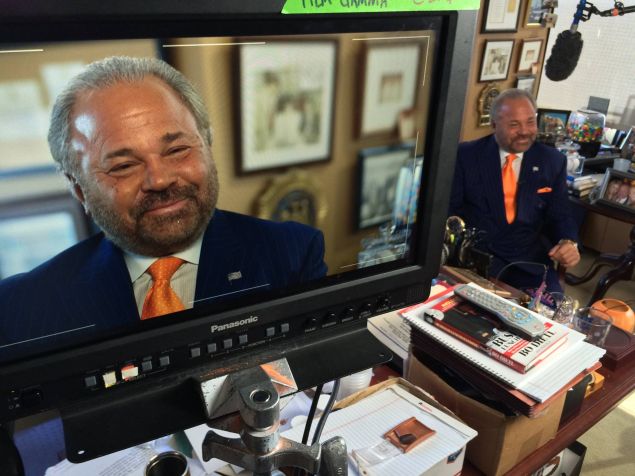 Steven A. Cohen—whose multibillion-dollar S.A.C. Capital Advisors collapsed amid insider trading allegations—will host a May 23 fundraiser for the mayoral campaign of ex-NYPD cop Bo Dietl, who cameoed in Martin Scorsese's 2013 film The Wolf of Wall Street.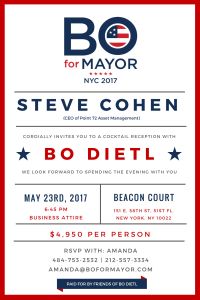 A source forwarded the Observer an invitation to the "cocktail reception" to be held at the Beacon Court condominium complex on East 58th Street in Manhattan, where Cohen owns a duplex unit he has unsuccessfully sought for years to sell. The tickets are $4,950-a-head, the maximum contribution allowed for mayoral candidates by the city Campaign Finance Board.
Dietl is perhaps the most famous of a smattering of longshot contenders seeking to unseat Mayor Bill de Blasio.
"We would like to cordially invite you to a very private fundraiser hosted by my friend Steve Cohen," the email accompanying the invite reads. "Our campaign could really use your help, we are up against a corrupt mayor and we want to clean up New York City."
In 2013, former U.S. Attorney Preet Bharara and the Securities and Exchange Commission accused S.A.C. Partners—although not Cohen personally—of profiting unfairly from illicitly gained insider information. After an extended legal fight, the firm pleaded guilty and paid a $1.2 billion penalty.
Eight of the firm's employees were individually found guilty, including, portfolio manager Mathew Martoma, who received a nine year prison sentence. Cohen was not mentioned by name in the indictments.
S.A.C. sloughed off most investor money, and Cohen devolved what remained of his own assets in the firm into Point72 Asset Management.
He remains worth $13 billion, according to Forbes magazine. Cohen supported New Jersey Gov. Chris Christie's presidential bid in the 2016 election cycle.
He did not respond to requests for comment.
Dietl has run an erratic and unpredictable campaign since relocating to the Upper East Side from Long Island to challenged the liberal Democrat de Blasio. He botched his voter registration paperwork, checking both the Democratic and Independence Party boxes, then unsuccessfully sought to convince the city's Republican leadership to allow him to run on their line.
He has made numerous unusual and even offensive remarks on the campaign trail, including comparing the appearance of the judge who ruled against his legal appeal to run on the Democratic line to that of First Lady Chirlane McCray, an African-American woman.
It is unclear how he and Cohen know each other, although Dietl defended the hedge fund billionaire on the Fox Business Channel during his company's battle with Bharara and the SEC.