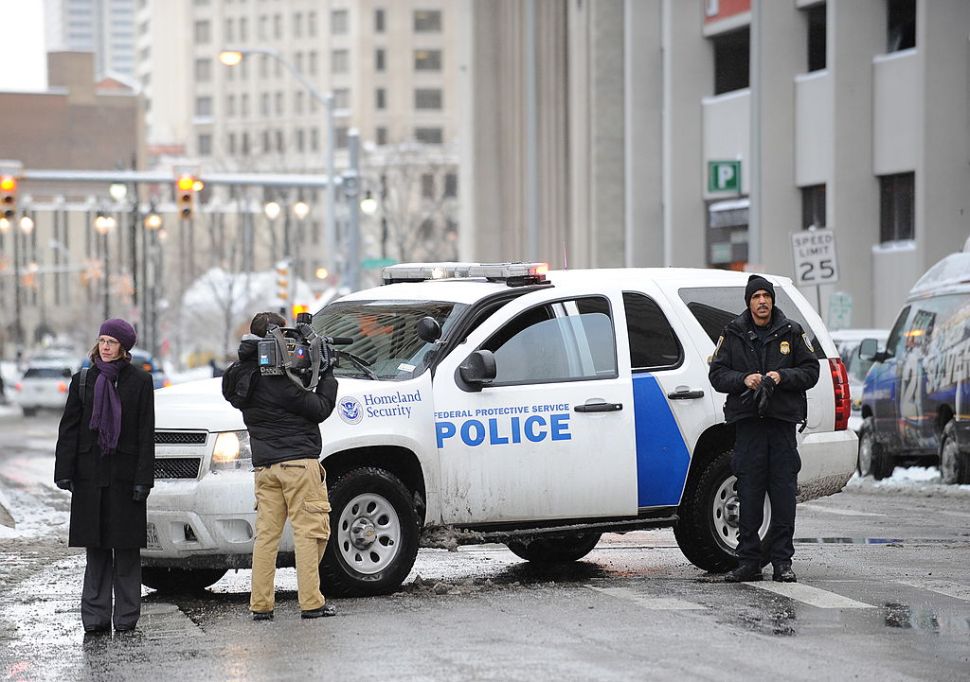 Federal officials in Detroit have apprehended an undocumented restaurant worker using one of the most secretive technologies in the government's surveillance arsenal.
The worker in question, Rudy Carcamo-Carranza, was first apprehended in 2005, but didn't get sent back to his home country of El Salvador until 2012. He re-entered the country again, and was again deported in 2014. Homeland security has apprehended him once more on a hit-and-run charge, this time using advanced cell phone tracking technology, according to a detailed story in the Detroit Free Press.
Every cell phone is constantly broadcasting an identification number out to the nearest mobile tower. If law enforcement know what ID to look for, they can use that broadcast to follow around anyone they want. The most well-known cell phone tracking device is the Stingray from the Harris Corporation, though the Free Press also reports on a new version, the Hailstorm.
Listeners to the podcast Serial may remember the detailed discussions of the relative accuracy or inaccuracy of tracking mobile subscribers by assessing which mobile towers their device connected to. Stingrays are considerably more accurate, though, because they actually impersonate mobile towers. The target's device (and everyone else nearby), ends up connecting directly to the Stingray.
"This is the first warrant I have seen specifically showing ICE's use of a cell-site simulator in an immigration enforcement operation," Nathan Wessler, staff attorney with the American Civil Liberties Union, told the Free Press. 
The Electronic Frontier Foundation's Shahid Buttar concurred. "Once you start giving agencies fancy toys, and somebody is making money off of it, they are going to use them for more things, and ultimately oppress your rights," Buttar told the Free Press.
Privacy advocates find Stingray technology alarming because so little is known about it. The company requires law enforcement that use the technology to sign strict non-disclosure aggreements. Police have been known to drop charges rather than testify about the use of cell site simulators. However, last year, the Intercept obtained copies of Stringray user manuals. In 2015, the Justice Department released guidance placing limitations on the use of the devices in criminal investigations, but the guidance did not apply in national security investigations, as the Observer reported.
We simply don't know how many kinds of investigations in which this technology gets used, but we know that it goes well beyond the pursuit of serious criminals. For example, National Lawyers Guild attorney Jerry Boyle has brought suit against the Chicago Police over an unwarranted search of his phone as he observed a Black Lives Matter march in 2015, as the Observer previously reported.
Thanks to the Detroit Free Press's coverage of the Carcamo-Carranza case, we can now confirm that Stingrays have been deployed in the Trump administration's pursuit of undocumented immigrants.