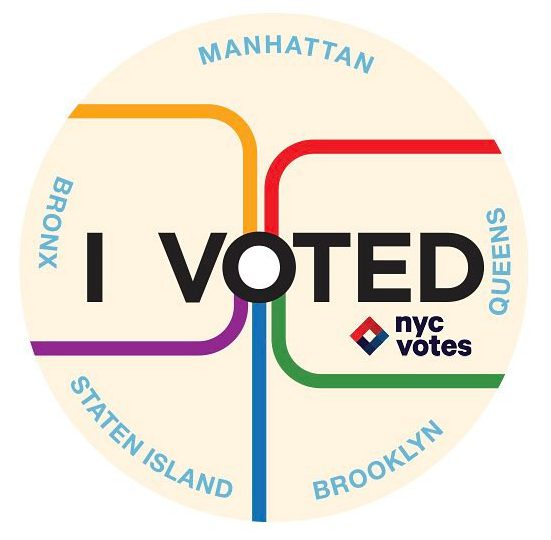 Come September, the New York City subway will replace the Statue of Liberty as the star of the Big Apple's elections going forward—alongside the winning candidates of course. NYC Votes, the Campaign Finance Board's nonpartisan voter engagement initiative, has announced Bronxville residents Marie Dagata and Scott Heinz's submission of a subway-inspired design as the winner in its 'I Voted' sticker design contest, reports the New York Times.
"All the people of the boroughs meet together, pass each other, need each other in the subway and the voting booth," said Dagata and Heinz in a statement from the CFB.
Over 700 designs were submitted for the contest and after a two-week run over 10,000 public votes were tallied. Dagata and Heinz's design stood out as unique in a finalist pool that overwhelmingly featured imagery of the Statue of Liberty.
The new design will go into effect September 12, replacing the existing State of Liberty-themed design by siblings Stanley and Zoe Markman which has been in use since 2013.
"I feel like so many people wore my sticker over the years that it got used to the full extent," said Stanley.
While Dagata, who runs a biotechnology company, and Heinz, an art director at the History Channel, are no longer residents of New York City, they commute to and from the five boroughs for work. Their design simplifies the John Tauranac's iconic color-coded and beige map of the intricate underground train system, assigning a single colored line for each borough which all meet at a the O (drawn like one of the system's express stops) in Voted.
"It's about the simplicity of the subway map," Heinz told the Times.