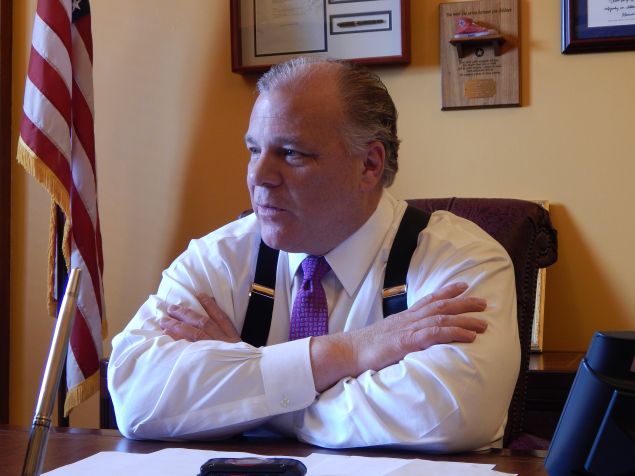 Senate President Steve Sweeney has locked down enough votes for another term as the leader of the upper house, according to his second-in-command.
Senate Majority Leader Loretta Weinberg (D-Bergen) said in a statement Thursday that 17 incumbent Democratic senators pursuing re-election and four candidates in competitive districts have pledged their support for Sweeney, an ironworker union official from South Jersey who has held the Senate presidency since 2009.
Democrats hold a 24-seat majority in the Senate. Republicans hold 16 seats.
Sweeney has come under fire this year for his collaborations with Gov. Chris Christie on budgets and tax cuts, and for reneging on a promise to fund pensions through a constitutional amendment. The powerful New Jersey Education Association has been running digital attack ads and sending out mailers describing him as a fake Democrat, aiming for a knock-out punch in the November general election.
Weinberg, a more liberal senator who ran for lieutenant governor on Jon Corzine's re-election ticket in 2009, has taken on the role of Sweeney defender in recent weeks. She said Sweeney was key to passing legislation on "paid family leave, multiple increases to the minimum wage, bail reform and quarterly pension payments."
"I have worked side-by-side with Steve and can say that without his results-oriented leadership and personal determination, so much of what we have accomplished as Democrats would have never happened," Weinberg said.
"We will work with our incumbents and candidates to advance Democratic priorities such as school funding reform, pay equity and women's access to quality health care," she added.
Republicans led by Senate Minority Leader Tom Kean Jr., meanwhile, see an opening to flip Sweeney's seat if the NJEA attacks keep up through the summer and fall. Their candidate is Salem County GOP Chairman Fran Grenier, a union worker at a local power plant, and they note that President Trump won the district in November over Hillary Clinton.
If he wins re-election, Sweeney now appears to be a lock for another two-year term as Senate president under the next administration. That means that under the traditional power-sharing agreement between New Jersey's Democratic county machines, the Assembly speaker's chair likely would go to a North Jersey Democrat.
Assembly Speaker Vincent Prieto (D-Hudson) has not announced another bid for the top spot, but his allies say he is working to shore up support behind the scenes. So is a potential challenger, Assemblyman Craig Coughlin (D-Middlesex).
All incumbent Democratic senators up for re-election this year have endorsed Sweeney, according to Weinberg, except for Sens. Richard Codey (D-Essex), Nia Gill (D-Essex), Ronald Rice (D-Essex), Nick Sacco (D-Hudson) and Shirley Turner (D-Mercer).
Four Democratic candidates in competitive districts — Colin Bell, Joe Cryan, Vin Gopal and Troy Singleton — have also pledged to support Sweeney, she said. Cryan and Singleton are expected to breeze into office without serious Republican challengers. Bell and Gopal are in tough races against Assemblyman Chris Brown (R-Atlantic) and a popular GOP incumbent, Sen. Jen Beck (R-Monmouth), respectively.
After laying the groundwork for a gubernatorial run, Sweeney ended up scrapping his plans last year when Phil Murphy, the former U.S. ambassador to Germany, outfoxed him in the race for endorsements from party bosses in North Jersey.