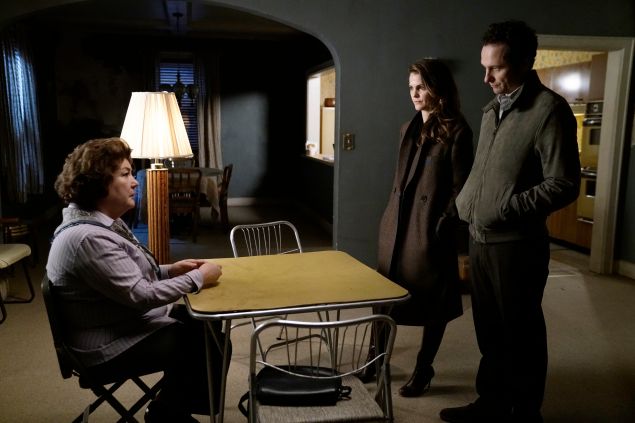 "The badly knitted flank might not have caused an accident in and of itself, but further weakened by the frailty of the competitors it set a scene for death on an unprecedented scale."
—Clive Barker, "In the Hills, the Cities"
I have no idea what's going to happen in the remaining episodes of The Americans' strange and subtle fifth season. I have no idea if anything at all is going to happen in those episodes. With the writers no longer scrambling to avert cancellation—last year the show was renewed for two final seasons in one go, enabling the creators to end the story on their own terms in 2018—the season has moved at a glacial rate ever since that scene in the premiere where Philip and Elizabeth Jennings dig up a grave for minutes on end. "Ugh, this is boring" runs neck and neck with "wtf, this is crazy" in the TV discourse these days, so naturally the quiet tone and deliberate pacing have alienated some viewers. I find it almost intoxicating. To sit down for an episode of The Americans now is to sign up for an hour of softly spoken magic spells—people lying to each other as politely as they can about the damage they've done, are doing, and plan to do, the gravity of their actions at direct odds with the gentleness of the delivery.
What's more, the story moves not just slowly, but unsteadily. Plotlines are unveiled incrementally, often through a series of scenes scattered across several weeks, disconnected both with one another and with the rest of the episode surrounding them. Look at Stan Beeman's scenes this week, for instance. In one, he's having a grand old time on a double date with Philip and Elizabeth Jennings and his girlfriend Renee. As the happy couple drives off, Philip and Elizabeth joylessly discuss his conviction that Renee is a Soviet spy who will destroy Stan's life just as Philip destroyed Martha, the woman he targeted with a similar honeytrap. In another, Stan and his partner Dennis Aderholt (Brandon J. Dirden, who, along with Noah Emmerich as Stan, is one of TV's great Quiet Men) rendezvous with a Soviet government employee they're working in an apartment they've rented in her building specifically for the purpose. As she grins a gorgeous white smile, courtesy of the dentist the feds have been paying for, she sheepishly but still proudly tells them of her relationship with a famous Russian hockey player who brings her and her sons gifts from back home during his frequent visits; they smile back, congratulating her, their eyes telegraphing to us and to each other but not to her that this man has ulterior motives. In the third, Stan and Dennis sit in the Vault at FBI headquarters, where an agent goes over their plan to snag a Soviet diplomatic pouch, likely filled with contraband or intelligence, by stealing it from a rival agent in an airport restroom. No effort is made to gracefully transition Stan from scene to scene: These are just three things he does, and each of them is built on lying.
After a while, the show's combination of its stately pacing with its weirdly disjointed structure begins to wear on you. It gives you few clues as to how to contextualize or prioritize, say, the tense and totally silent Burov family dinner in Moscow, or the energetically scored montage that juxtaposes Philip jogging and dropping off a secret message with an EST training session in which the instructor tells him "You are a machine," or the conversation Paige and Pastor Tim have in the church food pantry where he tells her "You're gonna do great in life—there's not a doubt in my mind about that," despite the many doubts about the health of her soul he's expressed in his diary. You're left to figure out what's important, what's color or flavor, and what's outright deception all on your own. Like a spy.
Some connections are easier to make than others, however. Think of the teenagers dominating Philip and Elizabeth's lives right now: as they do their best to preserve and protect Paige from the damage done by her need to deceive people about her parents, they're also pushing the young Vietnamese spy Tuan to keep up his dirty work, in order to torment a third teen, Pasha, so badly that he and his mother will flee back to the Soviet Union. Or think of how shortly after a secret wedding ceremony held by a priest to make their paper marriage official after all this time—one so moving that even inveterate atheist Elizabeth seems taken aback, as if surprised to discover cementing their love in this way really matters to her after all—Philip and Elizabeth preside over the violation of Pastor Tim's diary with Paige's help. Both sets of contrasts are tied together by the contents of the diary: an increasingly blunt and pessimistic series of assessments of Paige's mental health and long-term prospects, in which her parents' enlistment of her in their double lives is compared unfavorably to even sexual abuse. The scene plays out under the red lights of a darkroom (hence the episode's title), a sinister Bauhaus song accentuating the psychological horror. "She doesn't even know how much she's suffering," Pastor Tim writes, leaving Paige and her parents to contemplate her pain together.
Again, I don't know how all of this will shake out. It's possible that in the absence of renewal pressure the season will simply stop rather than climax; something very similar happened last year, after all. (The final scene was just a shot of the Jennings's home as Paige gets told not to date Stan's son anymore.) And at any rate, I think predicting fiction is a mug's game, one that even if I wanted to play I wouldn't be much good at. But I have a feeling, that's for sure. It's a feeling best expressed by the Clive Barker quote I began this review with, a line from one of the stories in his Books of Blood collections, in which a couple of American tourists (one a conservative journalist, the other a liberal dance instructor, both men) stumble across an unspeakable and entirely human horror in the hillsides of communist Yugoslavia. What they find wasn't planned, it wasn't malicious, it wasn't evil work or done by evil people. It was simply the result of a system that failed because the people operating it got old, and tired, and exhausted, and less good at their jobs than they once were.
Up until that line in the story, things work kind of like The Americans has worked this season. You get a glimpse of the American couple, and you learn the emotional secrets they're keeping from one another. You get a glimpse of the locals, and while no individual passage is enough to piece together what they're doing, the parts slowly come together, like the construction of a colossus. By the time you hit that line, which introduces the presence of death so abruptly and with so little room for hope, you realize everyone is on a collision course you're powerless to stop.
That's how I feel about The Americans right now. I may be wrong, and if I am I don't mind because the creation of this paranoia is clearly one of the show's great strengths no matter if it's justified. But that's how I feel. The badly knitted flanks might not cause an accident in and of themselves, but further weakened by the frailty of the competitors they've set a scene for death on an unprecedented scale.