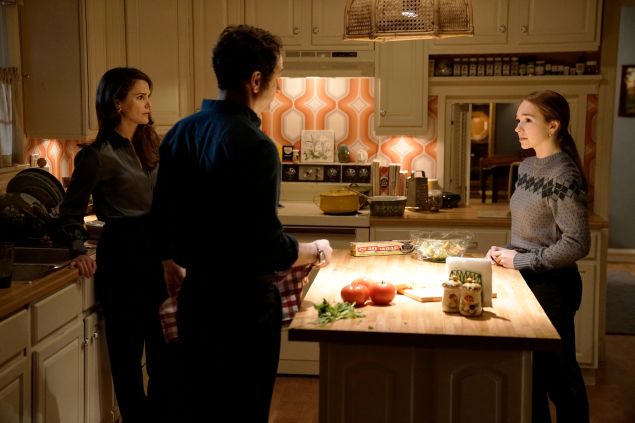 Elizabeth Jennings can quit anytime she wants. No, really, she means it this time. She's had enough of the lying and fucking and killing, nevermind that the last bit wouldn't even have happened had she not voluntarily stepped in and pulled the trigger last time around. She's ready to quit the spy game go home, honest. Any day now. Until then, though, there's appearances that have to be maintained. She's got to fish her daughter Paige's discarded crucifix out of the trash and give it back to her—not because she worries the kid is rejecting something important to her just to please her atheist parents, but because her Christian mentor Pastor Tim hasn't quite been shipped out of the country by their paymasters yet and until that happens the lie must be maintained. She's not a spy. She's an addict.
"The World Council of Churches," the penultimate episode of The Americans penultimate season, is all about getting yourself into jams you can't really get out of again, and maybe don't want to. The most obvious example is Elizabeth, who spends much of the episode feigning concern for Pasha Morozov despite having signed off on her fake son Tuan's plan to torment the kid so badly his parents will have no choice but to move back to Russia, where the Centre wants her to be in order to continue her affair with the CIA's Moscow bureau chief. Her opposite number, motivationally speaking, is Oleg Burov, the fundamentally benevolent KGB agent played with such effective understatement by Costa Ronin. While there are few corners of human decency Elizabeth won't cut in the name of her job, Oleg is virtually always going out of his way to risk more trouble to help people out. Despite being under heavy scrutiny for his romantic relationships with suspected or convicted traitors and his friendship with Stan Beeman, he's still sticking his neck out to defend low-level functionaries who participate in the country's widespread bribery just to make ends meet and keep the system running. He also refuses his powerful father's offer not just to defend him but to actively destroy the people investigating him, perhaps because his mother's experiences in a KGB-operated prison camp have soured him on the politics of literal personal destruction. He may get taken down for treason, but his conscience will be clear.
God only knows what's going on with Oleg's old pal Stan and his partner, Dennis Aderholt. The two react with fake-smile horror when their new Soviet asset shows up to a meeting with her hockey-player boyfriend in tow. He knows all about them, it turns out, and wouldn't you know it, he's willing to help them get info on the USSR's spy operation in any way he can, working as a courier for them and all. As Stan tells his boss, it's a textbook trap; now they have to figure out whether to help their asset out of it or allow her to fall on her own.
At least Philip's son Mischa is doing okay. Perhaps due to the machinations of the Centre, he gets contacted by Philip's Russian brother, who invites him over for a family dinner. This kid has been through hell and back, first fighting in Afghanistan, then getting institutionalized for protesting the war, then risking it all to smuggle himself into America to see his father, then getting shut down at the last minute by Gabriel, his dad's handler. He's risked his neck so many times that seeing some well-meaning people slip the noose off him comes as a blessed relief.
No one's there to do this for Pasha, whose name is all but a mash-up of Philip's two same-age children, Mischa and Paige. Elizabeth just sits around and watches as Pasha's mom cries and rages about her son's destruction by school bullies and his unhappiness in America—all of which Elizabeth is working to heighten. While Paige rigs up her own punching bag to train with in the Jennings' basement, her parents learn, to their horror—well, mostly to Philip's horror—that their fake son Tuan has advised Pasha to attempt suicide in order to force his parents' hand and make them move back to Russia. Not an actual suicide attempt, mind you, just the cry-for-help deal. That's bad enough for Philip, though. He risks blowing his cover by racing out of their fake house down the block to try and reach Pasha and stop him from going through with it before his parents return. Tuan and Elizabeth all but chase him down the street, calling him by his fake name, flashing fake smiles, trying to look inconspicuous in front of the CIA security guard stationed across the street from the Morozovs' house. If Elizabeth's addicted to the dirty work, Philip's trying desperately to kick. Getting clean could cost him his freedom, or a child his life.