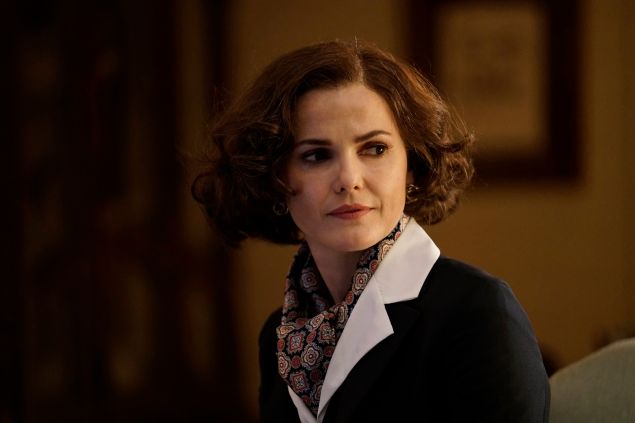 Welcome to our TV Fashion column, where TV Ate My Wardrobe's Emma Fraser discusses the trends in television apparel. This week: The benefit of The Americans' countless disguises? Plenty of style inspiration. 
In the span of one episode, Elizabeth Jennings appears as the cool fashion girl, a flight attendant, mom and travel agent. This is pretty typical for an episode of The Americans especially when factoring in the variety of operations they have on the go in season 5 and it presents a kaleidoscope of mid-1980s style. A decade that has a reputation for leaning into the lurid and outlandish; there is no color combination or volume of shoulder pads to shy away from.
It is unlikely that Elizabeth and Philip will ever go too rogue with their sartorial choices as keeping a low profile is a priority; they don't want to draw attention to themselves while in disguise and as the Jennings they have a very set look of sweaters and blouses. Very middle of the road, middle-class income styling that might get a few tweaks year to year, but nothing extreme. The nearest Elizabeth might get to the classic Dynasty/Dallas look which dominates images of this period is via new silk blouses which will incorporate additional shoulder volume or on the rare occasion when she is meant to stand out as a blonde bombshell in a hotel lobby. Typically it is not part of their operation protocol to draw attention and the cover disguise should be so mundane that it is forgettable.
All cycles of fashion include "what were they thinking?" moments and for some the '80s is the biggest culprit of this. But this is not a decade to be entirely sniffed at and while the current runway is currently awash with influences from the decades that immediately precede and follow it, there are a couple of disguises and outfits in Elizabeth's work wardrobe in season 5 which offer up some points for style inspiration while staying true to their origins.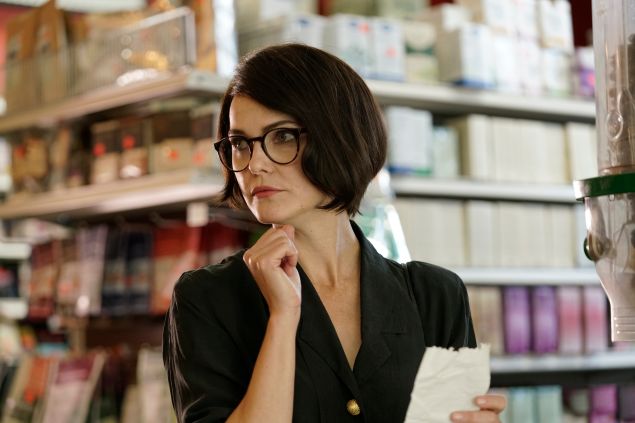 Shelf life for a disguise can range from one episode to multiple seasons depending on how long a particular operation goes on for. One of this year's longer missions involves honey traps for both Philip and Elizabeth in Topeka so these disguises have been recurring. Elizabeth as Brenda Neill is her most fashion-forward alias, but this is not her first foray into playing a part that relies heavily on current trends. Last year's Mary Kay sales rep Patty interest in clothes was part of her post-divorce armor and this was a character that put a lot of thought into her look. Patty very knowingly read all the magazines and copied looks from their pages whereas Brenda oozes effortless sartorial prowess and is the kind of woman that fashion magazines are emulating. She sets the tone.
Acid wash jeans are a hard style to pull off and of course, Keri Russell has a habit of making even the worst of '80s fashion shine from palettes of beige polyester to glasses that cover half her face. This is no exception and so far Brenda has worked all the Cool Girl moves in both her costuming and behavior seducing her scientist for information and me into believing I could make acid wash work. When I posted a promo shot of Brenda on Twitter before the episode aired it garnered a whole lot of excitement. In part this felt like a reaction to seeing this character in something that is both fashion-forward for the time and could also work in the present day.
Brenda has since followed up her health food meet cute with a range of outfits that stick to a black/white/grey palette with a pair of polka dot tights that lean very heavy '80s particularly when paired with a zigzag patterned frock. Again this is something I would wear today and have a very similar outfit in my wardrobe.
If this portion of The Americans was a rom-com movie then Ben Stobert would probably be played by Ryan Gosling as he's got the whole hipster perfect guy thing down; he's well traveled, can quote facts about other cultures and he's trying to save the world from famine. It would be far from surprising if he pulled out a ukulele to serenade Brenda. He's pretty much a Manic Pixie Dream Boy (MPDG) and he has the handsome face and beard to match. Australian actor Brett Tucker gives off a strong Scott Speedman vibe and for anyone like myself who was very much Team Ben this is appreciated. Brenda has a habit of wearing his plaid shirts and white tees after sex adding to this strong rom-com clothing trope and if he wasn't seeing someone else on the side then he'd definitely be a pure MPDB. It makes sense that a Cool Girl would end up with an MPDB especially as the construct of Brenda is entirely fake.
When I spoke to Americans costume designer Katie Irish about the process of crafting the disguises she mentioned character biographies the writers' room provides that help with fill in the details. These bios are purely for the creative departments and allow them to build a picture of the socio-economic backgrounds that inform where a character would shop and how they might dress. Throughout the season Irish has been posting these bios to Instagram showing some of their research and how this goes from script to screen. The black and white palette is a key part of Brenda's look as is her city girl leanings; it is why when she goes hiking she looks like she could be going out for lunch.
Both Patty and Brenda work in the fashion/beauty industry and it is important for each of these characters to wear their work on their sleeves so to speak. So while Elizabeth has no interest in keeping up with the latest in clothes or makeup she can fake it when required. There is, of course, a bit of a push/pull at play here between where they came from and what they now have; in the season 2 episode "New Car" Philip suggested she might take some enjoyment from her beautiful clothes/shoes that come from living as an American. She denied this saying they have to live like this as part of their overall cover and just because it is easier doesn't make it better.
Season 5 has circled back to this notion by focusing on the disparity between the things they have in the US and the poverty they grew up in; Philip in the past has leaned harder into things that are very American including cowboy boots and a swish new Camaro, but even he is having a difficult time reconciling their wealth in this country with how they grew up and the current food shortage which impacts their motherland.
Another new disguise which gives some style pointers was introduced in the surveillance operation in last week's episode "Immersion." As Katie Irish points out on her bio board post this one changed between research and the shooting of the episode. Instead of a new Rhea Pearlman inspired wig, the hair and makeup team decided to recycle one from the past to show there are some restrictions to what these characters have available. Elizabeth's blonde look is an updated version of her very Farrah Fawcett inspired season 1 finale get up; the sunglasses have been switched for rose tinted specs and they look repurposed from the brief dalliance into hippy Felicity territory. The plaid jacket has been replaced by a hooded ski jacket and I have been coveting something in this style since Henry Jennings wore this rainbow number back in season 1. A retro ski jacket was also a big part of Hailee Steinfeld's costuming in Edge of Seventeen and this is a good alternative to the current silk bomber jacket renaissance.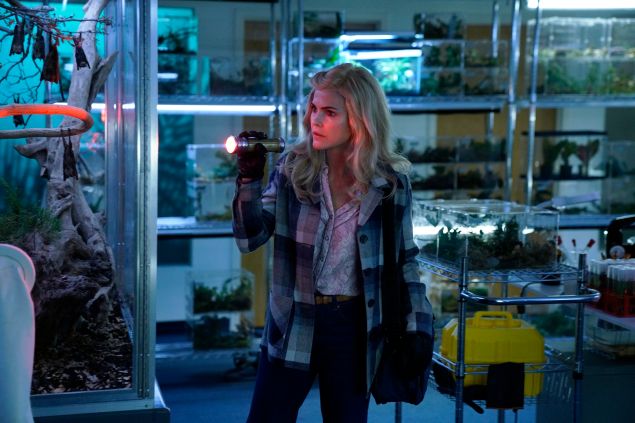 Vintage sportswear is one area that is easier to source and Irish mentioned how sneaker reissues are a big help when dressing background actors and the main cast. Henry this season has been sporting some classic Converse and Stan wore an Adidas tee for his squash game with Philip. Adidas has been dipping into its archive and producing garments based on old designs as athleisure is having a big fashion moment; this is one area of The Americans costuming that is a constant source of inspiration and I'm still on the lookout for a vintage Dunlop T-shirt similar to the one Philip wore last season.
Brand recognition is part of this and one of the standout items to stir up nostalgia this season is the Esprit sweatshirt Paige wears during her first training session with her mom. This is some rather prescient timing by Katie Irish as Opening Ceremony has just unveiled its Esprit collection that is looking to revive this formally beloved label. As with a lot of reissues, nostalgia is set to play its part as there is fondness attached to this iconic logo and the sweatshirts it featured on. And you don't even have to be a spy in training to look to The Americans for style pointers.  
Emma Fraser is the creator of TV Ate My Wardrobe and spends most of her time writing about TV, fashion and costuming; Abbi and Ilana's Broad City style, the wigs on The Americans and Mindy Lahiri's pajamas are just as vital as talking about '90s, '00s teen shows. Emma has a MA in film and television, and she probably holds Angela Chase responsible for this path. You can find her on Twitter @frazbelina.