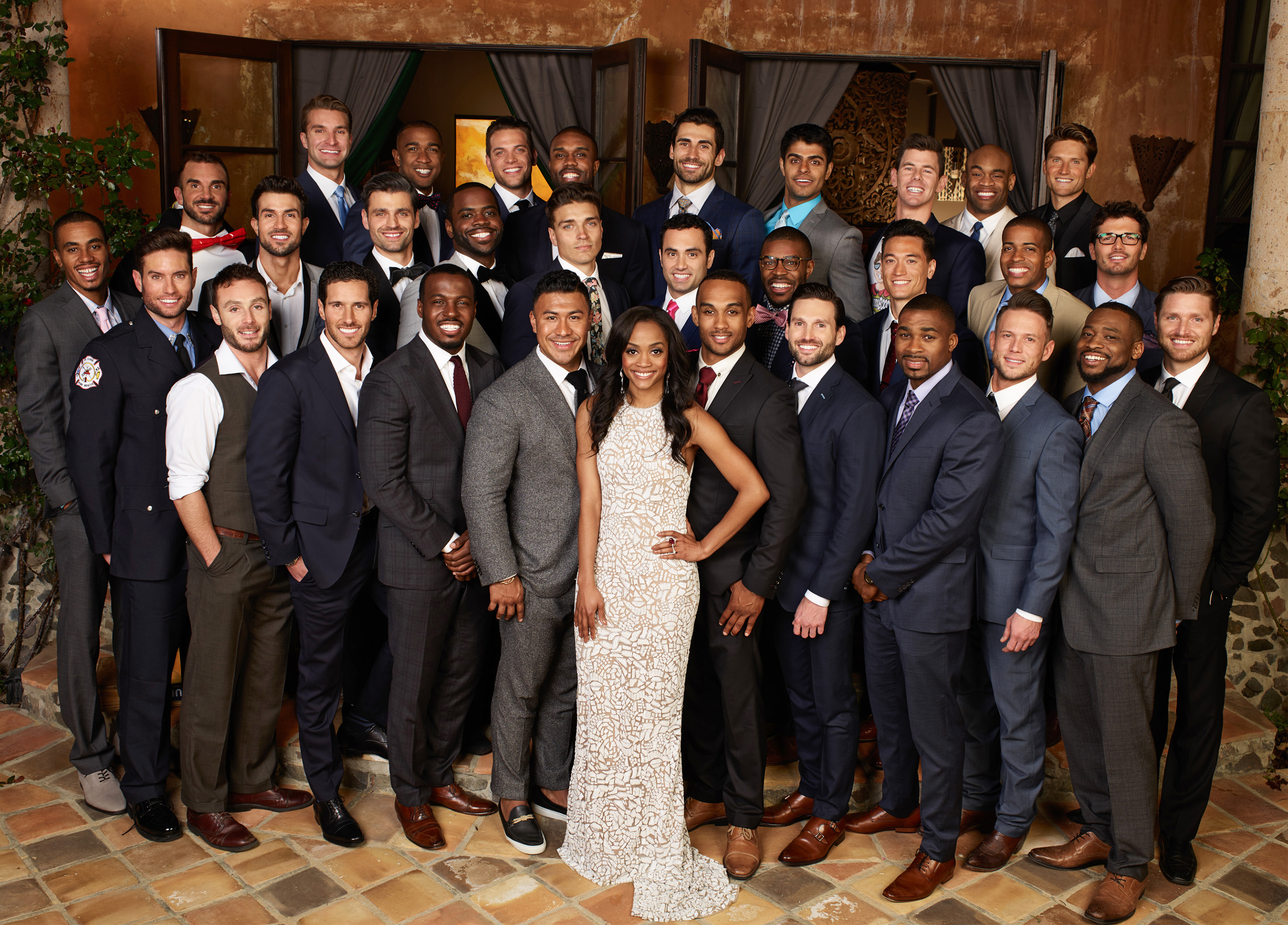 Well, we're back—or should I say Bach?? (No, I shouldn't, no one should ever say that, I'm so sorry.)
The Bachelorette, thank god, is Rachel Lindsay, the beautiful and brilliant black attorney who, according to the series introduction, left last season "brokenhearted" after getting eliminated by Nick Viall. I have to really wonder if it's possible to get your heart broken by a moist slice of 7 grain bread.
But no more heartbreak — now Rachel is the Bachelorette which means we get a fun montage of her doing a photoshoot and playing basketball and looking wistful on a beach. Unlike most women that come out of the Bachelor franchise, Rachel has a career that isn't selling FitTea on Instagram: she's an attorney with a sense of humor and A+ Clueless references. I am already on board.
Another sign that augers well for Rachel is her ability to maintain female friendships: all of the heavy hitters from Nick Viall's season are back in the house (Raven! Corrine! Alexis!) to talk about how much they love Rachel. It's so sweet and genuine that it makes me wish the point of this show was making friend.
The first night in the mansion is always a carousel of largely interchangeable haircuts, and a few hams trying to get Rachel's—and the nation's—attention.
First out of the limo is Peter, a nice enough seeming guy in a plaid jacket and bow tie who looks a bit like a ventriloquist on a cruise ship.
And then we get Josiah, a fellow lawyer, who makes a cute "reasonable doubt" joke and endears Rachel to him right away.
Third, we get to see Bryan, a chiropractor who charms Rachel immediately when he speaks Spanish. He swaggered out of the limo, and I wasn't a fan.
Kenny is a wrestler in a plaid tie who gets Rachel to do the wave, and then we get a quick succession of a few guys with very, very little screen time—like Rob, the only guy brave enough to wear his glasses, and Iggy, the only guy under 6 feet tall probably wondering what the hell he's doing there.
Worst entrance of the night goes to Jonathan, the self-professed "tickle monster" who doesn't disappoint when he creepily tickles Rachel's waist while she had her eyes closed.
Second worst entrance is Adam who brought a creepy mini-slenderman doll that he named Adam Junior. "Oh, wonderful! The love of my life, who came in with a tiny, creepy doll!" — apparently women, in Adam's imagination. I will say I found the dumb bit with the doll pretending to speak French funnier than I should have.
A guy named Alex had a vaccuum, presumably for some weird bit that didn't really translate.
It's almost not worth learning about the guys at this point when there are just so many of them and so few of them will actually be interesting enough to matter in a few weeks. The few guys that did stick out to me were Fred, because Rachel had been his camp counselor (!?), DeMario, because he was so overconfident, and Brady, the male model who looks like Crispin Glover's evil nephew who plays the villain in a knock-off Bond movie. (Showing up in an aquatic creature costume is so last season, Matt. And yes, I feel like penguins count as aquatic creatures).
But it's time to address the elephant in the limo: Lucas, whose occupation reads only "Whaboom!" Upon first meeting him, he seems… literally insane. His signature move, apparently, is flapping his cheeks furiously while shouting the word "Whaboom." It is, it seems, his catchphrase. From the "whaboom" t-shirt he shows up in (which are also available on his website) it becomes obvious that he hopes the branding will catch on. I'm almost reluctant to discuss him further and contribute to the virality he so clearly craves. It takes only a quick glance at his website to see Lucas is a wannabe actor/comedian with a middling reel and a few mediocre standup sets (but plenty of headshots). I desperately hope Rachel giving him a rose was solely the decision of a producer. Otherwise, I would seriously question her judgement.
After an awkward cocktail party of a room full of self-declared alpha males trying to sabotage each other to get three minutes of small talk in with Rachel, she gives the first impressions rose to the suave Bryan, the only one who had leaned in for a kiss. He promised he was trouble. He seems more like sleaze to me.
Joining Bryan in the house:
Plaid Jacket Peter
Will
Jack "Is this a Tom Cruise character in an action movie?" Stone
Jamey
Iggy
Eric
DeMario
Jonathan (TICKLE MONSTER? REALLY?)
Bryce
Alex
Kenny
Dean
Matt
Anthony
Brady
Josiah
Lee
Diggy
Fred
Adam (WHO BROUGHT A DUMMY)
Blake E.
And, of course, Lucas, who I desperately hope was a provision of her contract or something.
To be honest, if Rachel sent me home in favor of the "whaboom" guy at this point, I would probably be thinking that she is definitely not the one for me. Among the unlucky are Milton and adorable Marine vet Blake K. I do not understand a universe where Lucas Whaboom is more husband material than Blake K.
Hope you saved some boxed rosee for next week, because from the preview we got to see, all that testosterone is going to erupt in some bananas fighting, with Lee being the unexpected snake in the grass.