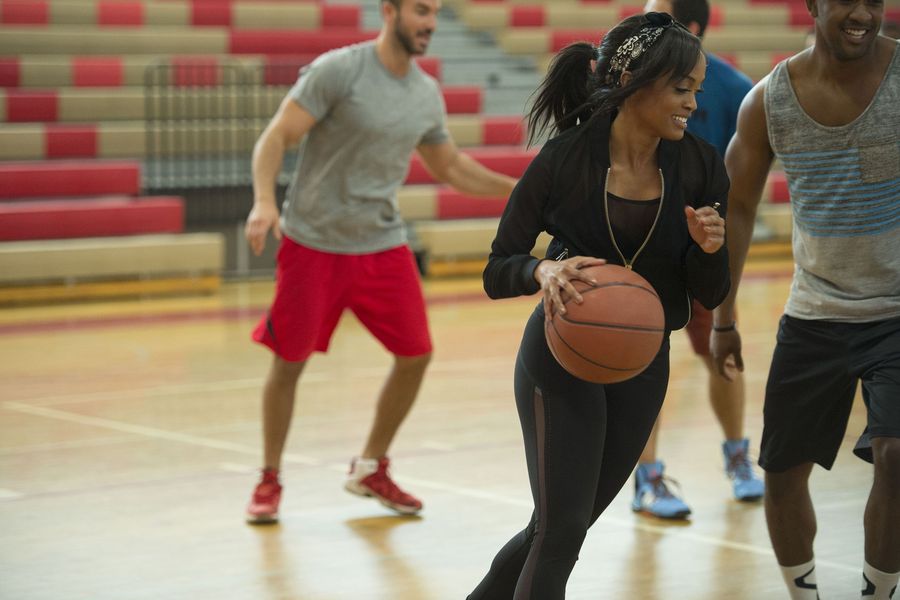 It's Week 2 in the mansion, and despite making Blake K. leave and letting Whaboom, tickle monster, and erectile dysfunction guy stay, I'm still rooting for Rachel to find love with one of these bozos.
Our opening montage confirms that Rachel is wife material—we see her playing with her adorable dog (did we ever find out how Copper broke his leg?) and playing sports. She is like a Kate Hudson character.
Meanwhile, Chris Harrison comes to the mansion to explain the concept of group dates to the guys and make them all go around the room saying one nice thing about Rachel. And then the first group date is announced: something about "husband material" so it's confusing that she invited Whaboom. Could you imagine bringing Whaboom home to your parents? "Please, just this once, just don't do the Whaboom thing when you meet my mom," you'd say. He would give you an evil smile. And then he would meet your mom and do a massive, seizure-like Whaboom and your mom would give you a look like, you went to college. Why are you doing this to yourself.
The first group date begins with a reoccurring nightmare of mine: a gang of bros approaching me in the woods where there are no other witnesses. They drink Moscow Mules and play football and Whaboom dances like an idiot and screams for attention. "Lucas is garbage," Blake E. says, which is true, but you never want to be the guy who does that. No matter how accurate everything Blake E. says about Lucas is (yeah, he does just want to be on TV, he is making fun of all this, he is probably a lunatic), you never look good on The Bachelorette by being the snitch who self-seriously tells the girl that someone else is here for the wrong reasons. That's an express ticket to both of you getting sent home on a 2-on-1. Also, your roommate is Whaboom's ex? That just makes you look bad for being 35 and having a roommate and also for being associated with Whaboom in any way.
And then, as if summoned from the pages of an Us Weekly, Ashton Kutcher and Mila Kunis appear. Turns out, they're big Bachelorette fans, and they asked the producers if they could hang out. The main problem with them being here is they're so charming and obviously in love (this is a date for them!) that they make all of the Bachelorette relationships seem hollow and stale by comparison. The Bachelorette only works in a vacuum if we forget that most couples don't become engaged after knowing each other for 6-weeks of competing against strangers.
"Who here has health insurance," Mila and Ashton joke, covering the important topics that really should be discussed on this show. I feel like these couples would have a higher success rate if they talked about things like health insurance more often. (Dean didn't raise his hand. Dean! You're 25! Obamacare means that for now you can get on your parent's plan for another year! Mila and Ashton wasted a great opportunity to discuss the state of healthcare in this country.)
Ashton, Mila, and Rachel stand by while the boys have to compete in a "husband material" obstacle course, basically just milking all the comedy from the premise "lol men don't know how to change diapers!" (sidenote: did ABC really have to blur the fake baby doll poop?)
Ashton makes the very intelligent observation that Rachel's guy almost certainly in this group, which becomes even more prescient when the winner of the challenge is Whaboom, who pushed actually single father out of the way to win his giant cardboard star.
Ashton Kutcher continues to be the only normal person on this show when he calls out the nonsense garbage of the whole "Whaboom" thing. What is it for? What is it! "Whaboom" is not a job!
This challenge was a failure, because Whaboom is not husband material. When he spends his extra time with Rachel reading a dumb poem, it seems obvious that he's just sort of making fun of this whole thing. Whaboom is a wannabe actor, this whole thing is a prank for him, or a way to get noticed. I mean, Blake E. is right, but that doesn't mean he's not annoying.
The Blake E./Whaboom feud does give us some great dialogue: "You're just here to further your Whaboom!" "You're just jealous you don't have a Whaboom." "THE ONLY LEGS I HAVE TO STAND ON ARE MY TWO LEGS."
And then Kenny, with the thesis of every single episode of The Bachelorette: "These white dudes are kinda buggin' right now."
So Rachel nods politely with Iggy and Jack Stone's super white smile and Fred (who she still remembers as a bad kid from summer camp) and ends up giving the first date rose to Cute Smiling Child Without Health Insurance Dean. At least Dean leaned in for the kiss, but I'm with Ashton on this one: not quite husband material, any of them. The only takeaways from this group date are 1) Kenny has great taste in sweaters and 2) they don't give Rachel the no-smudge lipstick.
But then, as if the phrase "husband material" summoned itself in person form, we get a 1-on-1 date with Peter. Peter has the sexy salt-and-pepper hair of a dad in an erectile dysfunction ad and a very cute smile with gap teeth that match Rachel's. The two of them go on a doggy date with Rachel's dog Copper (do we ever found out how Copper broke his leg??) to a dog party where I wish this entire show took place. And then they go out to dinner and talk about therapy and being real human beings and Peter gets a rose because of course he does, he should get this whole damn thing. Finally, an adult.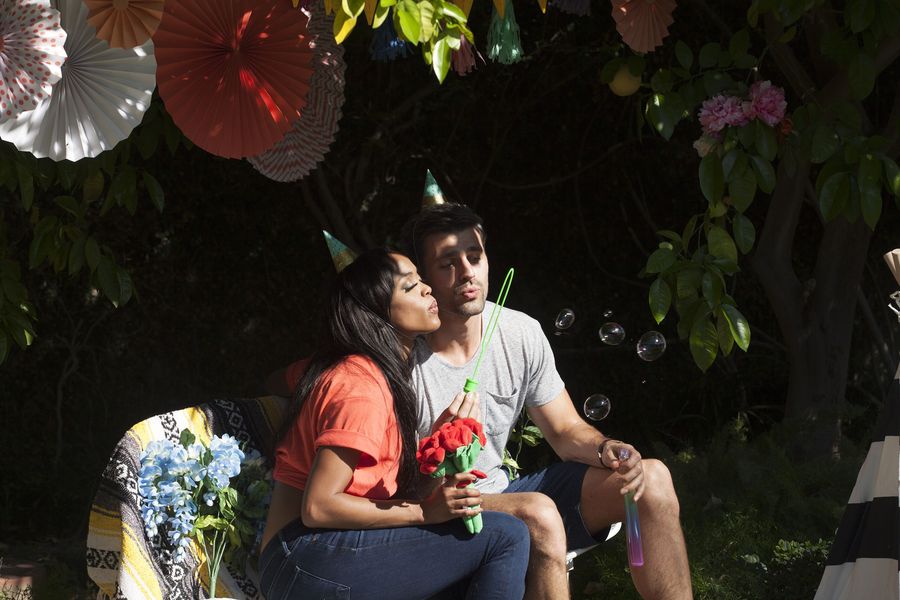 But this wouldn't be a Bachelorette episode without DRAMA.
Group date #2 is in a high school gymnasium, and the boys get to play basketball and meet celebrity guest Kareem Abdul-Jabar. Most of the boys are very bad at basketball, but that's not why we're here. We're here for DRAMA. From the first commercial break, we've been waiting to find out what happens with the random girl who comes to confront Rachel and we finally get our answer: DeMario had a girlfriend!
Rachel, the cool attorney that she is, sneaks into the locker room, all smiles, and asks to grab DeMario. The dumb idiot thinks he's getting a rose for being good at basketball while we all munch popcorn. Rachel brings him out to Lexi, the ex-girlfriend who says, "Karma's a bitch, isn't it?" a line she had probably practiced in her room for three days.
DeMario goes through eleven stages of shock and denial in five seconds. He doesn't know her, he does know her, they broke up, she's lying, etc. But Lexi has the receipts, and Rachel is an actual lawyer who knows BS when she hears it. She proves why she's everyone's favorite Bachelorette and tells him to "get the fuck out."
We don't get a rose ceremony this week, but we do get a cliffhanger: DeMario is BACK at the mansion, and he wants to talk. Dun dun dun!