By 1987, The Cure had been leading the British post-punk scene for over a decade. But here in America, unless you were a devotee of independent record stores and college radio, the legendary group was still something of a well-kept secret.
That all changed 30 years ago today.
Soon after The Cure released their ambitious double album Kiss Me Kiss Me Kiss Me on May 25, 1987, their infectious singles like "Just Like Heaven" were dominating U.S. radio.
"I'm a sucker for short and sweet hit pop songs [like 'Just Like Heaven']. And 'Why Can't I Be You?' does the trick for me [too]," says guitarist for Bauhaus Daniel Ash, whose post-Bauhaus band Love & Rockets also enjoyed the after-effects of Kiss Me in 1989 with their smash hit "So Alive."
Partially recorded at the famed Compass Point Studios in the Bahamas, Kiss Me Kiss Me Kiss Me interjected the dark tones of their earlier work with elements of bleeding edge R&B, Prince-esque funk grooves, warm jazz and dreamy psychedelic pop that caught fire on such prominent American radio stations as Los Angeles's KROQ and New York's WLIR.
"Kiss Me Kiss Me Kiss Me, for The Cure, musically it was a breakthrough," says longtime WLIR DJ "Malibu" Sue McCann. "And for The Cure on NYC radio, it blew the doors wide open for them."
The undeniable electricity of songs like "Why Can't I Be You?," "Just Like Heaven" and "Hot! Hot! Hot!" set fire to the airwaves in 1987. Starting a new kind of British Invasion, the runaway success of Kiss Me broke down the walls for other beloved cult British acts such as The Smiths, New Order and Echo & The Bunnymen to infiltrate the mainstream U.S. airwaves soon after.
But just how did The Cure do what so many of their peers in the British post-punk scene couldn't?
All credit is due to the outstanding lineup the group enjoyed at the time, comprised of intrepid leader Robert Smith on guitars and lead vocals, Porl Thompson on lead guitar and keyboards, group co-founder Lol Tolhurst making the permanent move from percussion to keys and electronics, Simon Gallup on bass and Boris Williams on drums. This combo is largely known as The Cure's classic lineup, first established on the band's 1984 LP The Head On The Door and perfected through the incessant amount of touring they did throughout the mid-'80s.
"There's almost a sense throughout Kiss Me Kiss Me Kiss Me that Smith is comfortable enough to showcase the collective work of the musicians—like a handy dare to the world, saying without saying it, 'Hey, check out who I've got working with me,' " veteran music journalist Ned Raggett stated in his wonderful recent analysis of Kiss Me for The Quietus in April. "Having toured regularly with that lineup for a couple of years at a time of increasingly greater attention, it underscores the sense of confidence at play."
In honor of its 30th anniversary, the Observer recently spoke at length with Tolhurst about what it was like creating Kiss Me back in 1987. As a co-founding member of the band, and author of the recent Cure memoir, Cured: The Tale of Two Imaginary Boys, his perspective on this particularly fruitful period in the band's history serves as the most revealing testament to the legacy of The Cure yet.
[youtube https://www.youtube.com/watch?v=VIGPnQ8kH3A&w=560&h=315]
There are many people, myself among them, who feel that the lineup of Robert Smith, yourself moving from drums to keyboards, Boris Williams on percussion, Simon Gallup on bass and Porl Thompson on keys and guitars is essentially the classic Cure lineup, a la the "Mach II" version of Deep Purple. What do you think?
To me there are two versions of the Cure from that era. The one which you're right with myself, Robert, Simon Porl and Boris. I've heard some Cure fans call it "the imperial lineup," which strikes me as sort of strange as a name but is I guess a more melodic version of the band. However, the version that ended with Pornography [in 1982] was always the best version of the group for me.
Like many Americans, 1987 was the first year I picked up on The Cure, having been exposed to them by listening to the Long Island alternative rock station WLIR. One of my first memories of the band was hearing "Why Can't I Be You?" on the radio while driving to the Roosevelt Field Mall to go clothes shopping for my final year in middle school and feeling inspired by the song to pick the threads I did that day. [Laughs]
That was a pivotal time for us because right before then the way we managed to introduce ourselves to America really happened with MTV. In the early days, we had made a few videos and had made a few pop singles, and MTV was really small. There were maybe six or eight videos released every week, so they had to play us, as there wasn't a lot of material otherwise. So that really resonated with the sensibility of The Cure.
In general, we've always appealed to people from small towns in suburbia like ourselves. People ask me why is it that out of all the bands from the '80s, the three bands that are still huge are in America are The Cure, Depeche Mode and The Smiths. It's because we came from the same kind of place, so it doesn't matter if it's suburbia in South London or suburbia in Southern California; it means the same thing to people and that the thing that we were able to express, and people understood that. That's why it kept going, that and we played an awful lot and went on very, very long tours.
Originally, we started off playing in people's hometowns, and it felt as though we were like adopted sons even though we were adopted from 5,000 miles away. I still meet people who saw us play at the Whisky in Los Angeles or Harrah's in New York when we first came out to America. People remember that and communicate that loyalty still today.
What made you want to do a double album?
I think more than anything the combination of touring and college radio paid off for us in a big way. When it came to Kiss Me, we started off with a hundred bits of songs, because everybody contributed.
We all had home studios at that point. We said, "Here's what we're going to do. We're going to get together and bring all our home demos from the last year or two and we're going to play them for each other and score them out of 10. And the ones that get high marks, we're gonna explore them further."
So out of a hundred pieces, we narrowed it down to about 35 and we cut a demo of these 35 bits at Boris' house. We took his house over for a month and we demoed those there, and out of those 35 I think about 19 made it to the album. But it became a double album because we just had a lot of songs. It was very fertile period because we had the right combination of band members, really.
What inspired The Cure to make your fans want to dance on Kiss Me Kiss Me Kiss Me?
One of the things I remember Robert saying me at the time was, "This is like us pretending to be another band." And we did it in a style of somebody that we liked. On the road, Robert had a selection of music that he listened to in his room, and he's got stuff on it that was more poppy and funky, which counterbalanced the melancholy things he listened to as well.
"Pop" for The Cure was never a dirty word and we always had an appreciation of that. We can be different kinds of bands or we can deviate from where we were in the realm of post punk into a more pop-oreiented area, and we can do it without losing the intensity. Because there was some intense songs as well, and we wanted to mix it all up. There was so much material that it just seemed a shame not to make it a double album.
[youtube https://www.youtube.com/watch?v=8Dhn_iIQXDE&w=560&h=315]
What inspired the funkier aspects of the record? Did anything happening at the time in the world of R&B infiltrate the creative process, like Prince?
That seeped into it through the backdoor, but I think some of our references come from earlier times like the more classic stuff. I can remember when we were like teenagers, me and Robert listening in his brother's bedroom to stuff like Ray Charles and things like "Hit the Road Jack." It's such a great piano riff and it's so killer and if you look at it stylistically Kiss Me is really about the Cure's roots in that regard.
Who was it that was playing that tight-ass funk lick on "Hot! Hot! Hot!"—Porl or Robert?
A lot of the time, Porl was the best technical musician in the Cure, for sure. He, or she rather now that she's Pearl, is a genius. You can put any instrument in front of her and she can play them, which is why she was chosen to be there with Jimmy Page and Robert Plant on their 1995 tour, you know.
When we used to go on tour, I used to walk past Pearl's room late at night thinking she was playing Led Zeppelin on the radio, but she was playing Zep riffs alone on the guitar in her room and I thought she sounded just like Jimmy Page. Most of the ideas she came up with; I can't always remember who played the riff or not. But most of the time if it was super difficult 9 times out of 10 it would probably be Pearl.
I strongly believe Robert Smith is incredibly underrated as a guitarist as well.
I think people only see the voice and the hair. But you're right, he is vastly underrated. I asked him a while back, which do you like better singing or playing guitar and he said singing because he can put a lot more emotion into it. We did a tour about four or five years ago, and he said he'd forgotten when we were a three-piece how much he had to play guitar. He said it got much easier when Pearl came in and he didn't have to play the guitar all the time.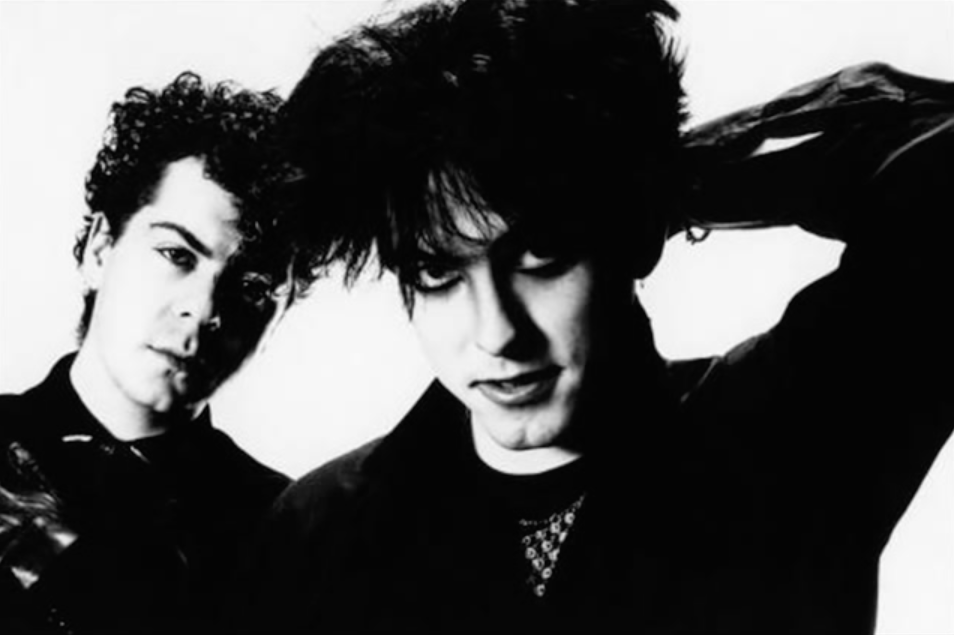 Kiss Me was also the first album where you played keyboards full-time, correct?
I'm thinking Head On The Door I was playing keyboards as well, but this was the first time we had a complete band and my revised role in the band came into its maturity at that time.
It's interesting to think about what kind of keyboards you were into back then.
There used to be a store in London called Psycho owned by Peter Gabriel I think and he had a lot of things like the first Fairlight that came out, as well as the emulator and all the first sort of really high-end sampling keyboards. But the thing that we stuck with early on was the emulator, and that's what we had and on Kiss Me.
It was so brand new that when I got it delivered from California I didn't have a manual for it yet. I just had the engineer's notes on what things did because it was one of the first ones ever made. So we took it to France and played lots of interesting stuff with it. That was really the role I had in The Cure back then, which was seeing what new cool electronic stuff I could put together with all this new technology.
So those strings on "Catch" and the horn blasts on "Why Can't I Be You" emerged from this emulator?
We did a lot of stuff where we were trying out things on the fly. We had an old ARP Solina String Ensemble, and it only had one or two sounds. But those are the sounds that people associate with that record and the Cure. At one point I think I tried to sell Pearl on the emulator, but it was early and never quite sounded like the Solina they came out with later on. Even with a decent patch for that with the emulator, it never sounded quite the same.
It's funny to think of all the musicians who've tried to like copy that sound, and you guys did it by accident almost.
And that's really it. To a certain extent, you have to be prepared to experiment in the studio. And you have to be prepared to take advantage of happy accidents, because that's where the real stuff comes from.
And as a musician, you want to be unique. It's like if you sound just like something else, a perfect re-creation of something that's been done before; no one is interested in that. And even if you don't do something as good as somebody else, if you do it uniquely that puts you in people's minds in different ways we were looking for something unique and that would sound like us.
[youtube https://www.youtube.com/watch?v=MI0a9hTh5AU&w=560&h=315]
Going back to what you said about why people still like the Cure and the Smiths and Depeche Mode, that's exactly why all three of the groups still resonate so strongly with each passing generation. I mean, who would have thought that like the Byrds and French New Wave would have sounded as good as it did with the Smiths. Or in the case of Kiss Me Kiss Me Kiss Me, on a song like "Icing Sugar," where The Cure is almost trying to do its own version of The Stooges' "L.A. Blues" with that magnificent saxophone work by Andrew Brennan.
To us, it was always about trying to go back and discovering our roots when we first started playing when we were kids. We would go along to pubs and stuff in London where they had these blues sessions, and occasionally they would let us sit in, because we were kids you know and that was the stuff that we grew up listening to. You have to be a bit like a sponge if you're a musician.
By the time we were making Kiss Me, we were actually at that point where we had the facilities to be able to experiment a lot. And for us, the trick was always to lock ourselves outside a big city and be in the countryside somewhere, because that's where the magic would happen, but without having the interference you get from the rental company coming to drop by and see you every other night you wanna be able to operate in the studio as your creative space and that's why we were stuck out there in the middle of nowhere. In Provence you know no one's going to come see us out there; we just had our stuff, and for mixing you can change things up a bit but for actual recording. It always worked well to isolate ourselves from everybody a bit
What did you all think of David Johansen as Buster Poindexter calling his song "Hot Hot Hot" months after your single came out first in 1987?
I remember meeting him at Hurrah's back in the early '80s. I had a long conversation with him, and I remember he was a really funny guy. So I'll forgive him for stealing our song title. [Laughs]
I can imagine the New York Dolls were some kind of an influence on The Cure in the early days, no?
Me and Robert weren't listening to them, but it was something I became aware of, because Simon liked the Dolls as well as and Kiss. I think that was more of his style, you know.
Another thing I've always been curious about was what the band thought of Dinosaur Jr.'s cover of "Just Like Heaven," which they recorded almost in the immediacy of Kiss Me's release in 1987. 
I can't even bring it to mind right now, but I remember at the time we listened to it and thought it was pretty good, yeah. Robert was cool with it, especially, because he liked the band.
Was The Cure hip to any of the other underground American punk and indie bands during the '80s?
When we first came to the States we ended up playing with Mission of Burma. They were great and they were kind of like an American version of us in the way they felt about stuff and we connected with the idea of who they were rather than the sound. People don't realize we were like the first punks in the town we grew up in, that's what started us.
One of the most interesting parts of your memoir Cured happens during the Kiss Me era when the band played Argentina.
We arrived after a military coup, and it was a wild place. No bands had been there for years and we were one of the first bands to have played the country at the time. People had been repressed for such a long time and they just wanted to do something. It was kind of scary. I think about the time that we're living in now, and I believe it's pretty set that something substantial in the musical and artistic sense will come out of this chaos.
Kiss Me Kiss Me Kiss Me was released during a time of great uncertainty for both the United States and England in the way certain aspects of governance was handled by Reagan and Thatcher. And from a listener's point of view, it was amazing to see a band like The Cure, who were always known for such creating such downcast music, creating this album that made people want to get up and dance amidst the turmoil of the mid-to-late '80s.
We felt we'd gone as far as we'd gone with one side and we want to pull back and do something fun that celebrates the absurdities of life.
I also believe in the context of Kiss Me Kiss Me Kiss Me, especially reflecting upon it 30 years later, that while many people who became fans of The Cure might have come for the appeal of your image, the majority of us stayed for the music.
You know, Ron, I think that's one of the best things that anybody's ever said about The Cure. At the end of the day, we could play, and we played the things that we loved and our true fans recognized what we were conveying beyond our outward appearance.