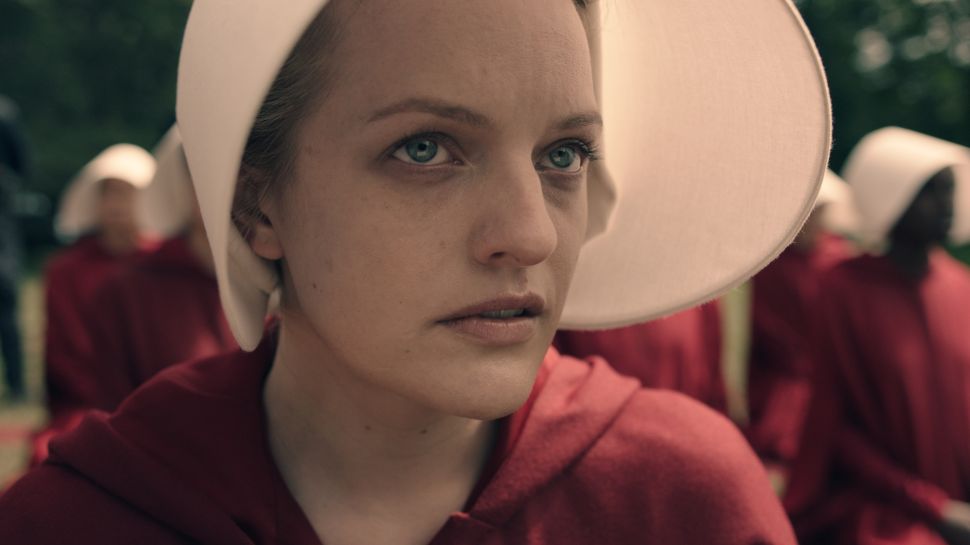 The Handmaid's Tale, a Hulu original series based on Margaret Atwood's 1985 novel, portrays a world overrun by misogyny. Offred, the main character, is subjected to a life of servitude under an authoritarian government dictated by religious fundamentalism. Women are stripped of any semblance of autonomy and are banned from owning their own property, credit cards and checking accounts. Offred's worth as a human being is reduced to her ability to breed, and she lives as a slave under the ownership of an aristocratic couple. In this society, women aren't allowed to drive, work or leave their homes without permission, and all handmaids are forced to abide by a strict regiment run by the guardian of the handmaids, Aunt Lydia. When Offred is allowed to leave the house, militarized guards loom everywhere as a constant reminder that there is no escape. Examples are made of those who break the rules; their bodies are hung in public at the end of a noose. Though the shock value of the story stems largely from contrasting Offred's past life as a middle class college graduate to her life as a handmaid in a puritanical society, the elements that create this dystopian world exist in countries around the world, with Saudi Arabia as the closest example.
In Saudi Arabia, it's against the law to bear children out of wedlock, and clinics that aid undocumented women who have children out of wedlock are subject to strict penalties by the government. In 2013, a Philippines based media outlet reported that a Filipino woman working in Saudi Arabia received punishment from the government of 100 lashes when it discovered that she was pregnant out of wedlock. This has been cited as a common punishment. Children born out of wedlock are ostracized as a walking manifestation of sin, and many are abandoned because of the stigma associated with having a child without being married. Yet, contraceptives and abortion services are also banned. Even if a woman gets pregnant within a marriage, she still has no rights. In April 2016, The Independent reported that a Saudi Arabian judge forced a woman who was eight months pregnant to divorce her husband against the couple's will because her uncles were unhappy about the marriage.
The country's laws are formulated under a strict interpretation of Islam and force women to live under the authoritarian rule of their fathers, husbands and brothers. Every woman is designated a male guardian in Saudi society. Women must obtain permission to work, study, marry, get a passport, travel or seek medical care. Women are forbidden from any unnecessary socialization with men, and several public areas have separate entrances for women. Women are also held to a strict dress code.
Those who protest or speak out against the Saudi Arabian government's oppressive regime are often either imprisoned or executed. Activists alleged that Saudi Arabia executed 47 minors in January 2016—one of the country's biggest mass executions in decades. Others are put in jail, often without a trial. Women are regularly imprisoned for attempting to flee the country. The recent case of Dina Ali Lasloom, which went viral on social media, exposed how the Saudi Arabian government stops women from escaping.
In the documentary Saudi Arabia Uncovered, a woman is depicted screaming that she is innocent of killing her stepdaughter as she is held down by Saudi police before an officer beheads her with a sword, which Vice News reported in 2015. In another scene, similar to The Handmaid's Tale, the documentary shows bodies of several people hung from a crane. The image was reported by several outlets in 2013. Additionally, like the society depicted in The Handmaid's Tale, homosexuals are tortured and executed upon discovery.
Rather than put pressure on Saudi Arabia and other countries that similarly oppress women, Western countries have allowed Saudi Arabia to cloud their violations of women's rights. Recently, the country was given a seat on the United Nations Women's Rights Commission. While The Handmaid's Tale serves as a warning of oppression of women in Western society, it should be a wake up call for Western societies that turn a blind eye to countries where The Handmaid's Tale's world already exists.