[protected-iframe id="b364b4e46447d52fc0d720e5d3149e67-35584880-59143305″ info="https://streamable.com/s/idgdp/rcbfnh" width="635″ height="342″ frameborder="0″ style="width: 635; height: 342; position: absolute;"]
It's a grey, rainy mess in New York City right now and yet my day has been brightened, nay, illuminated by this video of a man named Ryan breaking the former Plinko record on The Price Is Right. It is pure, unadulterated bliss. It is nothing less than a celebration of joy. I did not stumble upon this video, I followed a rainbow to its exact location. Allow me to take you through Ryan's achievement, which tops every Super Bowl combined in terms of crowd frenzy and historic magnitude.
First things first, Ryan notches $10,000 with his first chip drop, and the immediate feeling of the course of history changing spins Ryan like the world's smallest twister, swirling in a blur of Plinko lights and Drew Carey musk. It's beautiful.
His second drop is smaller, just $1,000, but at this point the crowd is in a frenzy, chanting "Ryan, Ryan, Ryan" with a fever not seen since Ryan Gosling passed a Girls Scout troop on his way to buy milk from the store. And then, the third drop…another $10,000. At this moment I believe Ryan's soul flies from his body, leaving a husk running on pure adrenaline and the cocaine famously passed out during The Price Is Right tapings. If you look slow the tape down, you can actually see Ryan's soul bump the Showcase Showdown wheel on its way to another astral plane, where it promptly fist-bumps Bob Barker's ghost.
The fourth drop is a meager $500, barely noticeable over the rapturous crowd, chanting Ryan's name with something now bordering on lust. Ryan starts to chant his own name, "Ryan Ryan Ryan," possibly to psyche himself up, possibly because he has lost himself completely to the Plinko game. Which would explains what happens on the fifth and last drop…
Another $10,000.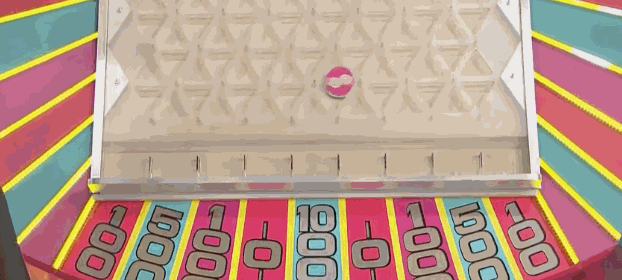 The crowd erupts, having looked into the ideal game of Plinko and witnessed true euphoria. If you pause the video at the perfect moment you can glimpse glowing angels in the back of the studio nodding, as if this was part of a larger plan. Ryan descends from his perch, the record-breaking $31,500 haul paling in comparison to the fact that he is now a god.
Many children will be born 9 months from day. They will all be named Ryan.