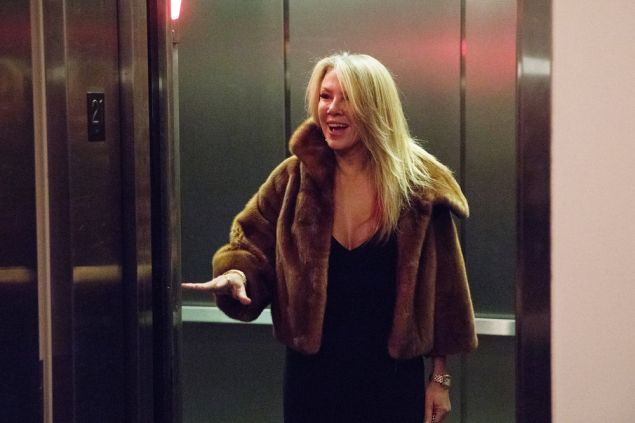 The similarities between politics, particularly this election cycle, and Housewives are abundant. And so Bravo was clever to have the battle lines, the friendships and enemies, defined and fleshed out fully in this episode — an episode set against the backdrop of Donald Trump's stunning victory over Hillary Clinton, who everyone was so sure would win.
Carole was confident of Hillary's victory. She did, after all, knock on 40 doors in the swing state of Pennsylvania to swing voters to Hillary's side. So she went into her election party feeling celebratory, expecting the party to turn out to be an actual party. Her anxiety, the butterflies in her stomach, despite her confidence, foreshadowed what was to come.
When she says she's excited for this to be over so she can move on and repair fractured relationships from her election obsession and when she says she won't be yelling at the television anymore — those words come from a woman confident of Hillary's victory. And when Hillary did, ultimately, lose, I was afraid we'd have a spiteful, angry Carole on our hands.
But Carol surprised me. Despite acting snobbish and condescending about Hillary so far this season, when the devastating results came in, she was somehow able to internalize it, compartmentalize it and set it aside. She somehow managed to get up and have fun shopping with Ramona (in a sheer dress that the camera helpfully blurred out thenipples). She was able to fulfill her promise stated when she still had hope for Hillary's victory: moving on with her friendships that had fractured from her increasingly obnoxious behavior.
Carole's reaction to Hillary's defeat was not a bucketful of tears nor dramatic gestures of despair. She expressed her devastation in an understated way. A call to her mother, her voice sounding small and sad, describing her party and the election results was what we saw on camera. But that was it.
And although I've been put off by the constant rhetoric from Carole this season, as if she were some political pundit (because I don't watch the Housewives to discuss politics, but to escape it), this episode made me fall in love with her all over again. At the end of the day, Carole is, and always will be, a class act.
Contrast that with Dorinda. While Carole is the kind of person whose political alliance comes from a deeply critical mind, Dorinda has never seemed to me to be particularly intelligent. Her alliance with Hillary's cause seems more like a kind of blind fandom, toeing the party lines because that's been deemed the right way. Her reaction to Trump being President is much more caustic and off-putting, like everything else about her.
Even though I loved Dorinda in the beginning, her time on this show has stripped bare the thin veneer of gentility that she tries to present to the world. Dorinda is hardly reasonable or nice, as evidenced by her insane freak out last episode. But Dorinda and Ramona's friendship remains one of the few things I still like about Dorinda.
The surprise party she threw for Ramona, the amount of time and effort she put into making sure Ramona had no idea the party was being thrown for her was heartwarming, to say the least. And I know I just mocked her and her lack of intelligence, but that took some real scheming to pull that off, because Ramona almost didn't come.
I know I have been a Ramona apologist in the past, but I am here to prostrate before you all and declare that I have sinned. Ramona is now The Worst.
Well, not worse than Luann whose delusions and hypocritical behavior make her unbearable to watch. But luckily for Luann, she hasn't been very visible on our screens. And when she is, she's just overly self-involved and overly giddy, and who can blame her? She's in love. And unlike last year, I'm not being smothered by it.
But Ramona has been awful this season, and the season has barely started. She faked concern over Bethenny's daughter having to face Bethenny's soft-porn past. She then justified her behavior, refusing to apologize. And then she had the audacity to claim that Bethenny should just let it go, maybe even apologize for not coming to her surprise party.
Ramona is the kind of person who thinks her shit doesn't stink, who uses feminist tropes about women needing to support other women as weapons against her enemies. The kind of person who, when lavish parties are thrown in her honor, collapses dramatically onto the floor. The kind of person who doesn't listen when others speak, allowing Carole to basically spill the beans about the party without her even realizing it. The kind of person who will cancel a date that she double booked. And even when she invites him to the party, will proceed to ignore him as he stands to the side awkwardly. The kind of person who will be offended that Bethenny chose not to come to her party after Ramona acted like a reptilian turd toward her.
And as Ramona stood on the rooftop terrace of her surprise party venue, complaining to Sonja about Bethenny not willing to play her game, Sonja just sighed.
Because Sonja is a good friend to Ramona, she gently called Ramona out on her bullshit. One of Sonja's great qualities is that she's incredibly perceptive when she's not caught in her delusions of grandeur. She may be a fun floozy who dates two guys at the same time, one for sex and the other as a potential husband, but Sonja has a knack for getting to the core of an issue. She also knows when to stop trying to convince Ramona to do the right thing, knowing that Ramona will never change her mind when she's convinced that's she's right.
However, Sonja is hardly a perfect friend. The beginnings of a rift is forming between Tinsley and Sonja. Apparently living with Sonja is no fairytale. You have to work for your keep, doing everything for Sonja, getting her drinks, agree to be treated like a child. It is a part of her delusional side, the side where she's some lady of the manor, the side that uses unpaid interns in place of butlers, maids, and personal assistants. For Sonja, why should houseguests get special treatment?
And there you have it: Carole remains neutral and Luann is off in her own planet. But the battle between Bethenny and Ramona seems to be heating up, and the rift between Tinsley and Sonja is just getting started.