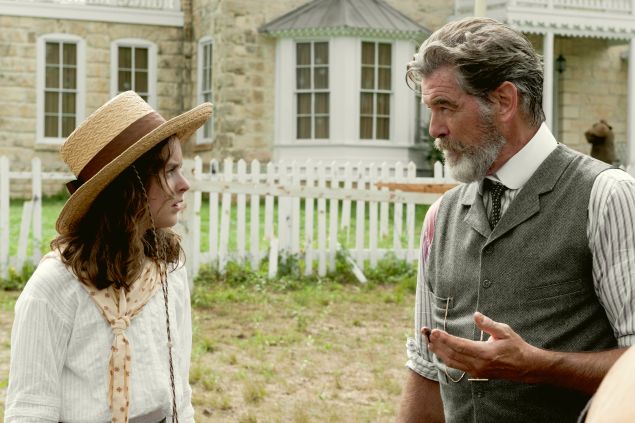 We open with Pete and Sally arguing over the fact that Pete kills people now. She's worried that their kids are going to end up like Pete.
A young Eli in 1849 is still getting acclimated to the Comanche way of life. The tribe is having an internal argument over staying their ground to fight a warring tribe or heading out to hunt buffalo, which they are sorely short on. The group decides to fight the Tonks. Eli's job is to watch the Comanches' horses while they go off to fight.
Back in 1919, Pete has decided he wants Eli to sell the ranch. Okee dokee! Eli understandably doesn't feel much like doing this. Eli goes on to have a tense confrontation with the remnants of the group he and his posse ambushed in episode four. They're planning to retaliate by attacking the McCullough ranch.
We cut to 1849, where another ambush is about to take place — the Comanches ambushing the Tonks. The Comanches have decided not only to bring Eli along with them but have him scout a village decimated by smallpox — alone. The lone survivor of the smallpox attack tries to convince Eli to go back and infect the Comanches with smallpox (the audience may have forgotten at this point in the show that Comanches killed Eli's family back in episode one.)
Back in 1919 Sally and her son have a sweet moment in which Sally calls him "my light" which, honest to goodness, I 100% knew meant he was about to be killed. And sure enough, Sally and Pete's son is shot mere seconds later. The McCullough ranch is under attack. Meanwhile, Pete's daughter tries to convince Ignacio to help defend the McCullough ranch. He begrudgingly agrees, but they have trouble getting ahold of the ranch (the telephone lines have been cut.) Maria wants to help defend the McCullough ranch. Ignacio very much does not, given their families' current bad blood.
Meanwhile, Pete and Sally's son is in very bad shape. Sally, badass that she is, manages to get him into a wheelbarrow and literally rolls him out through enemy fire. Surprisingly, Tom Sullivan is shot and killed. This is after being shot in the head and surviving in the last episode. The remaining survivors are outnumbered and outgunned — they start barricading every entrance of the house. Maria ended up winning the argument with Ignacio, apparently — they come to save the day at the very last minute.
Jonathan needs surgery, all the way in Austin. Oh and one last thing? Eli has found oil on his land at long last! Maybe he'll finally get to be an oil man now. To be continued.