A small blue sign on the glass door read "21 and over ONLY." Two tall men stood in front of the ice cream shop, blocking the entrance as a line formed in front of them. They were clad in black slacks, black jackets and dark-tinted sunglasses. But wait…what were bouncers doing in front of an ice cream parlor? "We do card when you order ice cream or sorbet from us [because] all of our ice creams and sorbets are inspired by different, alcoholic cocktails that we love," explains Tipsy Scoop founder Melissa Tavss.
Tavss, 29, started her small company three years ago—from perfecting a homemade ice cream recipe on her small CuisineArt machine, to selling pints of boozy ice cream over the Internet and delivering nationwide. Soon Tipsy Scoop also began catering at weddings and events. And, finally, on Sunday they opened their storefront in Kips Bay.
"I was initially adding liquor to soften the ice cream. A lot of recipes call for a little liquor just to soften it, make it less icy," Tavss says. "And then I thought, 'Wouldn't it be so cool if this actually had an alcohol content?'"  Tipsy Scoop's ice creams have up to 5% alcohol content. And if you're the type to finish a pint in one sitting, you'll definitely feel the buzz. But the shop also has "virgin" options for those who would prefer to lay off the alcohol.
Tavss' goal was to translate her favorite cocktails into ice creams and sorbets. "Hands-down," she says her favorite so far is the "Spiked Hazelnut Coffee"—which is made of Cafe Patron, Hazelnut liquor and cold brew—inspired by a coffee cocktail she once had.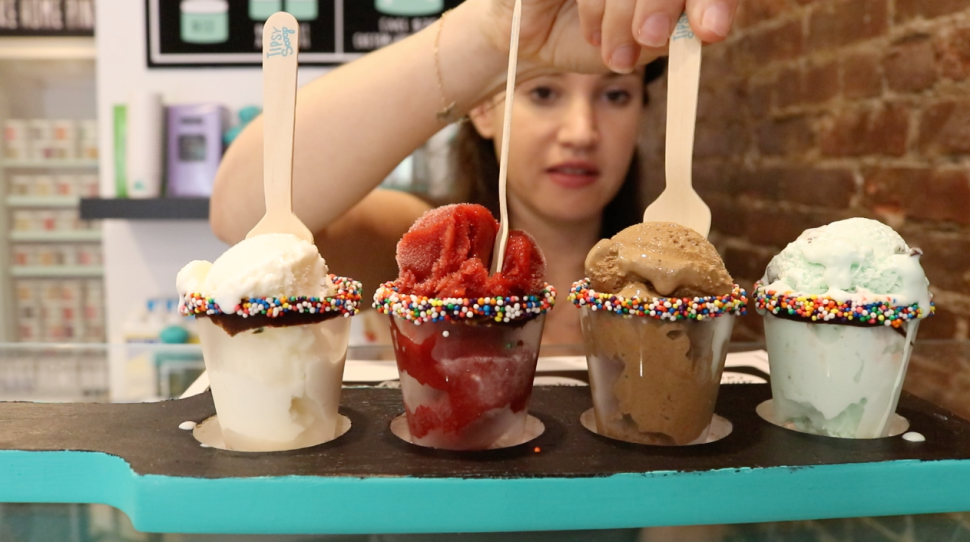 The ice cream mixologist says that the storefront was never really part of the plan. But when more and more people somehow kept finding their way to their production facility in Harlem, she was convinced that they needed an accessible space for their customers.
The Tipsy Scoop "Barlour" is also a fun way for the company to get creative with their alcohol-infused, dessert creations. Aside from the typical scoops of ice cream in cups, they serve their treats in waffle bowls, churro bowls, in cookie sandwiches and cakes. They also have everything you need to throw your own boozy ice cream cocktail party right at home.
"But the idea here isn't to get drunk," says Tavss. "It's to get that tipsy buzz. And, really, we're using the alcohol to enhance the flavor of the ice cream."