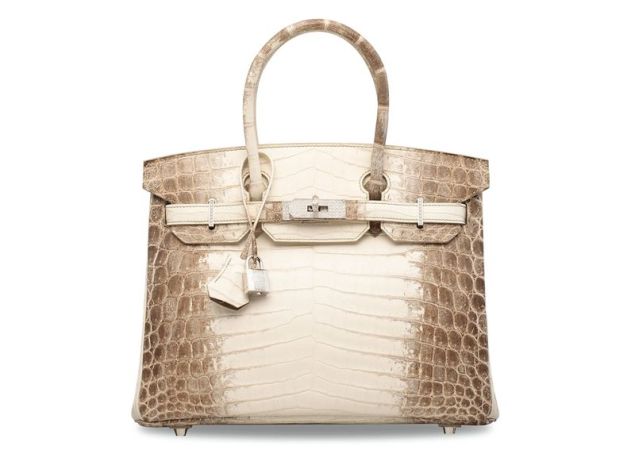 Birkin bags are undeniably the ultimate handbag, the dreamiest and most covetable accessory that is the quintessential status symbol. The Hermès creation is renowned for its exclusivity and availability to only the world's most elite; they're expensive, they're rare and they're supposed to be a better investment than gold. But one model of the "it" bag has just broken the world auction record, after it was sold to an unidentified, but rather stylish individual in Hong Kong, for an eye-watering price of $380,000 at Christie's. This breaks a previous handbag record, when a nearly identical Hermès purse fetched $300,000 in yet another Christie's auction.
Although it's debatable that there is such a thing as an "average" Birkin, this 2014 model is far from that bland description. Known as the Himalaya, this matte white and grey bag boasts 18-karat white gold buckles and straps that have been encrusted with 205 diamonds. This particular model of the coveted carryall is so exclusive that the luxury brand is believed to make only one or two per year, since it takes so long to dye the crocodile skin they're made from.
The original Birkin bag was born out of a serendipitous airplane encounter between style icon, Jane Birkin, and the late chief executive of Hermès, Jean-Louis Dumas. When the French chanteuse infamously spilled the contents of her straw tote bag on the floor, Dumas was inspired to create a bag that appeals to the jet-setting woman who simply has too much to carry. Four years later, the French label released its Birkin bag, et voila! The rest, as they say, is history.