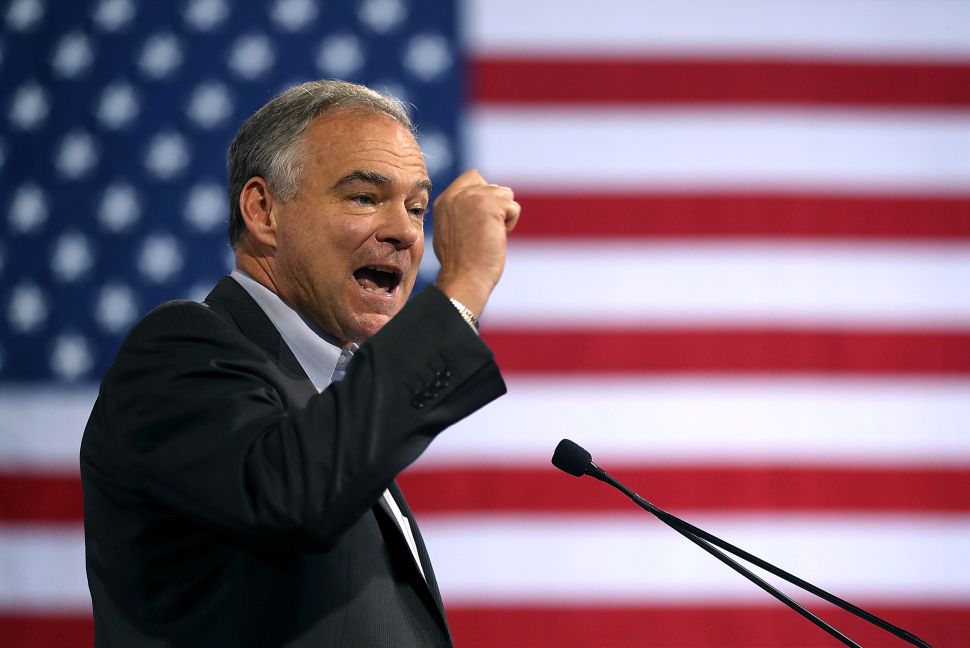 In an op-ed published in USA Today on May 24, former Democratic vice presidential nominee Sen. Tim Kaine laid out his thoughts on revamping the Democratic Party's messaging. He admitted that Democrats don't have an economic message, but he misdiagnosed why this is the case and what Democrats need to do about it. Kaine claims that "regular folks" don't think the Democratic Party's economic goal is growth because of criticism toward Wall Street. "This is partly due to broad anti-business rhetoric that is directed toward Wall Street or multinationals but manages to scare off entrepreneurs and small businesses too," Kaine writes, as though he lived under a rock for the 2016 election.
Hillary Clinton's close ties to Wall Street and large corporations repelled voters. By participating in highly paid speeches on Wall Street, hosting lavish fundraising galas, getting endorsements and campaign support from billionaires and the establishment, and arrogantly ignoring some of the most economically devastated areas of the country, Clinton conveyed to voters that she was the establishment candidate for the top one percent. Many people who voted for Trump fell for his empty rhetoric of taking on Wall Street and corporate greed, and Clinton ignored the widespread anti-establishment sentiments felt by working class, middle class, and low income Americans. Kaine argues throughout his op-ed that Democrats need to talk to the middle class, but that discussion needs to address the underlying issues causing the disappearance of America's middle class while the majority of economic benefit goes to the top one percent.
In the 2008 economic recession, millions of middle class investors were defrauded, nearly 1 million families had their homes foreclosed on, 23 million people lost their jobs, and over 9 million lost their health insurance. Instead of coming to the aid of the middle class, the government abandoned them only to give enormous bailouts to Wall Street and failed to hold a single Wall Street banker accountable for causing the recession. Wall Street's largest banks have become even bigger than they were before—the six largest banks hold 67 percent of the country's assets—and their profits have nearly doubled from what they were before the crisis. In contrast, nearly six out of every 10 Americans have less than $500 in savings. Raising the minimum wage to $15 an hour will give almost half of American workers a raise and will enable millions of Americans who work full-time jobs at wages at or close to the minimum wage to rise out of poverty.
What former vice presidential nominee Tim Kaine and most of the Democratic Party fail to realize is why Sen. Bernie Sanders and Sen. Elizabeth Warren are two of the party's most popular politicians. Sanders and Warren regularly address the issues of Wall Street and corporate greed, but the Democratic Party refuses to alienate their wealthy donors by taking on the issue of wealth inequality. A party that dilutes policy stances to court Wall Street and wealthy donors is incapable of resonating with working, middle class, and low income Americans.