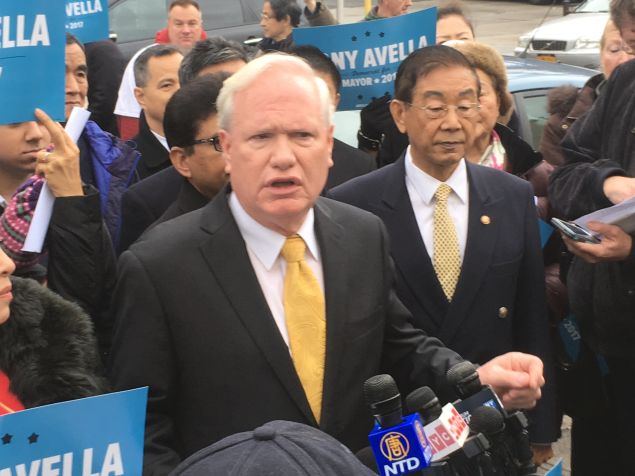 State Senator Tony Avella, a conservative Democrat from Queens, announced today he was abandoning his quixotic bid to defeat Mayor Bill de Blasio in their party's primary.
After nearly five months of failing to raise competitive quantities of money or gain a foothold in the polls, Avella acknowledged the same reality that Republican billionaire John Catsimatidis said made him decide against getting into the race this week: beating an incumbent mayor is really hard. Avella, who represents predominantly white, right-leaning sections of his home borough, nonetheless railed against his liberal foe's "disrespect, disregard, and disdain for the everyday New Yorker."
"When I started this campaign five months ago I knew that I was facing an uphill battle if I wanted to topple an incumbent mayor with deep pockets," Avella said in a statement to the press. "I have found that staying in this race without being beholden to dark money is becoming increasingly difficult. Therefore, it is with a somber heart that I announce that as of today I am officially suspending my campaign for mayor of New York City."
Avella previously sought the Democratic nomination for mayor in 2009, but garnered just over a fifth of the vote in the primary battle against then-Comptroller Bill Thompson. The state senator is a member of the breakaway Independent Democratic Conference, which has enjoyed a power-sharing arrangement with the Republicans in the upper chamber of the State Legislature since 2012.
At his campaign launch, he outlined a pro-homeowner, pro-motorist vision for his candidacy that seemed detached from the priorities of the Democrats' liberal base. In particular, he railed against the mayor's policy of converting hotels in residential communities into homeless shelters, and staged his kickoff outside the most contentious such site of all: the Holiday Inn in Maspeth, Queens, miles from his own district.
He leaves the Democratic field to de Blasio, former Brooklyn Councilman Sal Albanese—another conservative-tilting outer borough Democrat—and police reform activist Robert Gangi. The most potentially dangerous Democratic rivals to de Blasio, city Comptroller Scott Stringer and Bronx Borough President Ruben Diaz Jr., have both ruled out a challenge.
"Throughout my career in government, I have prided myself on being an outsider who made it to the inside and got things done," Avella lamented in his press release. "Unfortunately, in a race like this, being an outsider doesn't get you much. These days, it seems, elections are won with dollars, not votes."
Avella's membership in the IDC will likely make him a target for Congressman Joseph Crowley, the Queens Democratic boss, in next year's primary for his current seat.